You name it, choreographer Brooke Wendle has done it! Just a handful of her exceptionally long list of credits includes Cirque du Soleil, Dancing with the Stars, Broadway Dance Lab, the NBA Brooklynettes, and Holland America Cruise Line. Next up, Wendle is working on a hilarious new TV competition series called The Funny Dance Show. The new E! program features unique pairs of popular comedians. Each team gets matched with a professional choreographer and squad of back-up dancers. The duos vie through two rounds of choreographed dance routines and are judged both by a panel of dance and comedy experts and by a live studio audience. The winning team scores $10,000 to donate to their charity of choice. With the premiere of The Funny Dance Show just around the corner, Dance Informa got the chance to speak with Wendle about her experience working on the show and all the laughs we have to look forward to.
How did you get involved with The Funny Dance Show?
"I was lucky enough to be asked to choreograph on multiple episodes by the Executive Producer, Rob Bagshaw."
How does the competition work?
"On each episode, there are two teams featuring two comedians per team. Each team is assigned their own professional choreographer to come up with routines. The contest has multiple rounds that are judged by a panel and live club audience. The judges include Loni Love (The Real), Allison Holker (So You Think You Can Dance, Dancing with the Stars), and Justin Martindale (comedian/TV personality)."
That's a lot of judges. Which, do you think, is the tougher judge?
"The contestants are judged by a panel of dance and comedy experts. I believe that making an impression on someone in your own industry can actually be more intimidating. But on top of that, you're adding the fact that these non-dancers are being evaluated by some really seasoned professionals in the dance field. Both teams want to win the donation money. It is all fun and games, but it is also a lot of pressure."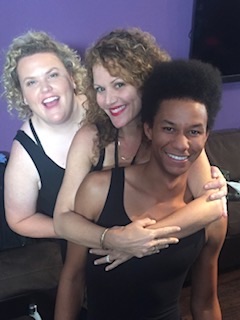 Did the contestants get to choose their music or choreographer? How much rehearsal time did they get before the show?
"There were only about three to four days of rehearsal before an episode was filmed. We all worked to collaborate on music together. The choreographers were assigned to the teams by the producers, so it was really important to quickly create a rapport between the comedians and the choreographers in order to allow for the dance and comedy to come together and really shine."
Can you tell us some of the stars you got to work with?
"I got to work with some wonderful, multitalented humans. They were all professional comedians, who also write and act. Some of the contestants I worked with include Kel Mitchell (All That), Broadway and TV actress Carly Jibson (Broadway/TV actress), Jackie Tohn (Glow), Fortune Feimster (Sweet and Salty on Netflix), Willie Hunter (Crashing), Solomon Georgio (Drunk History), Ron Funches (Undateable) and Blair Socci (stand-up comedian)."
Is it difficult to choreograph for people who don't have much or any dance experience?
"If the person is open to giving their all to trying something new, their movement experience honestly does not matter. The choreography for this show is all rooted in comedy. It developed very organically, and we had a blast!"
Comedy is a very vulnerable art form. But dance can be as well! How was the experience for the contestants?
"They were all incredibly brave for diving into something so out of their comfort zone. And to perform it after just a week of rehearsal! If you do not count music and have never danced before, learning and remembering choreography can be very challenging. The contestants handled the pressure with grace and, of course, a sense of humor. It was very refreshing to be around folks who don't take themselves too seriously."
The show airs on March 11. What can we look forward to?
"The artists are magnetic and show such vulnerability and individuality. Be prepared for a lot of laughs! Each episode holds a little something extra special. So, tune in!"
The Funny Dance Show premieres on Wednesday, March 11, on E! Click here to watch the teaser. And be sure to follow Brooke Wendle on Instagram @bwendle.
By Mary Callahan of Dance Informa.