Dance Informa recently had the pleasure of catching up with renowned dancemaker Sidra Bell. We talked about her childhood, her current projects and everything in between. Check it out!
Can you speak about your background both in dance and more broadly? How did you get started as a choreographer? Was there an aha moment when you realized your 'calling'?
"Art was always fostered in my childhood. My parents are both musicians; my dad is a jazz pianist and taught at LaGuardia High School, and my mom is a classical pianist. From attending Montessori school to training at Dance Theatre of Harlem and Alvin Ailey, the making process was a big part of my childhood, and I was introduced to dance at very young age. I've loved making dances since I was about 12 years old and made several solos on myself, some of which I presented in high school through Ailey. I also sang in a secular choir, dabbled in songwriting and practiced visual art. I remember graphing out choreography with stick figures, mapping dance pieces on paper. So there was really no aha moment, but rather an extension of being that already existed.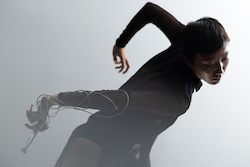 Going to college was a conscious decision to move away from the conservatory route. I decided to go to Yale to explore rigorous diverse interests. Although I majored in history, I became deeply immersed in dance production and started the Alliance for Dance at Yale College. I was also part of the student company, performing in dining halls and other random spots around campus. I self-produced my first show in December 2001, in NYC during my senior year, which marked the beginning of my company. I then did my MFA at SUNY Purchase and have been working in the dance world ever since."
What excites you most about dance, and how do you engage with that exciting thing in your own work?
"My impetus to create centers around building community. I want to be 'a part of' instead of 'in front of'. Having a network of artists to interact and engage with feeds my work and fuels my artistry, and I love being a mentor to others. The community allows my work to be a product of many identities rather than just the fruit of my own perspective, which opens a world of infinite possibility. One of my favorite questions to ask both myself and my community is, 'What are the proposals we can make as artists?'"
What works of art or theory most inspire you in your practice?
"It sounds cliché, but I'm really turned on by music and finding dialogue with sound. A lot of my imaginings come from sound-spaces. For me, music acts as an empathetic language and plays upon a sense of universality, opening the active dreamspace of the subconscious that allows me to enter a creative flow. I'm currently in a developmental phase with pedagogy, and have backed away from reading and seeing. The conjuring is strong enough as it is. I see myself as a sponge, an appropriator of language integrating ideas picked up through travel, research and my own bodily practice."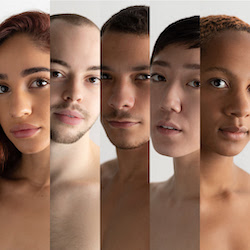 When you are starting a new piece, what is the first thing you do? Is there a place for meaning in your work?
"Most of my work develops in a non-linear fashion from a smorgasbord of movements and phrases and is always accompanied by sound. Much of the phrasework starts with my dancers mirroring my improvisation, and I constantly curate the ideas that emerge during our shared practice.
I have always thought of myself as an abstractionist, but I've started becoming more comfortable with making meaning around the abstractionism, and enjoy storytelling more and more over recent years. Meaning has context inherently, and that context produces meaning in itself. I often feel that everything means both nothing and everything simultaneously and find that circular narratives, images and surrealism contain that intuition best."
What is your proudest life achievement?
"I am always on a journey to discover purpose. Still there are landmarks, and they happen often. I am often 'wowed' by small progressions and daily achievements. Those step outside of your body moments. I generally don't focus on big peaks, but if I were to choose one, it would be revisiting Ailey. The circular moment of opportunity as I work for my teachers. I feel like a keeper of the art form, responsible for and privileged to pass it on."
Can you speak about MODULE? What inspired you to start the program?
"I was sitting in a Starbucks in 2015. Lots of collaborators were moving on from the company, and I was very sad. How could I ever find a group this special? The last piece the group performed together – Unidentifiable Bodies – was all durational improvisation, and I knew that I had to find beasts who had the endurance to sustain ideas and images. So I started MODULE to find collaborators, using a residency format so that I could see people in a durational context. There were six days of studio time and an audition on the seventh day. Since then, MODULE has moved farther and farther from the realm of an audition process and instead serves as a laboratory for interdisciplinary, intergenerational play, patience and empathy. A communal practice not dedicated to my own physical vocabulary, but to our work."
What's next for you and Sidra Bell Dance New York?
"Up next is an interdisciplinary project in Slovenia, where my dancers and I will be collaborating with a visual designer, a composer, a choral director and a dramaturge on a piece called Threnos (which means throat), which will premiere in a church on March 20-21. I aim to share creative responsibility, to be part of something bigger than self. After that, we have our next MODULE in June."
By Charly Santagado of Dance Informa.