Oscar Rodriguez is a Venezuelan-born, Costa Rican-raised, New York-based dancer. After an already successful career back home, Rodriguez moved to New York to attend New York University's Tisch School of the Arts, and obtained his Masters of Fine Arts in Dance. Dance Informa sat down with him to discuss what drove him to get his MFA when already an established artist, and where it's taken him.
What were you doing before you started your MFA?
"Well, I had a normal job. For normal people. I worked in engineering and marketing for eight years. But immediately before my MFA, I was doing Chicago in Costa Rica, and West Side Story. I was a Shark. I was working with Dancing with the Stars there, too. I helped a lot with partnering, coaching the dancers on how to do lifts. I find teaching that really rewarding."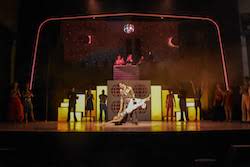 So you had a full career before your MFA!
"Yes! But I felt the need to take that next step. I felt like I had reached the top of the training available in Costa Rica, and I needed more. That's why I wanted to do an MFA in another country, to learn more from other people with other experiences to nurture my career. Then I could go back home and share my knowledge. I don't want to say I had learned everything in Costa Rica, because you never stop learning and growing. But it's about stepping out of your comfort zone a lot, to keep pushing the edges of it."
NYU has a bunch of specialties that you can do as part of your MFA. Did you do any of those?
"Yes. I did them all. All of them! Even though my degree is technically an MFA in Dance with a Concentration in Performance, I took Pedagogy, all the New Media classes, all the Choreography classes. I choreographed a lot in the Tisch shows, and on the Second Avenue Dance Company. I took singing lessons, too. It all added to my training. I want to be more versatile. I think as you keep learning more styles, it trains your brain to think in new ways. Your vocabulary expands, and everything feeds each other."
Do you find yourself using all those skills from your MFA now that you're back in the working world?
"I think I use all of them. For choreography, you have invested teachers scrutinizing each piece, picking it apart and wanting to see more than a step or a trick. I had an opportunity to choreograph for the Master Performance Workshop, a piece about where I was born in Venezuela. I was trying to tell an American audience the story of what's been going on for the last 20 years. Without NYU, I couldn't have done that, because it required investing time and research in how to expose that. Which is sensitive, it's politics."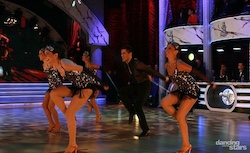 So doing an MFA is kind of like having a residency then. Which is so rare once you get out of the academic world, to have the time and space and resources to do that kind of in-depth research.
"That's a good way to explain it! It's also a safe zone to make mistakes. There's not always a right way to do things, but there's always a better way."
What are you up to now?
"I just got back from Columbus, Ohio. I got the chance to perform for Short North Stage. I was in West Side Story, which was my first contract back in Costa Rica, but this time I got to perform as Bernardo. It's been one of my dream roles ever since I originally did the show. While I was in Columbus, they noticed my work ethic, my commitment, my good energy on and off stage with the cast and crew, and they offered me a spot in their next show, Saturday Night Fever, and so I stayed until the end of the year. I performed as a key dancer in the role of Jay and Chester, and I choreographed the famous Salsation duet. I also coached the dancers on lifting. I collected 16 Equity points for that contract. I also auditioned for the West Side Story movie, directed by Steven Spielberg, and got an email in July asking me to come in as a Principal Performer for the 'America' scene, with the main character Anita (played by Broadway star Ariana DeBose). It was so cool. That was two days of work, and after that job, I became SAG-AFTRA eligible. I think if you bring good energy, you'll be hired."
Your experience in Ohio is proof of that.
"Yeah! They offered me another job after Saturday Night Fever, but I had prior commitments in New York. Imagine, I could have stayed and collected more union points. But I missed New York. And I'm on their roster for future shows."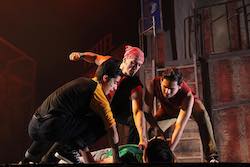 The usefulness of dance degrees always seems to be a topic of debate. Is the degree worth it? Is it for everyone?
"Education is so expensive. Money-wise it's not for everybody. I wish everybody had the opportunity. You don't have to get a degree to keep growing. But there's something in the academic world that you can't get elsewhere. It's not the only path, though. If you're good, you can be good anywhere."
Academic institutions like NYU make it really easy, and provide a pretty package of opportunity (like Pedagogy, New Media, Choreography), but you can absolutely find those outside of an institution as well, if you commit to looking for them.
"Exactly. The thing about NYU and an MFA is that it provides all tools already in relation to the dance world. And for me, the fact that I had dance jobs prior to my MFA, and worked in engineering and marketing before that, it taught me to think differently than the people who hadn't."
Interested in following Oscar's story? Catch him on Instagram @ojkr107.
By Holly LaRoche of Dance Informa.