Taking the Stands is a new mini-docuseries following Orchesis Dance Company of Louisiana's Grambling State University (GSU). Orchesis was founded in 1948, by Catherine Jones Williams with goals to train dancers aesthetically, develop high artistic standards and foster an appreciation of dance as an art form, create a community awareness of modern dance and make it an accessible experience, and develop an ongoing repertoire that educates as it entertains. The talented and mission-driven dance company remains a proud part of GSU and a force to be reckoned with in the majorette dance competition scene. Over 70 years since its founding, Orchesis continues to take the stands at sporting events, school functions and, more recently, big entertainment performances like television commercials and films including, Drumline and The Great Debaters.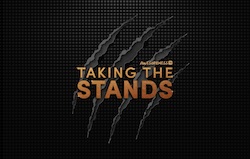 Despite its long history and growing renown in the HBCU (historically black college and university) scene, Orchesis is not yet a household name. In fact, many are only familiar with the majorette dance style thanks to Beyoncé's (incredible) Homecoming tour. AwesomenessTV's Taking the Stands gives viewers a behind-the-scenes look at the legacy, choreography and prestige of the team, along, of course, with some sweat, blood and tears. Dance Informa got the chance to speak with the show's producer, Tara Cole, about this exciting new mini-series.
How did the idea of Taking the Stands come about?
"A few years ago, I was seeing a lot of HBCU majorette videos on my feed. I used to be a professional dancer before working at AwesomenessTV! I felt like this would be cool to follow the culture of this dance style, dive into the dancers' personal lives and explore the team's journey from studio to stands.
Why did you choose to focus on Orchesis Dance Company?
"My friend is actually the cheer coach at Grambling State University, and I was able to reach out to her directly. Orchesis is exciting because they're kind of the underdogs in the majorette scene, and that always makes a great story."
Do the dancers really audition every week, or is that for the show?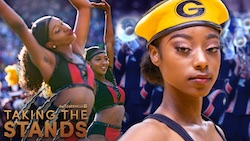 "That's really true! Orchesis has 40-50 members of its dance company. Each week, the dancers audition for the nine to 13 spots on the field. It's extremely competitive and a huge honor to get to perform."
How is Taking the Stands unique from other dance-focused reality shows we've seen?
"I wouldn't really consider Taking the Stands reality television because it's not overproduced; we're not creating any drama. It's more of a documentary series and a backstage look to see all that goes into these incredible performances. The dancers are college-aged girls, and they're so real and relatable."
'Taking the stands' is definitely a play on words. What does the series mean to you?
"We let the girls actually vote on the name. Taking the Stands really resonated with them because, each week, they are quite literally performing on the bleachers!"
How would you describe the majorette dance style?
"Most people have seen this style in Beyoncé's Coachella performance. It definitely has a jazz funk/hip hop feel. The dancers aren't able to move much in the stands, so the bleacher performances are fierce but contained, whereas the dancers can show off more technical elements on the field."
How does a YouTube series work?
"A YouTube series is similar to a television series in that episodes come out on a weekly basis. What's so special, though, is that viewers can interact directly in the comments section – sharing their impressions, connecting with the Orchesis dancers and cheering on the team!
Taking the Stands is released every Friday on the YouTube channel, AwesomenessTV. For more information on Orchesis Dance Company, visit www.gram.edu/student-life/clubs/orchesis.
By Mary Callahan of Dance Informa.