From contemporary to ballet, there is no shortage of professional companies with the mission of spreading artistry to communities around the U.S. While there is an evident presence of companies of select dance styles, there is still one style that does not have the exposure it should have — tap. It is no secret that tap is a legendary style that has paved the way for many great artists, but in our time of dance styles evolving and gaining popularity, this iconic dance form has taken a back seat so to speak. However, The Tap Rebels have set out to change this narrative, more specifically in the southeast. As the only professional tap company in the southeast, The Tap Rebels have already set out to make a mark on the community around them, but just like anything else, they had to begin at square one.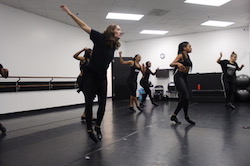 Vanessa Zabari, CEO of The Tap Rebels, tells Dance Informa, "I was approached by Angela Harris with Dance Canvas, and she told me, 'You should start a tap company,' and it got to the point where she kept asking every time I was there. With some reassurance and the thought of people who could be a part of this new group, I developed the name The Tap Rebels. We are rebels in our own craft, so it makes sense."
With a name firmly in place and the idea and a powerhouse group of tappers to drive the machine that is The Tap Rebels, it was now time to focus on the mission of the company and what it would mean for those who are involved.
Artistic Director Mary Beth Stinson shares the importance of having a company like this, especially in the south. "Our mission is to bring back tap, although tap never really left, to the real world. This is also an educational mission for us to keep tap alive along with its traditions. We also have the chance to perform while doing something contemporary and new for the arts. We are tap arts advocates."
In addition to bringing tap back to the real world and the community in general, The Tap Rebels also use their platform to bridge the arts as a whole.
"We have a chance to collaborate with different artists and musicians," says company member Haley Jenkins. "It also gives us a chance to mix tapping with other dance styles as well."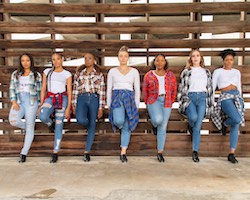 As Atlanta's newest professional tap dance company, The Tap Rebels have already started making a staple in the community. Their first "one night only" show sold out, and they also have offered numerous open tap classes where anyone can take. This is only the beginning for their journey to spread their love of tap around. In the spirit of keeping the life of tap thriving, The Tap Rebels go for a mixture of old school and new school while keeping the spirit of inclusivity throughout their choreographic process.
Zabari explains, "Everyone choreographs, and we are open to all choreography as we work together."
"The perspective is different with The Tap Rebels," adds Stinson. "Our choreography mixes some Broadway tap along with rhythm tap and soft shoe as well, which brings a unique perspective to our dances."
Besides bringing a variety of platforms in the style of tap they perform, there is an emphasis on another aspect that most forget when tackling dance styles — the historic value. Their inspiration stems from the likes of Jimmy Slide, Fred and Ginger, and Gregory Hines, and that's only part of the list of iconic tappers in history that fuels the unique style of The Tap Rebels. What is most important with this group is that it is a sisterhood of sorts, banding together to show the relevancy that tap still has even in a time when other styles of dance take preference. Teresa Jade, Kayla Barber, Monica Battle and Odyssey Wilson are key components to the machine that is The Tap Rebels as well, and they all have a journey in tap that keeps them pushing and essentially led them to join.
"I grew up doing Broadway tap, and after moving to Philly, I was introduced to hoofing," says Jade. "Those two worlds have driven what I do now. Now that I teach kids, I try to find ways to trigger their learning as well so they can make a connection to tap."
Wilson shares a similar tap journey starting with Broadway tap; although, she stopped after awhile as a lot of dancers do. This did not, however, steer her completely away from tap all together.
"It was always my favorite style," she says. "I enjoyed clogging as well, but tap was the only style I truly missed once I stopped. Now that I am a part of The Tap Rebels, catching up is my main focus. I just love tap."
As one of Zabari's former students, Barber reveals, "I was trained technically, and Vanessa was actually my first tap teacher. I was always learning and enjoyed tap especially, so it is great that my journey has brought me full circle."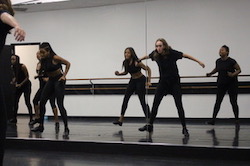 Battle says, "I love the movement of tap overall. It is fascinating that there are so many sounds that can be made with such little upper body movement."
It is no secret that although they are a fairly young company, The Tap Rebels are already setting the tone for the southeast as far as professional companies. With their collaborative approach, the possibilities for this company are endless. One of the goals in particular is to travel and inspire the tap world on a wider spectrum. This would allow The Tap Rebels to put a stamp on each country that they can.
"We want the world to know who we are," Zabari says.
The Tap Rebels have booked their first gig in Miami, where they will have the opportunity to perform, rehearse and do meet-and-greets. This is only the beginning for the sisterhood of tap.
Follow them on Instagram @thetaprebels to follow their journey in spreading tap worldwide.
By Monique George of Dance Informa.