Today's industry is brimming with classes and education opportunities for dancers. But what about dance teachers? Training for this demographic is often neglected or overlooked, but the benefits of nurturing our educators are endless. Iconic NYC studio Steps on Broadway is launching a series of teacher workshops aimed to inspire at all levels, covering a range of specialized topics. Dance Informa spoke with Artistic Director Diane Grumet about the series and why it's more important than ever to support the growth of existing and aspiring teachers.
Commencing this Saturday, November 9, the workshops are geared at learning the craft of teaching dance in a particular genre or style. The first, a Pilates Stability Ball Workshop with Teri Steele, is apparatus-specific, and the other courses on offer cover everything from the fundamentals of teaching to musicality and rhythm.
"Teri is a certified Pilates teacher, and she's developed a really strong and invigorating Pilates floor class," explains Grumet. "Those who are familiar with Pilates can begin to bring this ball technique into their own teaching. We're also offering Early Childhood; Learning to Love Dance with Martha Chapman. She has been with us for a long time, she's very popular, and she's gearing this workshop to teachers or students interested in teaching young dancers aged three to six. She will bring in storytelling and creative play techniques and share her approach for each developmental level. Teachers need to know what to focus on and what kind of attention that age group allows because it's very different from year to year."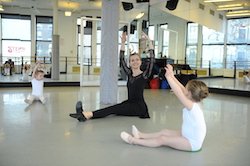 Within the same weekend, Steps is offering Teaching the Fundamentals of Ballet with Kathryn Sullivan and Teaching Theater Dance and Jazz to Beginners and Adults with No Experience with Jeff Shade.
"Kathy has been teaching our beginner and advanced beginner classes here for I don't know how long," says Grumet, "and she's got a very clear academic approach to technique, emphasizing the foundations, so that's her expertise. And of course Jeff Shade is focusing on teaching adults with absolutely no dance experience. So, each one is very different, and they're all very particular to what needs to be addressed in each genre, at each level. We're starting here more with the beginner, lower levels, but we will begin to offer more advanced levels of these classes as we go through the year."
The following Sunday, November 17, the series concludes with three further sessions. "We're offering Crafting a Musical Theater Class with Billy Griffin, a fantastic theater dance teacher," continues Grumet. "He is so energized that he moves everybody else to be authentic in their movement, and he talks about building characters in dance, storytelling and how to engage the students with that kind of material. It's amazing. Then we have the SAFE FLOOR with Alexandre Munz, who comes to us from France with an award-winning technique which helps realign and release pain in the body. And the last one of the series is The Musical Intricacies of Tap for all Levels with Lynn Schwab. She is a magnificent tap teacher and dancer, and she is going to be working with teachers to explain from a musical perspective what she does in a rhythm tap class. Taking it from a musical point of view is so important in any genre, understanding the makeup up of what music is and how to communicate properly about music and rhythm."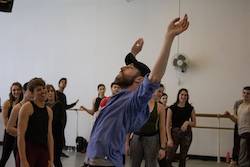 With so many incredible teachings on offer in one of the world's most recognized studios, it's no wonder the workshops have sparked so much interest. Dance Informa readers will probably remember our feature on Munz's SAFE technique earlier this year. These are in-demand leaders in the industry, now available and accessible for teachers wanting to evolve and grow.
"I have to say, what's really important here at Steps, and what I have noticed since I have been in this directorship, is how much of a resource we are here," describes Grumet. "The teachers here are internationally known for what they do, and they are constantly being asked to travel and share their knowledge of dance and dance education. I thought this is the perfect time to utilize this demand. I think if you walk in to this place, you will understand why people come here. There is energy here like no other studio I've ever been in. There's such excitement here throughout the day, the dancers who come here are serious and dedicated to what they do, and there's a huge community of people and artists all here together."
Perhaps most important is the fact that there is finally a focus on teachers as opposed to just students. Grumet is keenly aware of the value in nurturing dance educators. "I think in this business, we can easily become isolated, and we all need a shot in the arm now and again," she explains. "I think this is a way to revitalize or reenergize what we're doing, to hear somebody else talk about it, to hear new ideas or other ways of looking at something. And of course there are the aspiring teachers. There are plenty of dancers who come through here and want to look at teaching, but they haven't had the chance yet, so here's a moment for them to take advantage of an opportunity to expand their horizons. They will walk away with some new ideas and a sense of enthusiasm for what they do. It's a beginning, it's designed to spark people into rethinking, and if they've been doing things a certain way for a while, it's inspiration for change."
Judging on the feedback from previous one-off workshops and the buzz around the upcoming series, it's no wonder Grumet has plans for more teacher sessions in the future. "The next series will be after the New Year, and I'm really going to listen to the responses of the people who take the workshops this time around," she says. "We're still working on the best formula, trying to recognize what dancers and teachers want and how we can satisfy their needs. And of course, we bring new teachers in here all the time, and we have to help in educating and building those teachers. This is a way to help it along."
For more information on Steps on Broadway's Teacher Workshops, click here.
By Emily Newton-Smith of Dance Informa.