Christine Chen has been appointed the new Executive Director of STREB. The company, founded by Elizabeth Streb in 1985, around her organizing principle "Extreme Action", refers to its company members as action heroes. That's fitting, especially with Streb herself having been called the Evel Knievel of dance for her approach to intertwining the disciplines of dance, athletics, rodeo, the circus and Hollywood stunt-work.
Chen is a former member of the STREB Extreme Action Company and a seasoned arts administrator who most recently served as Director of Strategic Programming at the 92nd Street Y. Prior to joining 92Y in 2014, Chen served as Executive Director of American Repertory Ballet and Princeton Ballet School. She holds an undergraduate degree from Princeton University in Sociology, an MFA in Dance from the Ohio State University and an MBA in Strategic Management from the University of California. In sharing the announcement, Streb shared, "Christine Chen is our current moment Jedi. She will lead us to new frontiers of action — forward, up and around at dizzying speeds because she does know how to fly. I speak for the entire STREB Extreme Action Company when I say we couldn't be more thrilled."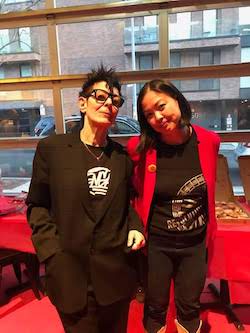 Dance Informa spoke with Chen during this, her first, month in the role as Executive Director at STREB to learn more about how she came to be in this position and what inspires her.
When and where did you first experience STREB? What stuck with you the most?
"I first saw STREB in the mid-'90s at The Joyce when I was in college. I very clearly remember Elizabeth's solo (Little Ease) and feeling viscerally moved by the combination of the very acrobatic movement and the frightening "near misses" in a piece that used a square sprung floor (Bounce). Growing up as a gymnast, many of the moves I witnessed were familiar, but I had always experienced them in a highly controlled, individual environment, so I was also struck by how the company worked together as a team – and how the choreography felt chaotic and dangerous, but somehow worked. I was both surprised and thrilled by the embrace, rather than the avoidance of, collisions; and emphasis, rather than the masking, of gravity and impact in the movement."
Your education and experiences seem a perfect fit for your responsibilities as Executive Director at STREB. What informed your choices about educational and career pathways? What advice can you give to others trying to develop their unique paths?
"I certainly had no grand plan that led me to this point. I've followed my interests and curiosities at each juncture and tried to say 'yes' to as many opportunities along the way – from dancing with interesting companies, to picking up as much administrative work as possible while supporting myself as a dancer, to widening my more formal skill set by returning to business school when I was ready to move on from dancing, to diving in headlong into a management career while seeking experiences that would help me grow. I think the best advice I can give is to take on things you might think are over your head, and then approach each challenge bravely and clearheadedly."
How can the mission of STREB be explored differently in 2019 than it could be at its founding in 1985?
"The landscape of the dance world has changed dramatically since 1985. The reality of shifting touring opportunities led us at STREB to dig more deeply into our home community in Williamsburg, Brooklyn, where STREB established the STREB Lab for Action Mechanics (SLAM) in 2003. It's where we've since built a vibrant school for children and adults as well as a performance venue. The space attracts a wide range of students and artists looking to learn, experiment and be inspired. The neighborhood has changed dramatically since we first moved in, but SLAM represents a place where a wide variety of communities and diverse people can come together in unity and action. It is grounded in grit and artistic experimentation while also being widely appealing, accessible and aspirational. We still tour worldwide, and bringing what we do to a global audience is still very much part of our mission, but I think growing some roots in Williamsburg has allowed us to become stronger as an organization. I think there's now also an opportunity for us to explore how we can plant some seeds and grow roots in other locations, as I think we have developed a great model for community, engagement and artistry.
The wider world we live in has changed so much, too. As we've become more highly fragmented, segmented and immersed in the digital world, STREB's mission – to realize the power of extreme action – has become even more critical. It's vital that people experience fully physical action in real life – our bodies and minds crave it. By overcoming fear, and pushing our physical and mental boundaries, everyone – kids and adults at every level – can live more fully empowered and vibrant lives. Learning to be an action hero within the environment at SLAM gives you the confidence to push metaphoric boundaries, stand up for causes you believe in, and generally be a more present and powerful person. When you learn PopAction, you learn how to stand strong physically, fall down safely, and pop back up. The literal physicality of that translates into how you approach the outside world, and it informs your overall presence and consciousness.
On a more prosaic note, in 2019, we are also able to share what we do visually with a wider audience through social media in a way we couldn't in the early days."
Tell me about the PopAction adult and kid's programs and what training they provide for students.
"PopAction is a technique Elizabeth Streb has developed over the last 40 years where you systematically train your body to take on increasing challenges, learn how to engage your muscles to initiate action, take impact, fall, fly and generally move with precision and special awareness. PopAction is accessible to total beginners and children as young as 18 months, as well as to trained professional dancers and athletes because it is based on a 'personal best' principle – where you are aware of and stay within your own physical capabilities while also pushing them so you can build skills, strength and confidence."
How about the España-STREB Trapeze Academy? What makes this academy unique among aerial training grounds?
"The España-STREB Trapeze Academy is unique in that it's situated at SLAM, which puts it within a stimulating culture of innovation and experimentation. While there is an established progression for learning flying trapeze and other aerial arts, which we embrace, our advanced students – kids and adults – and the faculty I see training at SLAM go beyond traditional circus vocabulary and are constantly inventing new tricks and pushing the form – in the unique skills they're trying, in the way they flourish and style their tricks, and the flairs of humorous ingenuity they imbue into their flying technique. I believe this is a result of existing within SLAM's environment of experimentation and boundary explosion."
When did you first feel like a fully-fledged action hero as part of STREB?
"The beauty of STREB is that you start to feel like an action hero from the moment you stand firmly in place and learn your first prat fall. Once you experience that first solid perfect 'hit' (when you fall in a perfect line and you impact the floor in one satisfying 'thud') you feel like a hero. It's like when a tuning fork finds the perfect vibration. Then you learn to go a little higher, or hit a vertical surface with that same technique, and before you know it, you're diving off trampolines or 40 foot trusses, and then you really feel like a superhero. On one of my first tours, an artist that I greatly respect came up to me after a performance and said, 'It must feel great to have found the perfect match between what you're good at, what you love and what you are doing.' I never forgot that, and I think that finding that match and building toward it is really what makes you feel like an action hero. Like a tuning fork, when everything resonates, there's great harmony and flow."
In wondering about movement, gravity and flight, what is currently on your mind for STREB to explore next?
"That's definitely more of a question for Elizabeth! I feel like my job is to create the conditions where Elizabeth can push that frontier to the next level. All of us at SLAM – whether we're physical action heroes realizing her choreographic vision, administrative heroes working behind the scenes to make the organization run, or engineering heroes who help design and build the wild machines she dreams up — are all along for the ride. Elizabeth's quest to defy gravity and fly is all of ours. I think our desire to fly is universal, but Elizabeth has the vision and the will to make it happen and it's my honor to play a part in it."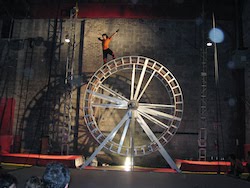 How does an aspiring action hero best train and audition for company membership at STREB?
"The best way to train to be a STREB action hero is to come to the space, emerse yourself in the energy and take PopAction class. The Action Heroes of STREB come from a variety of backgrounds – we're a band of dancers, gymnasts, martial artists, circus artists and athletes — but what organizes and unifies the STREB Extreme Action Company is the grounding and training in PopAction."
What most excites you about working closely with founding Artistic Director Elizabeth Streb in your new role as Executive Director?
"Everything! Elizabeth truly is a singular visionary, so playing a role in helping her realize her vision is an inspiration. I felt similarly when I first joined the company as a dancer, but to be able to spend more time with her now in this new role is an honor I can't believe I'm lucky enough to enjoy again."
What do you do for fun?
"I fly on the trapeze at España-STREB Trapeze Academy, of course! It's something I started back when I was dancing with STREB, and I've tried to keep it up over the years. I also do other aerial work like rope and silks, occasionally dabbling in amateur performance.
I also enjoy a good culinary adventure – on both sides of the making and consuming spectrum. This is a relatively new passion for me, inspired by my work at the 92nd Street Y, where I got to curate the food programming. Learning about and listening to the world's top chefs talk about their process and their recipes whet my appetite to expand my palette and repertory. Culinary and dance artists are actually very similar. I realized that if you can learn some basic techniques and understand some guiding principles, cooking can be fun…and nourishing! I've now become more fearless in the kitchen, and there's nothing I love more than getting a mystery farmer's market box, improvising recipes and figuring out the puzzle of how to most effectively use all the fresh seasonal goodies. It's how I unwind and focus my brain in a very different way on the weekends!"
What else would you like to share?
"Dancing with STREB was such an important part of my life. And while I stepped away and pursued other opportunities, STREB always stayed with me, as an important part of my identity. I had considered coming back to STREB to work in other capacities a couple of times over the years, but the timing now felt right. I feel I have grown a lot in my time away from the company, and hopefully I can bring what I've learned back to STREB. At the same time, I've stayed connected to the organization. In addition to flying regularly over the years, my son has taken PopAction classes, gone to camp and participated in the Tween and Teen Action clubs at SLAM; my husband and I have taken flying trapeze, trampoline and even German Wheel classes together; and I have remained a huge fan, supporter and advocate of the company. I look forward to this next challenge!"
For more information on STREB Extreme Action Company, visit streb.org.
By Emily Yewell Volin of Dance Informa.