Deborah Ory and Ken Browar of NYC Dance Project created their first book, The Art of Movement, in 2016. The photography book featured some of the industry's biggest names, including Misty Copeland, Tiler Peck, Gillian Murphy, Robbie Fairchild, Masha Dashkina Maddux and more. While a few of the dancers were dressed in simple leotards, others wore couture pieces. Ory and Browar started to get noticed by fashion magazines such as Harper's Bazaar and Dior Magazine, and worked with these publications on shoots that featured dancers rather than models.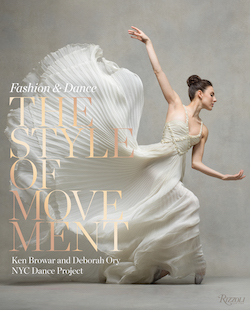 The photographers became aware that there was a unique synergy between dancers and clothing – that dancers brought the fashion to life and that the clothing looked incredible in movement. So, NYC Dance Project brainstormed a perfect sequel to their first book: The Style of Movement: Fashion and Dance.
The new book features dancers from around the world, including Daniil Simkin, Gillian Murphy, Tiler Peck and others. The designers' garments range from current to vintage, in all styles of fashion – from Dior, Valentino, Oscar de la Renta, Thom Browne, Iris Van Herpen and Issey Miyake, to vintage pieces from Halston, Bill Blass and Comme des Garçons.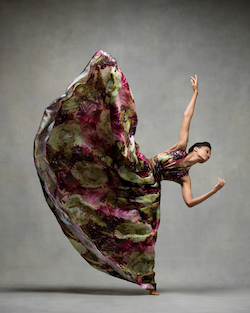 Dance and fashion have proven to be a strong partnership for quite some time. Dancers are often donned in designer gowns and tuxes for their red carpet galas, and even in some ballets, fashion designers become costume designers. In Edwaard Liang and Lauren Lovette's recent fall premieres at New York City Ballet, for example, costumes were designed by Anna Sui and Zac Posen, respectively.
"Dance and fashion have actually always had a close relationship – fashion designers both designed for and have found inspiration in dance," explains Ory. "Dancers and choreographers have always loved fashion, and companies such as New York City Ballet have in the past devoted an entire season each year to their collaborations with fashion designers. We wanted to explore this relationship and how it affected the movement, shapes and emotions in our images."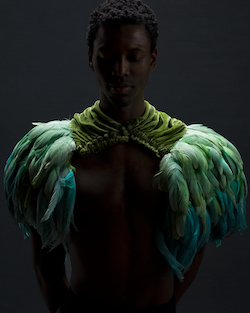 She adds, "Dancers have unique ways of moving – movement that allows the clothing to take on a life of its own and become another element in our photographs. The clothing is much like a partner for the dancer and allows for unique and interesting shapes to be created, while at the same time adding emphasis to the emotion and mood of that image."
With The Style of Movement: Fashion and Dance, Ory says she hopes readers can use the beautiful images as inspiration and simply a way to enjoy art. "Art has always been an escape for me," she says, "a way of taking my mind to another place and a way of expressing emotions."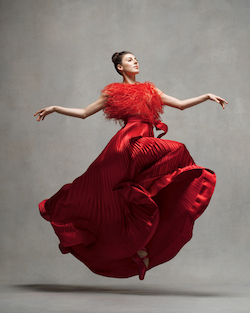 In addition to the release of their new book, Ory and Browar also have some photography exhibitions planned with some of its images, including an opening in Boston, at the Lanoue Gallery, where their work will be presented from October 18-November 30.
For more on NYC Dance Project, visit www.nycdanceproject.com. To order a copy of The Style of Movement: Fashion and Dance, click here.
By Laura Di Orio of Dance Informa.