Dance Informa chatted with Bailey Munoz, 19-year-old winner of So You Think You Can Dance (SYTYCD) 16th season. Munoz is the first b-boy to win the competition in all of its 16 years, and the second Filipino-American to win in two consecutive seasons.
What does it mean to you to be the first b-boy in 16 years of SYTYCD to win?
"For you to say that is just insane, because it really hasn't sunken in. I think coming into the competition as a b-boy, I wasn't on the technical level that everyone else was at, so I knew every performance I did, I had to represent the b-boys. To be the first b-boy winner, it still feels like a dream, because I was actually inspired by the show, by people like D-trix and Hawk. I felt a huge honor to represent them in the top 10. And it was such a blessing for me to just be in the top 10. For me to win the show, it still hasn't hit me. Words can't describe it."
You might be the first b-boy to win SYTYCD, but you're the second Filipino-American dancer to win in two straight seasons, after Hannahlei Cabanilla in season 15. What does that mean to you?
"I mean, being Filipino, I have so much family. Filipinos, we embrace the culture. Whenever there's a Filipino competing, they're all rooting for him or her. It's so crazy to think that I have a country behind me. For there to be two straight winners, back to back, who are Filipino is just an honor that I know the whole country is celebrating. It's insane. I get text messages and DMs, and they're all so excited. So after tour, for sure I want to go back to the Philippines and celebrate with them."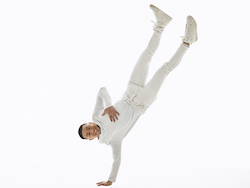 In 2010, you made it to the semifinals on America's Got Talent. You were so young then! What's changed for you in how you approach competing and dance in that time?
"Obviously, I got older. I've been blessed to work in this industry at a young age, and I think that has really got me prepared for the show. I wasn't trained in all the styles, like contemporary, or ballroom, or Bollywood; they gave me Bollywood one time. Because being on the show, especially being in the top 10, we're under so much pressure. We have to learn and perfect these dances in how many days, and perform it on show day like we know how to do these styles. I know being in the industry and being a semi-finalist on another show has really helped my work ethic, and I know how to handle the pressure a little bit. Every time I walk on stage, I feel like a superhero. I'm not just representing myself, I'm representing my family, God, other people who have voted for me and all my mentors. It's more than dance with this show, for sure."
While this win is obviously a huge deal, it's definitely not your only accomplishment. You've toured with Bruno Mars, and performed with Justin Bieber, Beyoncé and Megan Trainor. What's been your favorite performance of your career so far, and why?
"This is probably the highlight of my whole life. And like I said, So You Think You Can Danceinspired me to dance. So to be on this platform… I can't even wrap my head around it! To inspirepeople the way I was inspired still blows my mind. At a young age, I was like, 'I want to be on this show.' So for me to be standing here as America's favorite dancer, words can't describe."
You move so big! How do you get such impressive height on your jumps and fluidity in your landings? What's your trick!
"I don't have a trick! What's funny is I am smaller, but I just try to dance as big or bigger than someone who's six feet tall and next to me. The Executive Producer calls me Ant Man. He doesn't call me Bailey. Now I know; I never knew why. He told me to look it up. When I looked it up, it said an ant can jump 20 times its average height, and lift as much as, like, a car. So it's crazy, that's why he calls me Ant Man. So I don't know what the secret is. Work hard!"
What's next for you? Where can our readers catch you?
"I get this question a lot, and I honestly don't know how to answer it. This show has definitely opened my mind to different aspects of dance, and I would love to dabble in, you never know, Broadway! I'll be a b-boy Broadway dancer, or go back to the Philippines, or do commercial work. Shoot, I might even do a contemporary b-boy company. You know, the possibilities are endless for all of us. I'm just so excited for the future. I'm just so keen, definitely so keen in this moment, and I know SYTYCD was a journey that I'll never forget. I'm just so excited for tour; this is a new journey. And to be able to tour with my best friends, and Cyrus and Lauren, it's just such a blessing, man. First thing I'm thinking about is my family. That's the first thing I'm going to do after tour. Just give back to the people who, you know, gave their time and effort to me.
I came from a performing arts school; they were my foundation. I never trained like the kids who do technique on the show, who were studio-based and trained their whole life for this. I was just in high school going to ballet class because it was just a curriculum thing. I didn't know that I was going to continue doing that after I graduated high school. But I did it on the show; it really benefitted me so much. The performing arts school I went to is Las Vegas Academy, so shout out to them. They're my foundation."
Want to see Bailey and the other SYTYCD dancers on tour? Get info about dates and tickets here.
By Holly LaRoche for Dance Informa.