Dance Informa offers you the next installment in our series on alternative dance gigs. This month, we're talking about movement directing and the various ways you, as a dancer, are perfect for the job.
Elena Vazintaris is a choreographer, movement director and film maker based in New York City. Her choreography, that fuses contemporary dance with more commercial aesthetics, spans fashion editorial, film, music video and the stage. Many of her projects have garnered attention from international film festivals, winning awards and nominations at SXSW, Stuttgart Festival of Animated Film and featured in Rolling Stone, Tribeca Film, Dazed Digital, Schön Magazine, Vh1, MTV and Noisey. Other music videos, commercials and clients have included Refinery 29, Big Data, Cool Uncle, Kate Spade, Hugo Boss, Marella, Banana Republic, Gap, J.crew, Madewell, Converse and Laura Mercier.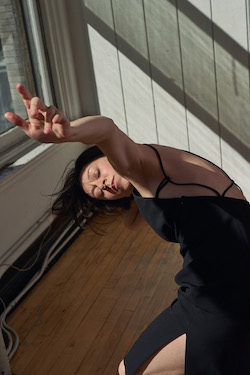 When was the first time you heard the term 'movement director'? How did you get into it?
"A few years ago, I was asked to style a shoot. The photographer knew of my dance background and asked if I can help with movement as well. On set, she mentioned the name Stephen Galloway and introduced me to the work he was doing. At that point, I was living these parallel lives: working as a fashion stylist and making dance work. His work inspired me to bridge my two worlds together."
To you, what's the difference between a choreographer and a movement director?
"By definition, choreography is the arrangement of movement, steps and patterns. As a movement director, that is exactly what I do. To be a movement director is to be a choreographer and vice versa. What shifts is perhaps the approach. Choreographing, in the traditional sense, to make a dance, would require process, research, rehearsals, time. Movement direction occurs instinctually and in the moment. It is a form of guided choreography that is improvisational and inspired by the themes outlined by the director and/or client. Both are concerned with how the body moves and finding the moments that reflect an idea, an emotion, a feeling, a composition of shape and space."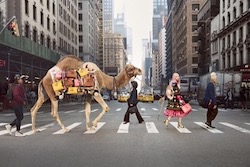 What kind of work has movement directing brought you to that you wouldn't have expected or encountered otherwise?
"I haven't really been surprised by the type of work I've been exposed to. What people might find surprising, however, is that you're not always creating dance-like shapes. Sometimes you are directing extras into frame, or pathways that models take to get in and out of shots. Other times, you are guiding talent in creating authentic gestures and working with the director/photographer in composing a shot. It's not always about the big dance leap."
How has being a dancer been an asset to you in those situations? What skills do dancers bring to the table in other creative environments?
"Of course, being a dancer and choreographer informs the work profoundly. You understand the body and where movement is motivated from. You can break down gesture and communicate these ideas succinctly. We also have a strong sense of collaboration, which is very important on set. It's not just you creating movement. You are working in conjunction with the director/photographer, art director, client and talent. Understanding how to function in a collaborative environment is paramount."
Do you find yourself working more often with trained dancers, or 'movers'?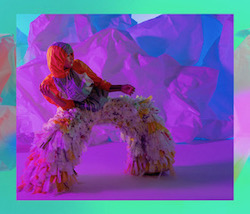 "I work with an array of talent. From dancers, to models, actors, rappers, musicians and everyday people. From one person to a 20-person cast. Everyone is a 'mover', and your job is to guide them through a series of cues in order to create the desired imagery based on the direction of the project. What is most important is making talent feel at ease. Dancers don't necessarily have issues with performing. They take direction well and execute. For a non-dancer, however, the camera and the buzz of a set can be intimidating. Part of the job is to create a safe place for them to be their true selves. When they feel comfortable, they are open to try just about anything!"
When working with non-dancers, how do you find directing them in movement is different? How does your language or process change?
"I have found that trained dancers can take direction well with verbal prompts, while a non-dancer might need more of a demonstration. Every job is different, and your approach has to be fluid and accommodating."
What have been some of your favorite sets?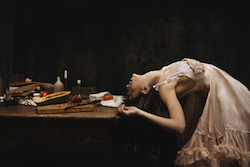 "The works I did with photographer Ryan McGinely were all so epic. Shooting for Document Journal upstate until 3am with a cast of nine that culminated into a dance party on a lake while Ryan photographed from a boat, to closing down Fifth avenue for Kate Spade while I movement directed a model with a camel and the extras. I absorbed a tremendous amount about being efficient, quick, collaborative and up for anything on his sets.
Side note: The assistant director is your best friend. They facilitate so much between you and talent and communicating with them helps profoundly."
What would you suggest to dancers interested in getting into movement directing?
"Get yourself on a set. Hit up your photographer friends, and get on their sets. Assist a stylist, or photographer or director. Do PA work. Shadow a movement director. Knowing the intricacies of set dynamics and how to communicate with everyone, not only with talent, but all your collaborators is crucial. Produce your own shoots, and build a portfolio of work."
See more of Elena Vazintaris' work with Kendall Jenner, Vogue and Ryan McGinley here or on Instagram at @evnyc.
By Holly LaRoche for Dance Informa.