You are probably no stranger to the term "New Year's resolution". The most common are to "get healthy" or "lose weight". I am a firm believer that you can make a resolution any time of year, but the beginning of a new year is a good time to evaluate the past 12 months and to focus on changes, challenges or accomplishments you'd like to face or achieve in the coming year. They do not have to be elaborate and, in fact, should be realistic to set yourself up for success. 
Resolutions do not have to be reserved for outside the dance studio. Consider making resolutions that can improve, enhance and sharpen your dancing abilities. Here are five movement resolutions you can make for 2019.
#1. Try a new genre of dance.
We tend to stick to what we know and, more importantly, where we excel. As difficult as it may be, trying a new form of dance will expand your movement repertoire and make you a well-rounded dancer. I encourage young professionals in my field of dance/movement therapy to try as many forms of dance as possible to get a better understanding of their own movement biases, as well as exposure to how different cultures move. Additionally, if we can expand our movement vocabulary, we can increase our ability to empathize with others. Empathy makes us better people and as artists allows us to "dance" in others' shoes, making for a more authentic performance. 
#2. Go back to the basics.
Even professionals and veterans need to go back to the drawing board. Take time to relearn the basics of whatever genre you are drawn to. We can always benefit from learning ballet basics again. Relearning the basics of dance instills humility, reminds us of hurdles we have overcome and improves our technique no matter how advanced we are. It may also provide an opportunity to help a less advanced dancer to whom you may become a mentor. 
#3. Get out of your comfort zone.
Change is inevitable. Progress is optional and only comes from challenging yourself beyond your comfort zone. Playing it safe isn't always going to expand your horizons or take you to the next level of performance, education or training. Progress never comes from being comfortable, and it is in our discomfort where we can learn who we are and what is needed to grow. Now, as a note, you should never have to sacrifice your health, physical or mental, to advance in your career, and getting out of your comfort zone does not mean inflicting pain or sustaining injuries for the sake of a challenge or competition. While getting out of your comfort zone should be uncomfortable, it should not be painful. 
#4. Move for you!
In a field where we are often performing for others, looking to gain the respect or even admiration of others, and often intimidated or even threatened by another's success, it is vital that we find ways to connect to our joy, passion and purpose. Remember to engage in movement that sets you free and makes you the best version of yourself. Especially when the competition is fierce and the weight of it brings you down, it is imperative to find ways to lift yourself up. I am reminded of the scene in the movie Center Stage where Jody Sawyer leaves the ABA campus and takes a jazz dance class. Afraid of being spotted and turned in for going against ABA protocol, Jody can't deny the freedom and joy she feels in that class. It breathes new life into her and allows her to reconnect to why she dances. 
#5. Practice mindful movement.
This can actually be done anywhere — in bed, walking to the studio, even on public transportation. Beginning a practice of mindfulness in regard to how you move allows you to prioritize your health, physical and mental. It can help you avoid injury and help manage the emotional stressors that come from daily life. You can participate in a group or practice this on your own. Start by mindfully checking in with your body, starting at your head and working your way down to your feet. Be mindful to all the parts of you, as well as the environment, and take time to breathe throughout the day. Recognizing and releasing tension throughout the day prevents burnout and further injury. 
Making a resolution is one thing; keeping it is another. At the end of the day, it comes down to willingness and willpower. Your desire to change must be greater than your desire to stay the same, and one way to make change happen is through the body. You can change your behavior and mind by changing your body and how you move. You can make your mind more efficient, resilient and adaptable. Let this be the year that truly moves you.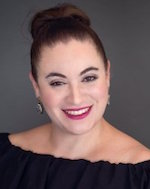 By Erica Hornthal, LCPC, BC-DMT, Dance/Movement Therapist, Chicago Dance Therapy.
Erica Hornthal is a licensed professional clinical counselor and board certified dance/movement therapist based in Chicago, IL. She received her MA in Dance/Movement Therapy and Counseling from Columbia College Chicago and her BS in Psychology from the University of Illinois Champaign-Urbana. Erica is the founder and CEO of Chicago Dance Therapy, the premier dance therapy and counseling practice in Chicago, IL. As a body-centered psychotherapist, Erica assists clients of all ages and abilities in harnessing the power of the mind-body connection to create greater awareness and understanding of emotional and mental health. For more, visit www.chicagodancetherapy.com.