By Kristy Johnson of Dance Informa.
There's no denying Britney is on fire with a new show and hot new look. Ever wondered what it takes to put on a show of that caliber? Dance Informa caught up with choreographers Ashley Evans and Antony Ginandjar of The Squared Division and dancer Willie Gomez to find out exactly that.
The Squared Division
Congratulations on working with Britney for her Las Vegas residency! How did this opportunity come about?
Ashley
"We heard a rumor that Britney was looking for choreographers for her upcoming residency in Las Vegas. Soon after, an email went out via the director requesting choreography submissions for a show. Very little information was given and there were a few requirements for the submissions. We were in Los Angeles at the time, and thought, 'How are we going to do this in America?' So we instantly flew back to Sydney, called some of our favorite dancers up and filmed two pieces of choreography for our submission. Of course we went all out – costumes, sets and lights!"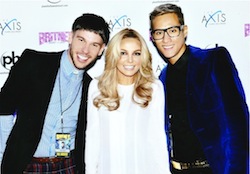 Antony
"We just did what we do, and we did it with passion. We stayed up until about 4 a.m. one morning editing them to get them off on deadline. Then it was about a week later [when] we got a call from the director saying Britney wanted to have a Skype meeting with us, as she was interested in working with us."
Ashley
"A few days after that, the phone rang again and Britney wanted to meet us. We flew over to L.A. to meet Britney for a private one-on-one. It was directly after that session that we got the call from our agent saying 'You just booked Britney.'"
How long had you known that you had secured the role of choreographer for Britney's Las Vegas residency? Did you have to keep this a secret for a while?
Antony
"We actually had to keep it top secret for a couple of months. The project itself was not yet even confirmed to the public, let alone who was choreographing it. It was so hard. Naturally it is something you want to just scream from the rooftop, but we are very good at keeping secrets. It was funny, by the time we were allowed to tell people, we had known for so long and we were so involved that we kind of forgot to say anything. It wasn't until Britney released the "Work Bitch" music video and I posted it on social media that people learnt the news and the response was amazing."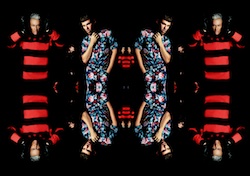 What is Britney's work ethic like? From images in the media, it appears that she really does give her all.
Ashley
"Incredible. Some artists we work with just don't put in the hours, whereas she definitely puts in the hours, working seven to nine hours per day. On top of rehearsing this show, she was releasing an album and doing press for that, shooting music videos and she is a mom of two! I don't know how she does it. One thing you may not know about her is that she is always early. Britney is always 10 minutes early and always ready to go before you are. We absolutely love working with artists like this, it rubs off on everyone working on the project and everyone puts the extra work in."
Is she easy to direct when it comes to choreography and overall vision? Does she like to have an input?
Antony
"Britney is definitely in control of everything she is doing. She collaborates with all the creatives involved – the director, stylist, dancers and definitely the choreographers. We worked on this project for about five months, and we really spent the first month getting to know her and understanding what it is she loves. Once you get on the same page as an artist it's really easy – you create what you want to do with what you know they will love also."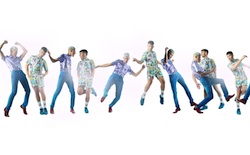 What can we expect to see from the dance numbers?
Antony
"This show is such a massive dance show full of intricate dance routines. It's non-stop. The dancers do not leave the stage as they are working so hard. At first they never thought they would get through it from start to end. We even had some dancers throwing up on stage during our first full runs of the show, crazy! They have now become machines and are super show fit."
What's next for The Squared Division?
Ashley
"Everything is always top secret. We have some really wonderful things possibly coming up so it's going to be an exciting year. Our first goal was to relax, so we have taken some time out to rejuvenate and reinspire! Loving this time and as always excited for the future. It's so important to take time out to rebirth some new creative energy."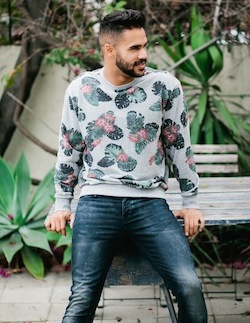 Willie Gomez
Congratulations on working with Britney for her Las Vegas residency. Having worked with her before, did you have to audition for this particular job?
"I had to audition again. It was an all-new team from the choreographers to the director of the show."
What's it been like to work with The Squared Division? What kind of energy do they bring to the set and rehearsal room?
"It's been great! I've learned so much from Ashley and Antony. They are such professionals and hard workers, and on top of that they have the best energy to be around. I have a lot of respect for them."
What is Britney's work ethic like?

"Britney works so hard. I give her props! It's not easy to be a mom, be at rehearsals for the show with all of us for eight hours a day six times a week, and be releasing and promoting a new album at the same time. She did it! Got to love our girl."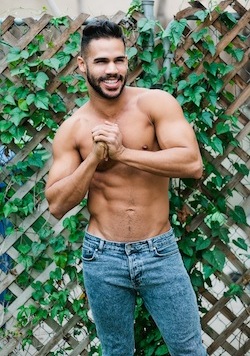 From working closely with Britney, has she taught you anything about the industry or as a performer?
"I have been learning from Britney since I was about 16 years old to be honest. Which was way before I started working with her. [Laughs.] A big part of who I am today as a performer is thanks to her. She's been a huge inspiration in my entire career. I love how even with all the success she's had she still remains that sweet Kentwood Louisiana girl. No matter how much success I have, to always stay grounded. It's not good to get caught up in the industry."
How long did the rehearsal process go for, and what did it entail in terms of coming up with dance numbers and the overall vision of the show?

"The preparation of the show for us was about 12 weeks. We would come in and learn a number or two a day throughout the process, some things subject to change later on but that's the process of the making of it. Ashley and Antony always had the choreography ready before they would put us into numbers. It's fun! We all become a big family."
We all know how competitive the industry can be. How do you make sure you're on top of your game?
"Well, as some people may know, I am a fitness addict! I know this has helped me stay on top of my game. At auditions when it comes down to the last group of guys, they start looking at more than just your talents. It's why I'm always training hard on my free time at least five days a week. I love to hike, take yoga or dance classes, workout at the gym and eat healthy. This keeps me always in the best shape and at auditions when it comes down to the last guys, it's always a plus."
Photos courtesy of The Squared Division.