Break the rules with dark smokey eyes and deep rich lips.
By Christine Dion of Mode Dion
Makeup artists usually follow the rule "the darker the eyes the lighter the lips".  But bad girls never follow the rules. Dark coal eyes and deep sultry lips are the realm of rebel vixens.  Born in the 1920s and worn by Flappers and on the stages of the Cabaret or Moulin Rouge, this serious makeup style is designed to get attention.
The 1920s was the beginning of the Jazz Era.  World War 1 had ended and celebration was in the air. In the US, women had won the right to vote, threw out their corsets, cut their long hair into a stylish bob (or shorter!), raised their hemlines, called themselves 'Flappers' and danced the Charleston till dawn.
Flirty Hollywood actress Clara Bow's style fast became the rage when Max Factor created a look so her features could show up on the silent movie screen. Her confident, bold style set the tone of the era.  Meanwhile in Paris the Moulin Rouge was dazzling with daring and glittering vixens and in Berlin the Cabaret crossed lines with an even darker look that both men and women adorned.
The color choice of eye shadow and lipstick is dark burgundy and black.
Here's how to get the 'Vixen' Look.
Brows: Should be dark, even black is ok. Some flappers wore thick dark brows while 20s Hollywood starlets, cabaret and Moulin Rouge performers' brows were very dark and thin. For thin brows cover brow hair with foundation and draw on a thin black line.
Eyes: Define eyes in black shadow at outer lash corner, sweeping up to above the crease blending over to the inner eye corner. To keep eyes looking open do not blend onto center of the eyelid.  Keep the look rounded. These are not 'cat eyes' but round 'doe eyes'. Blend burgundy eye shadow into the edges of the black above the crease, rounding eye from outer corner to inner corner. Wet your liner brush, stir it into black eye shadow and line across lid. Also line below lower lash line, creating a fuller line at the center of lower lashes.  For a large stage apply white pencil onto lower lid and a little at the outer corner to make eyes appear even rounder. Finish lining by applying burgundy eye shadow dry on top of the black, smudging more at the center of the lower lashes. Add a full row of black false lashes.
Foundation/Concealer & Powder: Clean up mess under the eyes from eye shadow fall out and apply foundation, concealer and powder, in that order, to create flawless skin.
Lips: Lips need to be small and 'rosebud' shaped. The sides of the lips come in with the top 'bow' very defined. Use a burgundy lip liner and lipstick.  If you don't have a burgundy lip liner or want to make your lips almost black, blend black eye shadow with your liner brush into your lipstick. To create more fullness to the lips apply a light shimmering lipstick to upper and lower lip center.
Cheeks: Flush apples in red cheek color. Use a shade a little stronger in color than you would normally use so the cheeks really show up.
Add a mole just above upper lip or at temple by dipping your wet liner brush into black shadow.
Glitz: If your costume has a lot of glitz (rhinestones or sequins), add a little glitter to compliment your costume color just at the center of the upper eye lid. A headband with a flower or feather at the side will complete a Flapper, Cabaret or Moulin Rouge look, or choose a top hat to add drama. Bob wigs in black or platinum create the hair style of the day.
Want to go 'Goth' and create a modern vixen? 
Eyes: Use the same principals as above but omit the burgundy shadow. Apply black to define eyes and matte cream color eye shadow to highlight under the brow, and a little onto the lid.  Add white shimmer powder at center of lid, inner eye corner and brow arch.
Brows are still dark and thin. Apply false lashes that are not as thick as the 20s look. Choose lashes that are a bit longer, sweeping out at the sides for drama.
Cheek color is still a strong red flush but add contouring to define features, especially the cheekbones and nose line.
Lips: Black or burgundy black tones made very shiny and modern with clear lip gloss.
Glitz: Silver glitter is the color of choice and applied at the center of lips, inner eye corner and center of eye lid to create a glam modern vixen look that is a show stopper. Be sure to secure glitter with a spirit gum like Mode Dion Diva Glue for staying power.
Who is Christine Dion?
Christine Dion brings with her more than 30 years in the beauty business. She has worked as a make-up artist internationally for fashion magazines, commercials, television, fashion shows and dance theater. She is a published author, beauty columnist and educator for dancers and performers, touring the country speaking at conferences and in dance studios. Check out her web site modedion.com where you can see her training and beauty products.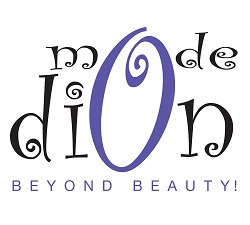 DANCE INFORMA READER'S GET THE LOOK 20% OFF!
CREATE THE LOOK with these amazing Mode Dion Stage Makeup Products and receive 20% off when you mention Dance Informa Oct. 2012
MODE DION: Pro Pallet 5-color eye shadow/liner compact, White eye pencil, Shimmer Pot, Stage Red cheek color, Rum Raisin lip liner, Rhubarb lipstick, Silver Glitter, Diva Glue.
Call 760.837.9433 or visit www.modedion.com.
Clara Bow photo source: www.maybellinebook.com/2011/04/maybellines-it-girl-clara-bow-unleashes.html