Internationally recognized beauty and image expert Christine Dion is known throughout the industry for her career as a model and later as a professional makeup artist for fashion photography, television and the runway. Having been responsible for developing new models at Elite Modeling Agency L.A., for directing John Casablanca's Modeling School L.A., and for founding Mode Dion Image and Self Development Center, Dion clearly knows a thing or two about beauty and professional presentation.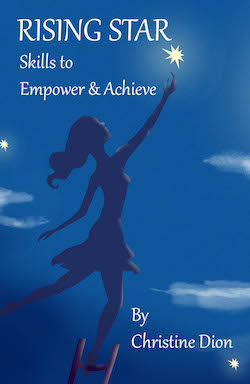 For this reason, Dion decided to publish a book entitled Rising Star: Skills to Empower and Achieve. As a natural extension to her speaking engagements across the country, the book teaches how "a good public image opens doors, helps you feel at ease and more confident". Chockfull of practical tips, it's a book for everyone, but especially a rising star, or "a person with emerging talent growing quickly in popularity".
Dion told Dance Informa, "Often rising success can be very stressful. Personal strength, a positive attitude, maturity, skill in handling difficult people and situations become vital tools for growth and opportunity."
She added, "Like learning the steps to a dance, once you know the technique, with a little practice and passion you'll be able to express freely your own personal style with the joy of knowing your showing the world your very best."
Labeled a "must" for any new performer who finds themselves in the public eye both on stage and in life, this book covers topics including: creating positive influence with personal style, reading body language, how to increase charisma, how to unlock potential with the right attitude, skills for dealing with difficult people, manners for social media and in real life, and how to craft tools for working in the industry (from pictures to resumes.)
Here are just some of the helpful tips mentioned in Rising Star:
#1. "Dressing for your body type can make a difference." In Chapter 1, which is entitled "What You Say Without Saying a Word: Your Image and Style", there is a section focused on how to dress appropriately for your body type. Dion lays out the most flattering looks for different body types, noting that what people wear can "either enhance or take away from our figure and style."
#2. "Reading people is a vital part of communication and is mostly done subconsciously. The tools for understanding body language are very important." In Chapter 2, the book zooms in on poise and body language, teaching readers how to achieve the proper posture, how to make a memorable entrance to a gathering, how to read people's unconscious stances and gestures, and what body language countries around the world find offensive.
#3. "It all starts with a smile!" In Chapter 3, Dion takes readers back to Attraction 101 by showing how a simple, confident smile is one of the most important tools for those seeking acceptance and admiration. In this section, she also covers non-verbal communication techniques, networking strategies and those "conversation don'ts."
#4. "Embrace confidence." In Chapter 4, Rising Star walks you through what charisma is, how to get it, and how to be confident. Dion writes, "Confidence comes from overcoming obstacles." She encourages readers to journal their accomplishments and what obstacles they have overcome to build up self-assurance.
#5. "What we think is what we create and become!" Chapter 5 is all about inner strength and unlocking one's potential. Dion dives deep by addressing topics like fear, worry, guilt, blame, self-punishment and even inferiority and superiority complexes. She concludes with: "Falling, getting back up, making mistakes and learning from them is part of life."
#6. "Maturity is not an age." For Chapter 6, Dion shares what qualities mature individuals possess, and how those qualities aren't based on their age. Explaining why maturity is important, she notes, "Doors close quickly on those who are difficult to work with." After listing those characteristics, she also covers why it's important to be able to say "no" when needed, and how to handle situations like pushy people, complainers and bullies.
#7. "Practicing good manners at the dance studio prepares you for life." Chapter 7 hits hard with statements like these – pointing out that the chapter's topic (professional decorum) starts way before students actually achieve celebrity. It starts with how they treat their friends, their teachers, their administrators and even their parents now. Chapter 7 also considers this through the lens of phone manners and social media.
#8. "Dining like a pro is one of the most important skills you will ever learn. It affects your rise to stardom more than you know." In Chapter 8, Dion gives readers a vital lesson on proper place settings, dining manners and other various formal exchanges. She wraps up by saying, "Think about this: When you learn manners for the benefit of others you benefit yourself. This is true with everything in life. One always benefits ones self when placing others in high importance."
#9. "Fall in love with life and others will fall in love with you." After Chapter 9's practical tips on how to craft a resume, stand out in an audition and take good photos, Dion writes her final words – summarizing that the most important part of achieving our dreams is to always be gracious, passionate and joyful.
Rising Star: Skills to Empower and Achieve is available on amazon.com in paperback and Kindle. Learn more about Rising Star Skills at empowerandachieve.com. Discover modedion.com for your full professional beauty training and as a make-up resource.
By Chelsea Thomas of Dance Informa.
Photo (top): Christine Dion applies makeup to dance student. All images courtesy of Christine Dion.