By Christine Dion of Mode Dion
Tis the season for Christmas Holiday shows. Of course the most popular of all, the Nutcracker, will be presented by studios across the country. In many cases the ballet will be performed on a large stage and may require a little more facial enhancement than a typical small stage performance.
The Nutcracker features many characters. Here are some makeup tips and ideas for the varied roles. A simple eye makeup change is all that's needed to add drama and help enhance the look.
Sugar Plum Fairies and the Land Of Snow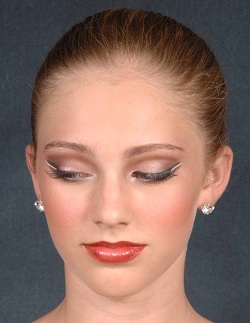 Where traditional ballet makeup is required keep in mind that the brows need a little more enhancement and extending.  Eyeliner will need to be extended a bit further at the ends. Don't meet the lower and upper lines at the sides. I like to use a brown cake/shadow liner below lower lashes and a black cake/shadow liner at the end of upper lashes to create a softer look. A Mode Dion Pro Pallet eye shadow compact has all the colors you need. Keep eyes wide with white pencil in between.  Add a little white shimmer like Mode Dion's Shimmer Pot to the center of lid, brow arch and inner eye corner to open eyes even more. False lashes will be a must to create big elegant eyes (see photo).  Adding a bit of magical glimmer to the cheekbones and eyes can really create more enchantment.  Use glitter in opal/white like Mode Dion's Crystalina and secure it with spirit gum like Mode Dion's Diva Glue.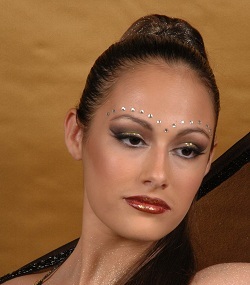 Arabian Dancer
Arabian dancers can quickly get the look just by extending the black cake/shadow liner towards the inner eye corner, creating a cat eye appearance. White pencil will help define the look by applying a little at the inner eye corner and between the two lines out at the end of the eye corners. Extend the liner a little there too as this will lengthen eyes creating a more exotic effect. Rhinestones placed along the upper brow line can create more drama.  Place little dots with your eyeliner to get the design and spacing right, then adhere them with eyelash glue.  If the costume is sparkly enhance that with matching glitter secured with Mode Dion's Diva Glue.
Chinese Dancer
A Chinese Dancer only requires a very red lipstick applied just at the middle of the upper and lower lip to create a tiny rosebud mouth and lengthened eyeliner extended out at the sides of the eyes upwards. Meet the upper and lower eyeliners at the sides to close and angle eyes for an Asian look. If lids are naturally full they can easily be reduced to a more Asian almond eyed look by using black shadow across the lid. Very red cheeks just on the apples will make the face look rounder.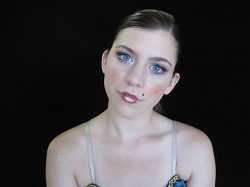 Dolls and Toys
The Doll/Toy look is an easy twist from a standard stage makeup look. Add more red cheek color to the rounds of the cheek.  Remove lip color from the sides of the mouth and create a more rounded lip look for a baby doll lip. Highlight the center of the upper and lower lip so the lips look even more pulled forward. Draw lines below lower lashes to look like painted on lashes and in between use white pencil to help them look more pronounced from a distance. Apply shimmer highlighter, like Mode Dion Shimmer Pot (opaque shimmer), to cheekbones, chin, forehead and down the center of nose to make skin look light and reflective like plastic. 
Clara and Children 
Clara and other children in the party scene should have a softer more natural looking makeup.  Skin should appear flawless by applying a matte oil-free foundation and powder.  Brows should be well defined and shaped along with lips and cheeks slightly flushed. Mode Dion's Stage Red cheek color and  Rhubarb lipstick add just enough color to look natural and show up on stage.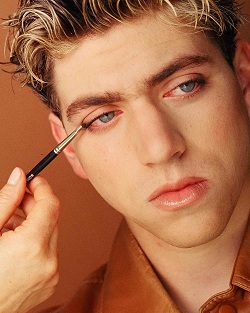 Men and Boys
Men and boys should be sure to wear foundation, concealer to cover dark circles under eyes and powder to set.  A cheek contour shade under cheekbones and along sides of nose will help further define features.  Shade sides of mouth with a natural lip pencil and apply a lipstick close to the same shade as lips.  Define brows, line eyes with brown liner lightly and apply black mascara.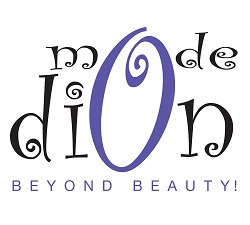 For more step by step instructions and all the stage makeup needed to get these looks see modedion.com. For podcast tips see Christine Dion's youTube channel "Mode Dion Makeup University".
Mode Dion is a Cosmetic and Training Company deeply devoted to providing affordable, top quality cosmetics and education for the special needs of performers. From Dance, Show Choir, Cheer, Drill, Twirl, Ice Skating, Pageantry, Modeling and Acting, these talented performers need the right look, the right make-up and the skill to pull it all together for the most polished professional presentation.
Top photo: The Atlanta Ballet presents Nutcracker. Photo by C. McCullers, Courtesy of Atlanta Ballet