18 Shows over 3 weeks by LA's most incredible artists.
By Alex Little.
It was this past Spring when Dee Caspary posted an event called "The Nvitational" on his Facebook wall. I knew an event created by Dee Caspary would be something worth looking into, because if I know one thing about this man, it's that he doesn't post much.
OK, truth be told, what I know about Dee is that he is an incredible artist, visionary, risk-taker and of course, choreographer. When I spoke with him a few months back, he was fired up about the Nvitational, to say the least. The opportunity to bring together various great choreographers, dancers and musicians into a festival of performances in North Hollywood was the first of its kind in Los Angeles, and there was to be three weeks of shows! As Dee said, "there is no place for choreographers to present their work, outside of Carnival, unless they produce their own show". Instead, the El Portal Theatre, the city of North Hollywood and Dee Caspary produced the shows for them.
Here are some reviews of the festival's highlights:

Who We Are – Jennifer Hamilton
By Alex Little
I was thrilled to have the opportunity to see Jennifer Hamilton's showing of "Who We Are". The audience was humming with excitement, and as I glanced around I met eyes with many big names in the industry. We were all there for what we knew would be sensational. "Who We Are" did not disappoint, in fact sensational doesn't even cut it. If you know Jennifer, or are familiar with any of her work, you know that she is the real deal. She is one of the most grounded, authentic and talented artists in our community, and her work always reflects these attributes.
Beginning with a projection of birds flying across the morning sky, the stage slowly filled up with her full cast, dressed colorfully, walking and moving in various patterns, slowly meeting one another, couple by couple. The vibe was upbeat for the first two pieces and there was a feeling of pure joy and happiness on stage. The all-male piece was funky and almost "Movin' Out" in feel, featuring strong masculine movement. The camaraderie felt on stage permeated into the audience, as we found ourselves grooving with the dancers. The seamless transitions from one piece to the next kept the show's thought line clear, all told through Hamilton's distinct movement. Hamilton's repertoire is quite accessible to all audiences and I could see her work being successful on all stages, Broadway, television or movies. She has range.
The show continued with more projections of the sky, like a day was passing by. It felt like Hamilton was paralleling the cycle of a day with the cycle of relationships. My favorite dance was the third piece called "Cold Water". It was the story of two couples in distress and a third, in a love triangle. Hamilton's direction in this piece was more astounding than the choreography, which I believe is the mark of a brilliant creator. Between Hamilton and the dancers' characterization, I was mesmerized.  It felt like we were watching a movie, not sure how it would end. The story felt relatable. I can't imagine that we all haven't been one of the seven characters at some point in our life. Colleen Craig and KC Monnie stood out in this piece, and throughout the entire show. Kelly Allen was also a notable performer.
The show ended with an all-girls piece, where Hamilton showed her jazz roots, asking for strength, sensuality and strong technique. Boy, did these ladies give it to you! The finale was a beautiful, loving duet performed by the incredible Genise Rudiaz and KC Monnie, then joined by the entire cast to "Crash" by Dave Matthews. It was such a fitting piece of music, choreographic phrase and performance to conclude the tale of "Who We Are", as the projection on the cyc was a glorious sunset. Thank you, Jennifer Hamilton. Your vision came to life and moved me in a profound way. I think it is safe to say Hamilton's craft is unparalleled and her work will be seen on larger stages soon.
Amor
By Alex Little
Kersten Todey, Jessica Lee Keller and Ben Susak were the creative team behind "Amor", a performance combining live music, spoken word, and dance. In addition to this, lighting was also a major element in this love story, as the dancers spot-lit each other with 4 box shaped lights, manipulated by the dancers, setting the mood of each piece and directing the audience's eye. This was one of my favorite elements of the work.
The show began with dancers Natalie Reid and Ben Susak, each performing solos to the spoken words of Jessica Lee Keller and Robert Earl Sinclair. The intimate Forum Theater was the perfect setting for such artistic choices, and one could hear a pin drop in the audience as the dancers moved with each word and breath, in and out of the spotlights. During his recitations, Sinclair was on stage with the dancers. This was such a lovely directorial choice, as it made it feel as though Ben Susak, and later Chaz Buzan, literally were his voice. More dancers eventually joined the stage in "Lullaby", sung by the beautiful Debra G, musically accompanied by Joe Gilette and Cameron Dean.
The lighting of the show kept the continuity extremely engaging, as did the ever-changing pacing between music, words, silence, solos, duets and group pieces. I take my hat off to the choreographers for their arrangement of the elements in "Amor". Kersten Todey's choreography shined in "9 Crimes" as she arranged her movement 'in the round', just as the theater was constructed. Not only did Kersten's intricate choreography define her vision clearly, but it highlighted the gut-wrenching story between the principal couple, performed by the aforementioned Keller in a brilliant red dress, and Mason Cutler.
Keller's choreography in "Burnin Up", a quartet of four women; Katherine Wolanske, Mandy Korpinen, Ashley Glavan and  Elizabeth Petrin,  was one of my favorites of the night. The blend of Keller's intention and her work with the singer Debra G, came through with her elegant movement and staging. Sometimes it feels nice to breathe with a piece, and this was just that for me. Susak's choreographic highlight was the upbeat and energetic "Live Forever" featuring the entire cast. This piece looked like an incredibly challenging work to execute, but the dancers performed it with a sense of ease, power and their hearts on fire! I loved his use of running circularly, and the adventurous ways he utilized the spotlights.
I commend Todey, Keller and Susak on their execution of their vision "Amor". With a cast of incredible dancers, musicians, singers and speakers, art came to life, all at once.
A Night at the Piano
By Alex Little
I am so happy that I was in attendance for this particular show! It ran about 40 minutes in length, and here was the premise: ask Dana Wilson,  Mandy Moore,  Amanda Leise, Tony Testa, Matt Cady, and Dee Caspary to each choreograph a piece to a song that would be played live by pianist, Kevin Su Fukagawa. That's it – a taste of some of Los Angeles' best choreographers in one sitting. The intimate setting of the Forum Theater was perfect for this show. It began with Dana Wilson, who danced a brilliant solo, dressed in black and white with a painted mime-like face and white satin gloves. Wilson's choreography was a fusion of gestural contemporary meets pantomime, to tell a sad story of what seemed to be a lady asking for love or acceptance. It was one of my favorites. Wilson was impeccable.
Wilson was followed by Dana Fukigawa and Will Loftis dancing to Adele's "Rolling in the Deep". Mandy Moore's clear vision was executed by her authentically strong, grounded technical style that when performed by her dancers, especially, will blow you away. Her work always does that to me. And those creative lifts! WOW!
Matt Cady came next with a wonderfully clever trio between himself and two ladies all dressed in gowns. This character piece was hysterical and brought the audience to laughter on numerous occasions. The threesome were great actors too. The piece found them mocking the high-life, each other, and even dance.
Amanda Leise's tap piece was up next and this performance truly garnered the most applause of the night. She was joined by two men and a lady, and this quartet performed brilliantly. The difficulty and intricacies of Leise's work were met with ease and confidence between the performers. They were having one big party and we were all invited!
Tony Testa followed with a moving piece that spoke about growing up, but keeping your youthful nature alive, no matter the age. This piece was danced by a young child, Tony himself and an elderly gentleman, all portraying the same person through the years. Testa told a beautifully theatrical story utilizing an army theme. The older gentleman was incredibly inspiring.
Lastly, Dee Caspary presented a trio danced by Chaz Buzan, Channing Cooke and Ashley Galvan. Caspary's work mesmerizes me. The way his unique movement flows seamlessly with his staging is quite brilliant and never ceases to amaze. This piece had a lovely breath of simplicity to it and brought the piano to life.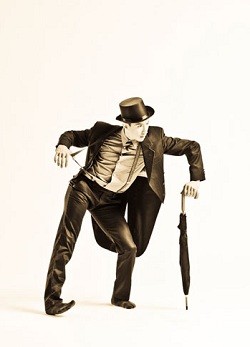 Peter Chu presents The ChuThis Group – Nothing Sticks
By Alex Little
Where do I start? What words can describe the experience accurately? I will do my best to recap the evening I spent taking in the phenomenal "Nothing Sticks". Peter Chu is one brilliant man, dancer, visionary, director, choreographer, artist and teacher. But many of you already know that. He designed a show that brought together every element of the theater onto one stage.
In 90 minutes we were taken through a story of resistance and change. Chu designed a show with a company of seven dancers on what looked like an old movie style set, utilizing live projections of various stick figures throughout the evening, and at one point a projection of himself dancing (that he accompanied dancing live, creating a duet). He incorporated two huge movie-set lights on the stage, manipulated by the dancers, as well as a chalkboard used at one point to play hang-man with the audience. Chu, the narrator of the story, wore a top hat and carried his umbrella, like a cane, which was later seen in giant form, as the dancers used it to create a hook effect to pull one another off stage. Such great visuals!
The plethora of movement styles brought into "Nothing Sticks" was remarkable. Gorgeously constructed contemporary pieces with signature Chu movement were woven into the story by way of solos, duets, trios and harmonious group work of intricate and technical movements, gestures, expression, imaginative partnering, innovative floor work and sublime pantomiming. The dancers were elegant athletes as they contoured the space with refined grace, technique and performance.  Chu's choreography is aesthetically pleasing, yet undeniably difficult in nature.
Chu blended his contemporary style with vaudevillian and Broadway- inspired pieces, transitions and even acting and speaking parts, where the 4th wall was broken to include comedic breaks in the show, such as the aforementioned hangman game played with the audience! Such fun and laughter ensued. This led into a gorgeous duet against the chalkboard performed by Rebecca Niziol and Matthew Peacock, where lines kept being erased by Niziol and redrawn by Peacock.
Other notable performances were Steven Hernandez's solo to "Dream a Little Dream" and Chu and Hernandez's duet, which was probably my favorite piece of the evening. Matthew Peacock was incredible as he opened the show with a solo that brought us right into Chu's world. Jillian Chu's interactions with Peter Chu in explaining that it is "OK to erase and start again" melted my heart. For as the story told, change, is inevitable. I can only hope this show continues to run so everyone can have a chance to be in the audience.
Terry Beeham presents Mental Head Circus
By Deborah Searle
We walked into the dark Forum Theatre where we were immediately greeted by artists hanging from the ceiling moving eerily, yet beautifully in the air. Within seconds it was clear that Mental Head Circus are a talented aerial troupe, who are as much athletes as artists.
We enjoyed just a snippet of what the company can really do, and I was left wanting to see more. A beautiful aerial rope piece had one dancer creating exquisite lines at the back of the stage with death defying drops from the ceiling. The movement created by the dancer and her bright red dress memorized the audience.
The dancers showed both grace and enviable flexibility throughout the display. They are truly gifted, and incredibly strong! Their character portrayal and performance technique drews us in and keep us on edge.
Terry Beeman stunned us with a theatrical dance around and inside a cube. His contortions and balances were mind-numbing. I was shocked to discover after the performance that he is in fact in his 40s, as on stage he shows the agility and athleticism of a teenager. He truly defies nature!
Beats Per Minute
By Deborah Searle
What a fun performance! Beats Per Minute had us all toe tapping in our seats. Created by Glyn Gray and Nathan Sheens, Beats Per Minute is a tap and music performance, where the tappers set the beat and become instruments, jamming with a live band.
Three talented tappers; Glyn Gray, Brin Hamblin and Chris Rutledge, created a light hearted and entertaining show, accompanied by a guitarist, bass player, drummer and vocalist. Gray is a consummate performer and a definite crowd pleaser. His concept for Beats Per Minute, was simple, yet brilliant – create music with the feet as well as the band.
Vocalist Lindsay Hough had a strong, jazz flavored voice that was appreciated by all. She sang a theme song to 'Beats Per Minute' that could have come across corny, but was actually quite catchy and fun. She is a talented artist.
Chris Rutledge was a very capable tapper and I enjoyed watching him 'bust his moves' and play off the other two performers and musicians.
Beats Per Minute could entertain even a non-dance audience. The performance was laid back and created a casual atmosphere in the theater. I can see this show being a hit on stage, as well as on the streets. It would draw a huge, excited crowd of both lovers of dance and music.