Injury: if you're a dancer, you might groan at the mere thought of it. Injuries can set dancers back in their technique, separate them from the art form that they love and make them miss key opportunities (in training, performing, auditioning, touring and more). As such, everyone involved in a dancer's creative life – certainly the dancer themselves, but also teachers, coaches, directors and loved ones – has a stake in dancers staying safe and strong.
By and large, individuals in those roles know some basics of injury prevention: adequate warm-ups and cool downs, smart and consistent conditioning, proper technical training, not "overdoing it" (fatigue is actually a key culprit of injury). What they might not realize is that proper flooring is a key ingredient in the injury prevention recipe. Why?
For one, flooring helps absorb the shock to joints that comes with jumps and leaps. It's also important for a dance floor surface to have enough slide for smooth, artful movement, but not be so slippery that potentially dangerous falls happen. "A proper floor provides shock absorption, lateral foot support for balance, and the correct non-slip environment improves safety and performance," explains Susan Crofton of Stagestep.
The company's newest flooring system – Pulse – can provide dancers with this sort of "security blanket," says another Stagestep representative, Mathias Escobar. "The key to Pulse is that the surface is supportive, slightly absorptive, and the perfect combination of consistency and give," he notes. Dancers from some of the world's top companies have tried Pulse, to then confirm those qualities.
The "specs"
For those who like to get into flooring nitty-gritty: Pulse is available in custom-cut lengths up to 65′. For easy handling, the rolls are 4.92 feet wide (1.5 meters). "Pulse is a flexible, slightly foam-backed, four-layer flooring that is non-slip and non-reflective. An internal fiberglass grid ensures better lie flat," says Escobar.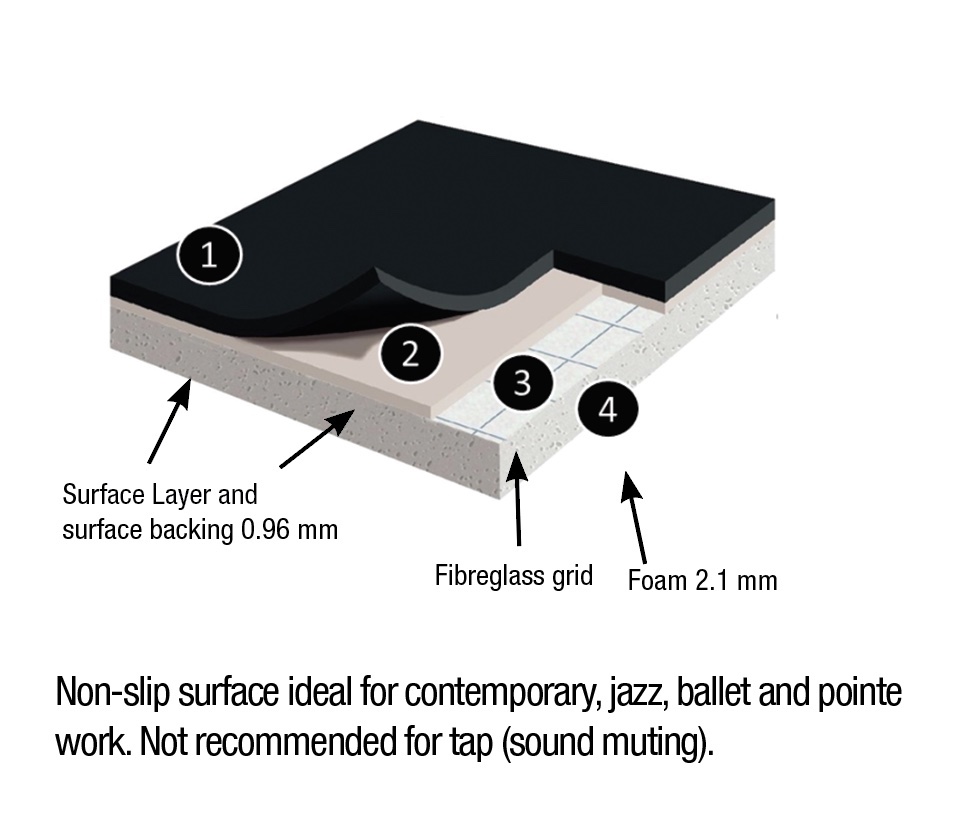 Pulse is heavy-duty, yet also flexible. Easy to install, it's suitable for both home and professional dance spaces. It's also non-slip for optimal dancer safety. The flooring system is manufactured at Stagestep's own plant (located in France), which can ensure better quality control.
Flooring for all
Pulse also comes in grey, dark grey and black — multiple options to better align with the interior design and atmosphere of various dance spaces, as well as the aesthetic tastes of those who work in it. Escobar explains that it's also suitable for various purposes they work for: rehearsing, touring, taking class and performing. Pulse can therein work well for youth dance studios, university dance departments and professional dance companies alike.
Pulse can also support dancers working in a wide variety of styles; it's especially suited to ballet, contemporary and jazz, but also works well for forms such as breakdancing and lyrical dance, says Escobar. Pointe work can come with a variety of physical challenges, so a good floor is particularly key for dancers in "the boots" – and Pulse is "excellent" for pointe work, Escobar adds.
In conjunction with other essential strategies, quality flooring can keep dancers safer and stronger for longer. From there, they can advance in technique and artistry – stepping toward their wildest dance dreams. "Your dance floor is your partner. It should show you off," Crofton says. "Your body is your instrument. Protect it, and it will reward you."
To shop the Pulse Flooring system and other Stagestep products for your studio, visit www.stagestep.com/pulse-flooring.
By Kathryn Boland of Dance Informa.
Sponsored Content