Have you ever acted? If you think you haven't, might you have acted within a particular dance role — building a character through physicality, facial expression, timing and other creative choices?
Do you offer acting or drama classes at your studio, or do you encourage your students to try acting? Drama classes can be a lot of fun for all ages, and theatricality lies within the skillset that dancers most often need to perform at their best. Acting skills, much like vocal training, can help your students to move forward into a career.
Dance Informa speaks with two dance artists also heavily enmeshed in the theatrical world to learn more about what theatrical training can do for dancers — Reed Luplau, from Broadway's Moulin Rouge, and Alexander Davis, Boston-based dance/theatrical artist and half of the duo The Davis Sisters. Let's jump in!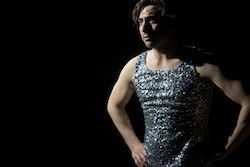 #1. Learning to use your voice in performance can boost your confidence, which can mean a lot for you as a performer.
Luplau describes how when he teaches, he'll ask his students non-rhetorical questions (in other words, questions actually meant to elicit answers) — to silence. "It's okay to use your voice, you know," he'll say to them. This phenomenon demonstrates a general lack of ability in dancers to assert their voices as unique individuals with needs and desires, at least in the context of a student-teacher relationship in the dance classroom, he believes (of course, with exceptions).
Acting training can address a dancer's reticence to use his/her voice in a very literal way. That can open up one to greater comfort with using one's voice on stage, something choreographers are increasingly calling for nowadays. In a deeper way, using one's voice in a performative context can build up aspects of confidence that can shine through in one's dance artistry. After all, dancing and choreographing is speaking with the body.
#2. It can increase your self-awareness and refine your view on art.
Davis cites recent thinking that the push for versatility in the current dance world potentially has the problematic effect of flattening out performers' unique contributions and identities. Yet, as long as it is a strong trend out there, it would seem useful to leverage what benefits it may also have. "When we seek versatility, we deepen self-understanding," Davis believes.
The more exposure we have to art — in all of its forms — the keener awareness we can gain of what we truly believe successful art is, and who we are as artists (what interests us, moves us and inspires us, for instance). That exposure includes viewing art, not just making or performing it, both Davis and Luplau affirm. Davis points out that doing so can expand your creative community, which can lead to further honing of your voice (such as in engaging with others on questions of art and artmaking).
#3. It can give you more marketable skills when it comes to auditioning and performing.
As Davis discusses, nowadays, dancers are called to be more and more versatile all the time. As applies to theatrical training, many currently working choreographers are interested in experimenting with how speech and movement can intersect and interact. The more comfortable you are with speaking in a performative context, the more comfortable you'll be doing so in rehearsal and performance. You'll have more to bring to the table.
If speech might be part of an audition (say, if choreographers know that they're interested in working in that speech-movement intersection for the work to come, or if that's what they might have in repertory), you may have a leg-up toward making it more likely that you'll have a chance to rehearse and perform such work.
As has always been true, comfort with theatrical work can also open up opportunities in musical theater work. Luplau acknowledges that acting is a skill that takes a conscious choice to learn and grow within; it does take dedication and choice to get to the place where those advantages can bear such fruit in one's career. For him, this dedication meant stepping away from dancing for a time to train in acting on a part-time basis.
#4. It can be lead to another avenue through which to connect with audience members with your choreographic work.
Davis describes how he is intentional about creating "many empathetic access points" for audience members — in other words, something there for any audience member to relate to and connect with. "I never assume that audience members are with me," he shares. "I know that I have to gain their trust." Speech (and the text that is raw material) can be one of those access points.
This relates to Davis' take on the perennial, arguably circular question of "what is art?" To him, a more useful and interesting questioning perspective here is, "Is it effective? Does it elicit a response? What kind of response, and why?" Luplau cites certain choreographers, such as Andy Blankenbuehler, who make work with an emotional life, making it so much more than just movement. That emotional life has real potential to empathetically connect with all types of audiences members.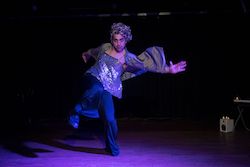 In an even more practical sense, acting training holds potentially quite useful concepts such as objective (what a character wants) and stakes (the "why does the character, or should we as the audience, care about what happens here — what are the consequences?"). They can guide you in creating work that resonates with audience members more. Even if you never choreograph, having a better understanding of how your choreographer is working in these ways could enhance how you engage in the process and your artistry more generally.
#5. You have much of the raw material already, so why not take advantage of this way to grow?
Luplau believes that most dancers already have a fairly keen sense of theatricality, simply because dance is a form of storytelling. "That storytelling gives dancers an inkling and an inclination for theatricality, natural instincts that can be molded," he asserts. Dancers also have determination, and an ability to stick to routine over time in order to build skill, he adds. Just as those things are needed to advance as a dancer, they're needed to advance in acting and theatrical skill more generally. Davis says that even taking an acting class and deciding that you hate it, that you never want to do it again, is useful; great, now you know that!
Davis says that you may find character-based work could blow up your dancing, or it might not. Something else may be that special ingredient that refines your artistry. It goes back to that idea of increasing your awareness of who you are as an artist. Aligning with that idea, Luplau acknowledges that every dancer's path is different. Acting training could just be a very useful part of that! "We're willing to cross-train our bodies — why not our whole selves?" Davis asks. Why not also train the mind and soul?
By Kathryn Boland of Dance Informa.