After several years of training at your local dance studio, you might not be ready to stop training and performing just yet. Whether you decide to receive a degree in dance at your dream university or move to a big city to pursue a professional career, there is a path for everyone.
To those of you who decided you don't want to pursue dance, or maybe pursue it and realize you had a change of heart, that's okay, too! You can take all of the skills you learned from dance – such as teamwork, respect, time management and more – with you as you go into your next chapter in life.
College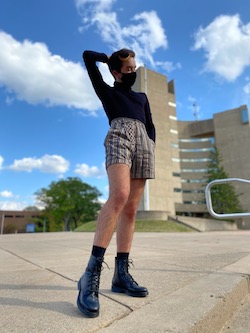 Both Kory Randles and Maria Pacos grew up training in a variety of styles, competed for their home studios and attended dance conventions. They felt this vast experience helped prepare them for learning new styles from new teachers in the classroom, and manage their time between their education and personal lives.
"I took a lot of classes that are different than the typical offering at a home studio," shares Randles, a 20-year-old working toward his BFA in Dance at SUNY Fredonia. "I'll never know in the future what I'll step into. Even if I have a small base of a style, it will help me a lot to have that knowledge. Dive into those new opportunities and take them for what they are. Enjoy the ride."
Pacos felt her studio experience also gave her a sense of leadership and independence going into college. "I was able to immediately seek out opportunities and clubs I was interested in when I arrived so I could find my place at such a big university." Not only did she dance in as many performances she could, but she also joined a sorority and attended events both on and off campus with friends. The 22-year-old just graduated from the University of Alabama with her BA in Dance in May, but will return to campus for one more semester this fall to get her BS in Public Health.
"I went to the University of Michigan because I wanted to double major and get the normal college experience," says Soultana Schiavi, who graduated in 2018 with a BFA in Dance and minors in both English and Entrepreneurship. "It was the best of both worlds. I was dancing all day every day, but was in a sorority and went to football games. It was a pleasant surprise to be able to do it all."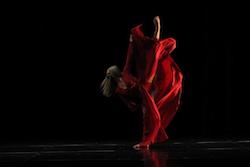 Unlike a home studio, college dance classes are graded. There are also many requirements such as going to auditions and performing in shows.
"It's scary and stressful that how you dance every day can determine your grade, but I feel it pushed me to work even harder than I did before to be the best dancer I could so my grades could reflect that," Pacos adds. "I intentionally scheduled my classes earlier rather than later so I could have the rest of the day for homework, rehearsals and even nights out with my friends. I found an online planner app called iStudiez Pro that I swear by!"
"Stepping into college, I tried throwing myself into whatever opportunities were coming my way, but I realized it was too much," Randles says. "Make sure you leave down time for yourself."
If you're dorming, Randles also suggests going to social events in your hall and finding friends both in and out of your major. "Sometimes your major can be so stressful you want to step away for a moment and connect with other people, which I found super beneficial," he shares. "College has been so much different compared to high school. It's a great way to stay connected to people who had the same experience as you growing up that you can connect with. It's much more of a safe space, too. You are able to really be yourself and test the waters of who you think you are."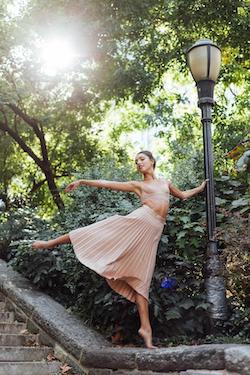 Schiavi feels that going to college really helped prepare her mentally, physically and emotionally for the working world. She grew up training at both a competitive studio and a ballet studio, and was happy she took the time in college to focus on training her technique.
Although the University of Michigan prepared her for a lot of concert dance, Schiavi says networking with other students and alumni made her realize she really wanted to get into theater-based dance. Since graduating, she secured an agent and has landed jobs including the Broadway Cares Christmas show and Radio City Rockettes.
"I learned a lot about New York City and what to expect when I moved here from other people I met in my department," she adds. "Also, I noticed most people who are successful went to college. Your dancing changes a lot from 18-22, so being in a classroom is important in those years. Your body and brain are maturing and the people who I notice are better at handling rejections went to school first. It allows you how to figure out how to compose yourself in a professional setting. There is a lot of time to get to where you want to go. Patience is the name of the game."
Going pro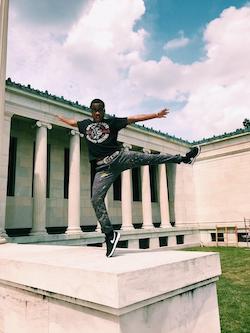 College isn't for everyone. That's what Xavier "Flyywalker" Drayton's parents told him, and at 18, he moved to Atlanta to work toward a professional career in dance.
Drayton had a lot of roots in Atlanta as he was born there and had a lot of family that lived there. "I also saw Atlanta was hiring young, black entertainers. There were people there who looked like me, and I liked that."
He and his parents agreed he would stay with his grandparents for a year while he trained and networked. Before moving, he did his research and found out where he could train in the city to get noticed by other dancers and choreographers. He began taking classes at the studio 411, but days were long.
"This was before Uber, so I took public transit there and back. Those days, I wouldn't get home until after midnight," reveals Drayton, who said he did that for a couple of months before he became a familiar face in classes. He finally was getting recognized and was called out in classes, which opened up doors. Choreographers and agents began asking him for his headshot and resume, "but it all came from grinding and being in class for months without anyone really saying anything to me. It's all about putting in the work and being consistent."
In time, Drayton began making his mark. He landed an LG phone commercial, danced in Missy Elliott music videos, and landed roles as an extra in films like Night School and Coming to America 2, as well the show, Step Up: High Water.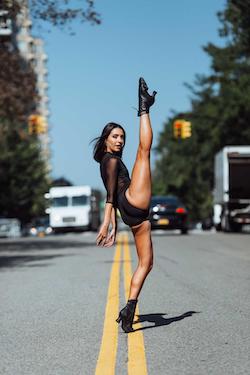 Besides keeping up with his dance training, he also started working with an acting coach. "Acting is something I was always interested in, but it is a great still to have being in the entertainment industry," Drayton says. "In Hollywood, they will hire an actor they can teach to dance before they hire a dancer. If you're a dancer who can act, it opens up more doors."
But landing an agent or your first gig can take time. A lot of rejection will happen before you get your first job.
"Find a way for the agent to meet you and actually see your talent," Schiavi suggests. "Follow an agency on Instagram, and see where they are going to scout people because it's hard for them to base things off of just a dance reel. If you're looking for an agent, get in front of them."
"As artists, we're so critical of ourselves, but it's a very, very, very competitive field," Drayton adds. "You can nail everything, but you might be too short or too tall or too thin. The best thing I can do is perform to the best of my ability. Auditions are a chance to perform. Getting the job is a plus."
"Give it your all, but don't expect anything in return. It takes time to get big roles," Schiavi says. "Go in confident, but don't be upset if it doesn't happen on the first try."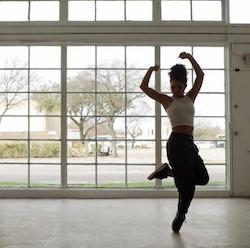 For Madeline Massingill, being told "no" was one of the best things to happen to her. When she was 18, she made it through several rounds of auditions and was asked to go to training camp for the Dallas Cowboys Cheerleaders (DCC). The then senior in high school decided to skip the end of the school year – including her AP exams – to give it a chance. She made it far but was cut from the team just weeks before the season began.
"I drove home to Utah, worked for a year and got in a good head space," she says. "I decided if I went back, I would do it for me. I thought they wanted the perfect cookie cutter DCC, but they really wanted individuals who knew who they were. Getting cut…it was a defining moment of my life, and I wouldn't change it for the world. A 'no' is a detour and it shows you that you have so much worth. Individuality is important in any job."
There are several dance or cheer team opportunities in NFL, NBA and NLL for dancers to pursue a professional career. Often times, these teams include opportunities to work with younger dancers/cheerleaders and inspire them, or even get involved in their local community.
"The DCC uniform is like a superhero suit," Massingill says enthusiastically. "Me as Maddie can't just show up at a children's hospital and ask to read a book to a kid. My job with DCC lets me spend time with kids who were going through the worst things, and we got to have a day together to read and play games."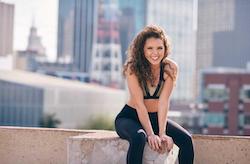 Being on a pro dance or cheer team is typically a part-time job, but it is a larger commitment than one might expect. For DCC, they perform four routines a game, plus their signature routine "Thunderstruck" and sideline dances they call tags. In total, they learn about 50 tags a year plus another 45 full quarter-change routines each season (at 60-90 seconds a piece). Some of the routines roll over from year to year, but as a rookie, it can be overwhelming.
In the world of sports entertainment, the dancers/cheerleaders may even have an opportunity to perform with special guest artists, like when Massingill and her teammates performed with Queen and Adam Lambert.
"We found out only a day before the concert that we were performing," she recalls. "My other three leader friends and I choreographed the dance, taught it to the team the next day, then performed with Queen. Their lead guitarist was excited to meet us! I was like, 'Wait a minute, no, no, no, we are excited to meet you!'"
Besides all of the experiences that come along with being on a team, Massingill says the friends you make become family. "It's a tough job and there is a lot of time commitment. A lot of energy and effort go into it, but the friendships that turn into sisterhood is worth the time commitment. I wouldn't have had those experiences and relationships if I didn't decide to go for it and come back after I was told no."
By Lauren Kirchmyer of Dance Informa.