Chapter 1: And So It Begins
In 5,475 days of my life, Annie and lived our lives to the fullest. I cannot think of anything we forgot in order to "round it out". How many can say that about someone whose work you admired greatly for years, who was, to you, the perfect gift of a dancer who had coal-rimmed cobalt blue eyes, legs so long that she reminded you of a thoroughbred, hair that whipped with her turns, that low, smokey voice that enabled her to become a unique powerhouse of a musical theater star, acting chops that allowed her to take the stage with confidence, and a comedic bone that came out of, well, who knows? I was the lottery winner, who pulled the ticket that allowed the two of us to run rampant around the world in what would be a 15-year adventure that, upon reflection, is hard to believe I experienced.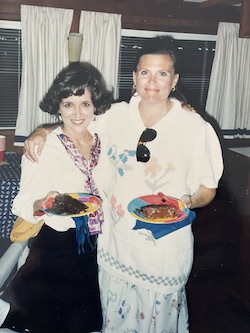 A 15-year time span is hard to encapsulate for anyone in an article. In order for me to do justice to her memory and to our arm-in-arm walk down our path, I refuse to do a quick list separated by semi-colons. Therefore, I am going to break tradition and write a few "chapters" that will focus on the sections of our lives upon which I'd like to dwell. I want to do this because she was interesting, she was complicated, she was more creative and intuitive than anyone I have ever met, she was kind, she could spark mightily if anyone "dogged it" in class or in rehearsal or on stage, she was charming, she knew so many people — historical people — and she mentored me for 15 years. Annie Reinking asked me to be her associate in all of her work, "like Bob Avian was to Michael Bennett," she said. Annie Reinking became my mentor, my best friend and a sister to me.
I will begin with the beginning of our sprint through life.
It's a long story, but we met and she taught master classes for my students. She and Tommy Tune were going to perform, and she asked me to watch and take notes — my first inkling of the inherent trust she had in me; she always told people I was "smart". It is hard to know what to say after that. We talked in Airside D at Tampa International while eating hotdogs about a summer musical theater program for students. There were none in the U.S., and I felt that students should continue studying in the summer. She jumped on board, wanted it to be her "Tampa" project, pulled out her address book of potential faculty members such as Liza, Joel, Ben, et cetera.
Not long after that, my husband and I were invited to her 40th birthday party on board a yacht. She was leaving for NYC the next day but said that we would get involved in some projects when she came back to Tampa in a few months.
Little did I know…
Chapter 2: Moving Toward the Road
Once Annie left after her birthday party, I wafted around Tampa, praying that it had not been a chance encounter but that she had found possible substance in our time spent together. What I wanted more than anything was for us to be girlfriends. I loved being around her. I tried to cool my heels and get to work on what was to be called the Musical Theatre Project, that would be held at Tampa Preparatory School each July. However, before I go on, I would like to say that, even though I cannot recall the timeline on these very important moments in my life, when I knew that I was becoming at least her "Tampa" friend, they are easy to remember. We were invited to a dinner by her husband who spoke about the friendship Annie and I had, she sent a wedding picture with a beautiful letter attached, and she invited me to come to the MUNY to see Bye Bye Birdie. It was at the last item listed that I learned that Annie abhorred being alone on the road. She loved having company. We spent many a night in, at times not at the greatest of hotels, popping popcorn, ordering room service countless times, ripping into pieces laughing, as we watched Alec Baldwin play whatever ridiculous character that he was a master at on Saturday Night Live. She loved to play.
The first year, we enjoyed such stardom during our audition "tour" for the Musical Theatre Project. In Boca Raton, FL, our publicist had arranged for the press to arrive at the audition hall to do an interview with Annie before the end of the audition. There was no more oxygen in the room as only one young woman showed up for that audition…yes, just one. She was lovely, and she showed up in a costume. This "auditioning for Musical Theatre Project" was a new animal, and once the learning curve was established, our auditions were quite healthy. However, back at the studio, we had three hours to work with this young woman before the press came. She was a most fortunate 16-year-old as Annie worked with her for three hours on the Roxie monologue.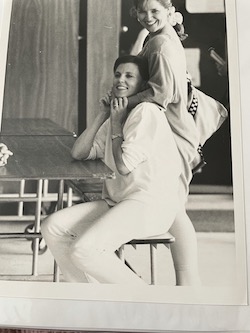 We had an audition at the New Orleans Center for the Creative Arts (NOCCA), one of the finest schools of its kind in the United States today. We had a room full of the most beautiful dancers, mainly from the inner city, as NOCCA was located in the inner city. Most there were young women. There were two or three more experienced ladies there who had flown in from other states. We flew through the dance audition thinking that if all auditions were like this, it would be a great way to spend time. Once we finished the tap audition, Annie asked them to please pull out their sheet music, that they would be singing 16 bars. There was silence in the room. Then, one by one, they picked up their dance bags and started walking toward the door. We panicked as we realized that they were not trained to sing at auditions and perhaps had not taken singing lessons at all. Annie, thinking quickly, in her friendliest voice, told them to come back in, don't worry about it, come throw your dance bags down and "sing 'Happy Birthday' to me." You could see them relax and smile. We promised them that no one else would be able to hear them. So, one by one, each NOCCA girl sang "Happy Birthday" to us until about the fifth gal down the line, who asked if she could sing a song from church. It was at that time the tide turned. It became Whitney, then Mariah, then Whitney, then Mariah… It was amazing. Their voices could have taken the roof off of that old building. Those who had only sung "Happy Birthday" at the beginning came back in and asked if they could sing something from their church. All of this was done a cappella, of course. The other ladies from out of town who were more experienced in auditioning had their sheet music and sang their 16 bars. At the end of this session, they picked up their bags and headed out. Some of our most gifted students came to Tampa that summer from NOCCA. The next summer when we went back to audition, the female students at NOCCA, as a group, looked like a ballet company; they were so put together. At the end of the dance audition, they walked up to us with their headshots, resumes and music that was marked beautifully. What a victory for those kids.
On our crowded flight home to Tampa that evening, we had squeezed everything we had in the overhead. Of course, you are not to open the overhead in case something falls out. In our case, we had to have something immediately. I opened the overhead, our camera fell out, hit the nose of the lady sitting in front of us and snapped a picture of her as it hit. The entire way home, I was furious, as I had to fill out an accident report and Annie sat in her seat with her shoulders shaking uncontrollably and up by her ears as she laughed, looking at me every four seconds as the lady's nose now had a little band-aid on it.
Stay tuned for the next chapters in the next edition of Dance Informa.
By Debra McWaters for Dance Informa. 
Debra McWaters was mentored for 15 years by Ann Reinking. Reinking introduced McWaters to Gwen Verdon, and they all traveled the world working on shows related to Fosse. Verdon gave McWaters the nod to teach his style. She became one who passed on what was taught, by Reinking and Verdon, and she wrote the book, The Fosse Style, with a foreword by Ben Vereen.
For over 15 years, McWaters was Assistant Choreographer and then Associate Choreographer for Director of Choreography Reinking. McWater's Broadway career began with New York City Center Encores! production and Broadway production of Tony Award-winning Chicago The Musical, starring Reinking and Bebe Neuwirth. She also worked with London, Australian and Viennese companies and two first U.S. National Tours, one originally co-starring Chita Rivera and Ben Vereen. In addition, McWaters was Reinking's Associate Choreographer on Applause at Papermill Playhouse, No Strings! at New York City Center Encores!, The Look of Love at Roundabout Theatre Company, the original version of The Visit at the Goodman Theatre with Chita Rivera, Legends at Joffrey Ballet, Suite Kander at Missouri State Ballet, Tonight at 8:30 at Williamstown Theatre Festival and Caution: Side Effects with Melissa Thodos Dancers. She was also Associate Director and Choreographer for Broadway Under the Stars at Bryant Park; choreographer for Ben Vereen's one-man show; and choreographer for the workshops of two of composer Frank Wildhorn's musicals, Wonderland and Havana.
McWaters has worked with 2014 Olympic Gold Medalists Meryl Davis and Charlie White. She is an associate member of SDC, and was chair of the University of South Florida Dance Department. She holds a Masters degree in Math (specialty in probability/statistics) and worked at NASA on the Apollo and Skylab missions. In 1991, Reinking and McWaters co-founded the Broadway Theatre Project, a training ground for young artists. McWaters authored Musical Theatre Training: The Broadway Theatre Project Handbook, published by University Press of Florida. She teaches master classes around the country and has particularly enjoyed doing so at Kennedy Center American College Theatre Festival. She has studied and competed in International Latin dance, has learned some West Coast Swing and is now learning American Rhythm and American Smooth in order to begin competing again. She recently experimented with some Broadway Theatre Project alums and faculty on a video that was virtual and one that was not, and he has several more planned.