SB Dance isn't new to uncommon ideas. "We call ourselves dance circus but will answer to dance, theater, performance art or what the hell was that." When COVID came, the restructuring of our industry was a welcome challenge to Artistic Director Stephen Brown and his dancers. And they came up with a new branch of performance art entirely: curbside theater.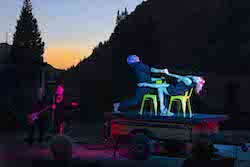 Curbside theater isn't site-specific "artistic occurrences" that people happen upon. It's live dance delivered to your door. People can book SB Dance for live shows anywhere from five- to 40-minute performances.
Currently based in Salt Lake City, Brown and his dancers take their show on the road in and around the area. For delivery dance to work well, good weather's a big must. Good weather and some space to move.
"We've done it in front of people's houses, in their driveways," says Brown. When he created the concept in the midst of COVID, the company was performing to people who hadn't gone past their own porch in months. "That was really cool; we got to reach some vulnerable populations that way."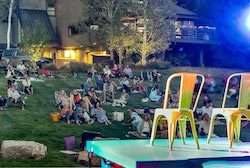 Where can curbside theater work? "You could do it somewhere like New York, but what I think is cool is doing it in places that don't have the same sort of artistic support structures as New York does: all the studios, all the performance spaces." New York, and hubs like it, are built for centralized art. "But other places, less urban areas, that's important."
Just as COVID has caused people to move away from densely populated areas, Brown thinks art can expand beyond as well. "I think what you'll find is just as everybody moved out to suburbs, to Zoom, this is a way that dance can decentralize." It's also a workaround for the extreme exclusivity that proscenium theaters tend to hold. "I think it can lower the bar of entry for a lot of groups. I'd love to show other people how to do this. I'm not interested in holding on to this for myself; I'm interested in letting as many people in dance know how to do this as possible."
Curbside theater isn't needed in crowded arts hubs. The concept is to bring art outside of those creatively overpopulated areas and into spaces starved for art. But you do need some sort of arts community, demand for the supply, which clearly Brown has found in Utah, known for a fairly robust theater scene. "We started this in the summer of 2020, and now we're starting it up again as the nice weather rolls in. Last year, in the midst of COVID, it was hugely cathartic." There's just something about dance outside of its usual concert context. "When you're on a stage, it's elevated, there are lights, people are doing virtuosic dance. It's odd to see that on your street, or in this parking lot, or at a park. It's not a big bandshell; you just pull up and see it. There's something very startling about that."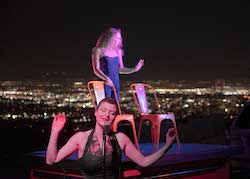 Brown adds, "It brought up a lot of pretty powerful emotions last year, both for the audience and the performers. Of course, we took precautions; only people who were in a bubble performed together, spraying down our whole portable stage between acts. Between the startling sight of produced concert-like dance in your own space, whether that be your yard or your neighborhood or anywhere else you hold dear, that brings a pretty powerful response, even COVID aside."
It's gorgeous enough to be bringing concert dance into people's communities, but for a non-theatergoer to see bodies moving in space right in front of them – especially during COVID when seeing other bodies at all was so rare – it's mind-blowing. Before COVID, dancers were so used to it as to take it for granted. You go into the studio, you contact improvise. But we forget how impactful it is on our audiences. And even more so on people who rarely get the chance to see it. When one person has heard of you and invites you to perform for their whole block, 80 percent of the people there have never seen dance, or at least not this kind. You can't get those people in the theater.
"That's the thing about curbside dance," says Brown, "you have a certain proximity. You don't have the proscenium shell around you, or any of the culture that comes with it. For the audience, there's none of this 'We sit here and be quiet in the dark.' We'd be performing and some kid on a skateboard would go flying by, or a monster truck would be revving in the background. It's refreshing for us as artists. There's a lot of decoration around what we do, expectations on both sides of the stage. The proximity, the location, all of the excess falls away."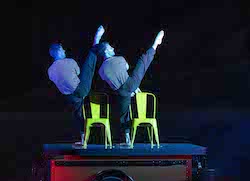 He continues, "As an artist, when you create a work for a theater, you make 60 minutes of work. Because it's a destination for people. It's an event; they're not just going for an ice cream. This is a little bit more like an ice cream. We can do it for 10 or 15 minutes, or we can do it for 30 or 40 minutes."
While COVID prompted curbside theater, Brown believes it will be around well afterward. He hopes to see it catch on, because "it decentralizes things not just geographically, but it also fragments the system that we've boxed ourselves into, and I like that. There's institutional dance, and there's academic dance, and there's a bunch in between. That in-between space is where I've existed for a long time, and it's a hard place to be, but it's also one of the most creative spaces."
SB Dance is expanding curbside theater into southern Utah, Sun Valley, Jackson, and prioritizing communities that don't have theaters or access to the arts.
Any communities within the intermountain west and/or within seven hours of Salt Lake City who are interested in curbside theater should contact SB Dance here to book performances.
By Holly LaRoche of Dance Informa.