Periapsis Music and Dance Founder/Director Jonathan Howard Katz has announced that the company will return to the stage for To Take You There, its ninth season presentation, at NYC's Dixon Place. The program of all premieres will show works by resident Periapsis choreographers Rohan Bhargava and Annie Nikunen, and dances by guest choreographers Gabrielle Lamb and Alla Kache. The season will be presented live on stage, on June 27, at 8pm EST.
Periapsis Music and Dance is a Brooklyn-based organization dedicated to cultivating a new collaborative repertory between choreographers and composers, and uniting dancers and musicians in live performance. Periapsis creates and performs new work with its resident artistic ensemble and commissions works from other composers and choreographers. The organization also offers resources to facilitate collaborations in the artistic community, such as performance opportunities, workshops for emerging artists, networking events and free online tools. Periapsis has performed at the Inside/Out Series at Jacob's Pillow, Symphony Space, Peridance, Roulette and many other venues, and has developed a wide repertory, with each new creation a fresh exploration into the collaborative process.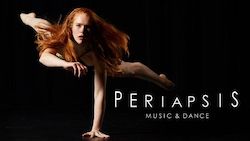 Bhargava's work will feature music by Asha Srinivasan. Bhargava was born and raised in New Delhi, India, where he trained at the Danceworx Academy of Performing Arts before relocating to NYC in 2012, for his BFA degree in dance from NYU's Tisch School of the Arts. Through his choreographic work as founder and artistic director of Rovaco Dance, Bhargava has received residencies and commissions from CUNY Dance Initiative, The Dance Gallery Festival, Sam Houston State University, Mare Nostrum Elements, The James Jay Dudley Luce Foundation, Dancewave, Jamaica Center for Arts and Learning, Mannes School of Music, and Rhythmically Speaking. Recently, Bhargava was awarded the Jadin Wong Fellowship by the Asian American Arts Alliance, and he is featured as one of Dance Magazine's "25 to Watch" for 2021.
Kache's premiere will include music by Katz and a poem by Andrea Cohen. Kache hails from Chattanooga, TN, and received her early training at Center for Creative Arts and Chattanooga Ballet, and graduated from the Ailey/Fordham B.F.A. program in 2004. Her favorite credits include Ailey II, Nathan Trice/RITUALS, Pilobolus Creative Services, Radio City Christmas Spectacular, CeDeCe (Alcobaça, Portugal), Big League Theatrical's Aida, Camille A. Brown & Dancers, and Disney's The Lion King. Artistic director of Kachal Dance and former rehearsal director for Ailey II, her work has been performed by Ailey II, Ballet Memphis, Houston Contemporary, Towson University, Middle Tennessee State University, The Ailey School, and seen at Bryant Park, Cistermusica and FringeNYC. Her talents as a dancer, choreographer, singer and costume designer have led her to become a Lincoln City Fellow, artist-in-residence with RestorationART in Brooklyn, NY, and the BalletX 2021 Choreographic Fellow.
Lamb's work will also feature music by Katz. Lamb is a Princess Grace Award-winning choreographer based in NYC, where she directs Pigeonwing Dance. Her work has also been presented by the Royal Winnipeg Ballet, Whim W'him (Seattle), Ballet Collective (NYC), Ballet Austin, Ballet Memphis, and the Sacramento, Milwaukee and Kansas City Ballets. Lamb is a 2020 Guggenheim Fellow, has won choreographic competitions at Hubbard Street Dance Chicago and Milwaukee Ballet, as well as the Banff Centre's Lee Award and a NY City Center Choreography Fellowship. In 2018, she was Grand Prize Winner of the S&R Foundation's Washington Award. In 2018 and 2019, she was selected to create for the American Ballet Theatre Choreographic Incubator.
The fourth work will be created by Nikunen, who is a choreographer, dancer, composer, flutist and radio broadcaster, and whose creations range from concert music and field recordings to dance and film. Her works have been featured nationally and internationally, most recently by the International Contemporary Ensemble and Fonema Consort. She is a founding member of the new music group Blackbox Ensemble. Nikunen has experienced both sides of music-dance collaborations, playing the part of composer, flutist, dancer and/or choreographer in spaces from Central Park to the Chelsea gallery. She holds a BA in music (composition/theory) from Barnard College, Columbia University, and pursued flute performance at Manhattan School of Music with Tara O'Connor. She studied composition with Georg Friedrich Haas, Ellie Hisama, Seth Cluett and Mahir Cetiz, and was actively involved with Columbia's Computer Music Center.
For tickets and more information, visit periapsismusicanddance.org.