Dance training is changing. Gone are the days when the only option was trekking to the studio for class, and gone are the days when dancers could only study with local teachers. Thanks to evolving technologies and a unique demand for online learning in the last year, options to grow your dance educations and technique are plentiful regardless of where you live or what your previous training looked like.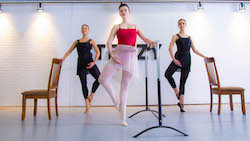 Enter the union of Só Dança, online training powerhouse Steezy and renowned dancer Brittany Cavaco. For the first time, Steezy will offer an Introduction to Ballet — a resource typically known for styles like hip hop, heels, k-pop, popping and whacking. Accessibility is part of why Steezy is so successful. The programs are designed to serve anyone who wants to learn, and Cavaco's program is no exception to that model.
Along with dancers Casey Franklin and Rachel Hutsell, Cavaco guides dancers through a 25-day program covering ballet basics. Like all Steezy tutorials, users can switch views of the instructors, control the speed of video, loop moves and also see themselves as they learn! In each video, the three dancers show off their favorite Só Dança styles, many from Cavaco's own new collection available the Só Dança site.
We caught up with these dedicated ladies to find out what the experience of creating this program was like, how what they wear makes a difference, as well as how the changing nature of dance training can be amazing (and challenging). But first, we wanted to know how this cool collaboration came to be. Cavaco and Steezy originally teamed up on YouTube to create "Hip Hop vs. Ballet Dancer," which blossomed into a widely viewed video. From there, the progression to establish a full-fledged ballet program for Steezy was a natural choice.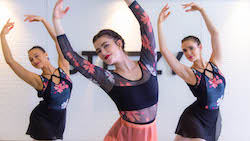 On the value of online training, Cavaco says, "There are so many benefits to online training. Dance can be really intimidating and really expensive. There are a lot of people who have always wanted to do dance but don't have a studio near them or the money to take classes. Steezy gives you the opportunity to learn with the world's best dance instructors at your own pace, on your own time and for a really inexpensive cost."
Franklin shares this perspective. "Training online is honestly magical," she says. "You can train at whatever time works best for you, there is no commute (just to your living room), and you can truly dance like no one is watching. With Steezy, you can take your own time to master each step and each particular technique by using their great technology."
When a student signs up for the 25-day program, the dancers all demonstrate each position and exercise, and they all rock functional and cool Só Dança outfits, casually matched to one another. Filming 25 days worth of ballet videos is no small task, and the dancers all agree that the Só Dança gear they wore made it comfortable and flattering.
Hutsell, a dancer with New York City Ballet, particularly loves Só Dança leotaords and says, "Só Dança makes the best mesh and lace leotards. They are stretchy, comfortable and durable! I love leotards that stand the test of time, and Só Dança's do!"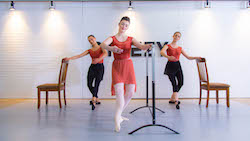 For Cavaco, it's all about the tights. "Só Dança Convertible tights are everything. They are so soft and insanely stretchy. They make my legs look great and are a must-have when teaching."
And Franklin loves it all. "Most of the Só Dança products I wear are so versatile that I not only wear them for teaching but also for dancing in class and dressing up to go out! I can't ever choose my favorites, as all Só Dança products are amazing!"
As we all navigate the new opportunities available with increased online learning, Franklin shares some thoughts on the value, despite whatever challenges exist. "As difficult as online learning can be, it's a great opportunity to focus on yourself. This is the time to really hone in on what you need to work on. Especially with less space, it gives you the chance to focus on small details that may get overlooked when in a large class or bigger space. When dancing at home, there is no one watching, no one judging, and just you to truly take this time to enjoy working and dancing."
With these lovely dancers, the accessibility of Steezy and the cool comfort of Só Dança gear, enjoying dance is easier than ever.
For more information on Steezy, visit www.steezy.co. To shop stylish and comfortable Só Dança gear, head to www.sodanca.com.
By Emily Sarkissian of Dance Informa.