Streamed on-demand on Segerstrom Center for the Arts's website.
May 12, 2021. 
American Ballet Theatre (ABT)'s Uniting in Movement is proof that the legendary company has not missed a beat during the pandemic. In partnership with Segerstrom Center for the Arts, this exciting project brought 18 dancers together for safe collaboration and performance. The program premiered before a live audience on April 25, in Orange County, CA, and live streamed on-demand from May 12-26. What transpired is a delight for the senses and the spirit, and a glorious first concert in the Segerstrom Center for the Arts after it shuttered in March 2020, due to the COVID pandemic. The 18 choreographers, dancers and ABT artistic staff lived and rehearsed in a quarantined "bubble", isolating themselves at the Avenue of the Arts Costa Mesa, A Tribute Portfolio Hotel across the street from the Center, venturing out only to rehearse in the Center studios and, ultimately, perform in Segerstrom Hall.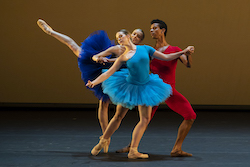 The program showcases new contemporary and classical works worthy of ABT's reputation for technical and artistic virtuosity. Choreography by Lauren Lovette and Darrell Grand Moultrie is side by side with works by Victor Gsovsky and Lev Ivanov. The variety is a fitting exhibition of ABT's range.
La Follia Variations, with choreography by Lovette, opens the concert. The jewel-toned Victor Glemaud costuming and music performed by East Coast Chamber Orchestra are met with Lovette's playful rendering. The intimacy of watching the dancers perform on camera can catch you by surprise. It's as if you are sitting just downstage of them and can see every detail of the movement. The exquisitely unexpected movement is masterfully executed with a palpable joy. This athletic, unconventional and fun opening piece captures the spirit of light and hope as our COVID constrained lives emerge out of isolation and into a new way of being in community.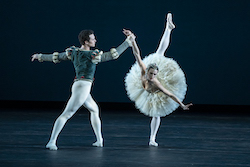 Swan Lake (Act II pas de deux) was next on the program, and Devon Teuscher and Cory Stearns are a beautiful pairing. It is easy to be swept into the love affair of Prince Siegfried and Odette but only when the pas is danced with such ease and virtuosity. As a piece one sees again and again, this rendition stands out as exceptional. The pair captures the essence of the moment with exquisite timing and a resonating assuredness that was mesmerizing.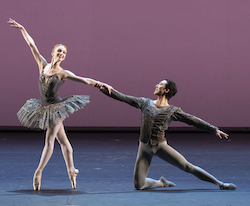 Grand Pas Classique, danced by Catherine Hurlin and Sung Woo Han, was enthralling confirmation that the ABT dancers stayed in peak condition during the pandemic. This classic by Gsovsky is known for its technical purity and precision. As one of the most difficult pas de deux in contemporary classical repertoire, this particular performance stuns. Hurlin and Woo Han look as if they are having a ball while showcasing their athletic and artistic prowess.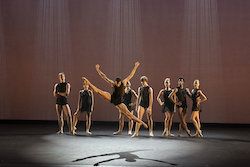 Indestructible Light by Moultrie closed the program with zestful vitality. Moultrie states, "No matter what's happening around us, we must always remember here's a light within that can never be shut off." Hope, love and joy abound from the moment this work sets off. Marc Eric's sultry and classical costuming allowed every muscle to be seen, and the choreography is a feast for the eyes. Dynamic from the first beat, this piece calls upon the dancers to showcase relentless physical expertise alongside characterizable charm. The bodies and the music by Duke Ellington, Count Basie, Neal Hefti and Billy Strayhorn unite in Moultrie's vision, and the piece is electric. I admit to having watched the second movement set to "Tricky's Licks" three times. It is an exquisite example of fluidity, control and musicality. A sculptural trio appears in the next movement backed by a red wall. Filmed with a limited viewing range, this close-up moment is playful and minimalist. Thick, smooth movements interlaced with freneticism play well against and into this backdrop. A sultry duet follows. Think 1930s glamor and meticulously provocative discovery of relationship. The work was stunningly executed and deeply felt. The ensemble's finale to the work showcased genuine joy. Dancers carved through the space with assuredness while interspersing a visual shaking off of the sticky parts from this past year. It's celebratory and nods to our post-pandemic lives being more authentic and fully realized than before.
Dance-making during the pandemic has been challenging, at best, and impossible for some. This ABT residency showcases the best of what is possible. Accolades to ABT, the Avenue of the Arts Costa Mesa and Segerstrom Center for the Arts for coming together to make this outstanding production possible.
By Emily Yewell Volin of Dance Informa.