February 15, 2021.
Streaming on YouTube.
The sound of breath and feet scraping against the ground, the feeling of kinetic energy and authentic emotion in the atmosphere — there's nothing quite like experiencing a sole person dance, guided by their authentic expression and kinetic impulses. The dance fim Wandering makes this power of one skilled dancer, moving as their truest self, undeniable. The 11-minute film features dynamic, emotive music composition from Dustin Carlson and guitar from Andrea Gonzalez Caballero combined with memorable dancing from four soloists.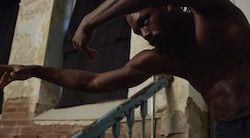 The work is split into four sections, each with its own solo. A continuous score builds atmosphere through them all. The movement seems to be improvisational, and if it isn't that speaks highly of the dancers' ability to convey ease with and integration with their body through movement. In this time of physical isolation, a common experience nevertheless unique to all of us, the choice of the whole film comprised of solo dances felt like something that can truly resonate right now (apart from the practical consideration of keeping dancers and crew safe from the thread of COVID). 
"Wandering, ground" features a man (Yeman Brown) moving in a sense of exploring his own inner landscape through movement, keeping movement close to his body rather than reaching outward. Arms behind his back, as if bound, he struggles to step up to a door. From what is he constrained from wandering into? What ground eludes him?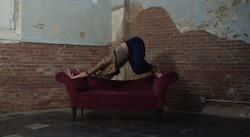 "The soul trembles but never shrinks" depicts a woman (Isabel Umali) moving passionately, exploring movement close to her body but also extending out past it. Still, a sense of caution also moves through her. Fallen leaves lay all around, bringing to mind transition and perhaps finality and mortality. High she reaches and low she crouches, gesturing and searching with her gaze. Later on in the section, she feverishly writes words in chalk on a long strip of brown paper. For herself? For others? That remains an open question. Later, she smears out the words, making them illegible, with her feet and hands. Are they secrets which she isn't ready to reveal? We can only imagine and conjecture. 
"Tectonic Body" features another woman (Ashley Menestrina), just her and a couch. She flips her legs up to the sky, defying notions of the way the body is "supposed" to be in space. Her essence exudes a uniqueness and rebelliousness that aligns with her unconventional movement vocabulary. The couch, however, was plush and a shade of purple — the color of royalty. She gives off her own kind of grace and power — in and of a tectonic body — defined by no one but herself.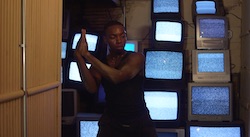 "Her dreams uncelebrated heroes" features a man (Justin Daniels) dancing before several screens and flickering television sets. In the electronic glow of these devices, his movement has power and adaptability but also constraint. Watching this, it feels hard not to think about the impact of constant digital immersion on our flesh, bones and sinew — not to mention our mind and spirit (particularly now, when so much of our time is spent videoconferencing or otherwise digitally connected). Toward the end, he moves in a fast marching motion, arms pumping quickly by his sides. The camera pans back as he does so. He is "wandering" in his own way. Then, he folds over, as if in resignation — or simply finding rest. 
Taken on this journey of four different human experiences, viewers are led to wander in their own ways as well. In this time of high uncertainty, tumult and flux, sometimes that's all we can do. Yet, we can also fully experience, fully open ourselves up to the wandering. Thank you to all of the artists involved with Wandering for opening our eyes to that meaningful truth.
By Kathryn Boland of Dance Informa.