There's just something about live music and movement coming together. Anyone who's danced at a wedding or school dance — joyfully, without care or fear — knows that viscerally. One shouldn't have to be a trained dancer or have a "perfect" body (according to societal standards) to experience that bliss. Nor should they have to have a lot of money, power or social clout. These truths are at the heart of The DanceBands, a collaborative endeavor of Dustin Carlson and Isabel Umali to bring together music and movement in immersive art experiences that are accessible for all. Here, Dance Informa speaks with Carlson and Umali to learn more about The DanceBands — the process, the purpose, the meaning, where they go from here and more.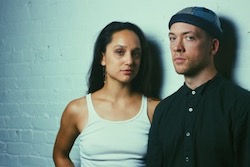 Carlson and Umali have partnered with KODA, an NYC-based non-profit organization supporting a diverse set of mid-career artists that held its latest showing on February 13 — part of Community, KODA's week-long artists' residency centered on social justice. As always with The DanceBands, sliding scale tickets were available, whilst presenting artists were paid with transparency and fairness. 
A lack of VIP sections or more highly-priced ticket brackets have always bolstered that egalitarian approach. The recent performance took place at the FiveMyles gallery, as part of its 20th anniversary celebration. It featured four ensembles. The groups together offered a notable amount of stylistic diversity, yet all worked by The DanceBands ethos — working collaboratively in a joining of various artistic media. Carlson and Umali's band, I.D.A., was one of the presenting bands.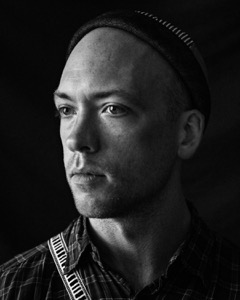 This focus of pushing the pairing of live music and movement to the forefront of live performance, and making the result accessible to anyone and everyone, began in earnest in September of 2019 (the two met and began working together about six years ago). Carlson and Umali presented a 20-minute performance in the lobby of the ACE Hotel in NYC. After they had been toying with the idea for a time, arts administrator Georgia Osborne asked them to create and present the work.
Musicians played, and dancers moved anywhere and everywhere, no proscenium arch boundary to be found. Carlson, who was observing rather than performing at the time, noted that "people who were working on their computers, or on a date — involved with whatever they had been doing — suddenly focused on the performance. They couldn't not engage." He adds, with a note of awe in his voice, "I saw all of these separate experiences become one experience."
Umali affirms that after that joining of separate experiences into one experience, "as the work dissolved away, the setting couldn't go back to what it was; something fundamental had really shifted." They call that phenomenon "ensouling spaces". Umali asserts that the ephemerality of live performance brings a magical element that contributes to that "ensouling". She underscores the need for this with the rapid pace of technological development, how it now connects but also somehow starkly isolates us.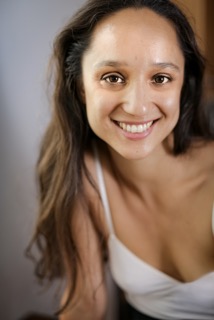 Carlson believes that this quality is something that other forms of public art — such as murals, graffiti and publicly-funded visual installations — as wonderful as they may be, can't offer in the same way. In particular, music and movement together bring a certain kind of deep resonance — one that resonates into our very mirror neurons, the part of us that leads us to have empathy and meaningful connection with each other.
Getting at this powerful tie of music and movement, Carlson shares how a musician friend said "music was originally made to make people dance, so why did that ever stop? We need to get back to that!" That magic of art forms coming and creating a unique resonance should be available to all people, as we all have souls and deserve that magic in our life, these two artists firmly believe. Artists have been doing this "ensouling" since our species' primitive days, Carlson affirms — thus, there's something truthful and organic in doing so.
These powerful truths hit them both after that event at the ACE Hotel, and they knew that they wanted to keep making work like this — joining live music and movement outside of the proscenium arch and making it available to all people. Their next The DanceBands performance was held this past January, at De Construkt in Red Hook. They then sights on February 13, and a vision for The DanceBands beyond that. They want to increase the demographic diversity of performers under their umbrella, develop relationships with artists and venues, refine their artistic practice from both of those forces, and keep at the work of maintaining the accessibility of their art.
One could understand other artists and administrators wondering how they hope to offer sliding scale tickets and equitably pay artists. Umali advocates for creative thinking and fresh approaches — thinking outside of the box of how things have conventionally been done. As one aspect, presenting in non-traditional spaces eliminates the high cost of a proscenium stage venue (which can be a substantial budget line item for dance artists in particular). Carlson appreciates a non-commercial approach, as he's been saddened to see music grow more and more commercialized, he shares.
In fact, Umali wants to spark discussions on art, finances, socioeconomic classes and accessibility — what is a respectful and reasonable price to charge for a ticket, for instance. From where she stands here, she's "not interested in charging $50 for a ticket." At the same time, she believes that those who can feasibly afford to support the arts — through donations, through boosting ticket sales, through serving on boards — should do so. She thinks that such fair generosity can make art sustainable for all people — an important standard, as she sees it as a public good. "Art goes away if we don't give it food and drink," she affirms. It seems clear that The DanceBands is doing its part there.
For more information on The DanceBands, head to www.kodalab.org/event-info/night-of-dancebands.
By Kathryn Boland of Dance Informa.