Dancing virtually in 2020 was a reality for dancers around the world, and Lena Garcia was no exception. But that didn't stop her from winning Só Dança's Just Dance Virtual Competition last June. At 11 years old, she performed her way to the top by displaying hard work, great technique and a joyful, positive attitude. Since then, she also received the Hope Award at Youth America Grand Prix Tampa earlier this year. The Hope Award is given to the best overall dancer in the pre-competitive age range in both the ballet and contemporary/open dance disciplines.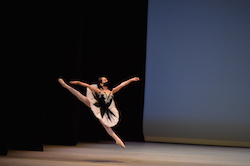 Garcia started dancing at age six, as part of a family of dancers. In the last five years, her love of dance has grown with her, and proved to be the thing that keeps her at the top of her game. We caught up with the young dancer to find out some details about her dancing and her life!
She currently trains six days a week, and does so now in person, in the studio. Her goals for the summer, she says, include programs at The HARID Conservatory, Bolshoi Ballet Academy and The Sarasota Ballet. She mentions that when she gets older, she wants to become a principal dancer for England's The Royal Ballet. In addition to working hard in the studio, Garcia also really loves studying science in school.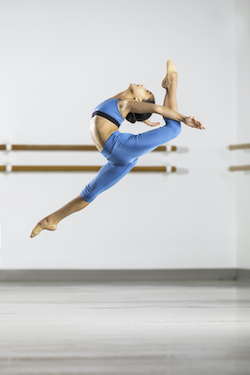 When asked what advice she has for other kids training this year, whether virtually or in person, she offers, "Just keep working hard, and it will pay off in every single class." Garcia's favorite part of ballet class is petit allegro!
She shares that the best part of 2020 for her was winning the Só Dança Just Dance competition, and becoming an ambassador for the popular dancewear brand. Her favorite product is Só Dança's ballet shoes. "I love their ballet shoes because I always wear them for my competitions, and they fit my foot really well," she notes.
Like many people, 2020 was a hard year because of COVID and the changes we all had to make. Garcia is no different. "The worst part of 2020 was the pandemic and not being with my friends at all," she says.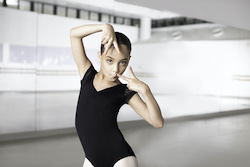 We also wanted to know some of Garcia's favorite things. Her favorite food is pasta, favorite color is blue, favorite dance styles are ballet and contemporary, and her favorite way to spend free time is playing with her dog!
Lastly, the aspiring professional ballerina wanted to share a few words. "Thank you so much to Só Dança for this amazing opportunity. I love representing your brand!"
You can follow Lena Garcia on Instagram: @lena_dancer_09.
By Emily Sarkissian of Dance Informa.