Complexions Contemporary Ballet presents the world premiere of a new series of dance films entitled SNATCHED BACK from the EDGES on February 3. Choreographed and directed by Artistic Directors Dwight Rhoden and Desmond Richardson, the film will feature members of Complexions filmed in various locations in New York City and around the country.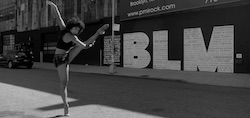 The choreography for this new work was created in response to the challenging time we are faced with in America. Themes of isolation, racial injustice, fear, loss, power, pride, activism and love are examined through the lens of today's generation. SNATCHED BACK from the EDGES will be presented in an episodic format consisting of four films, each examining and celebrating the strength and resilience of the human spirit as we navigate an unprecedented time in history.
The first release, Black is Beautiful, will be released in tandem with Black History Month. Black is Beautiful is set to the spoken word piece by the same name featuring the poetry of four prolific poets from the United Kingdom: Terrell Lewis, Aicha Therese, Mr. Reed and Poetess Jess. To see the full video of the spoken word piece, click here. Black is Beautiful is an intense, abstract depiction of the depth of systemic racism and oppression. Its heartfelt message of positivity celebrates the power, majesty and resilience of black people throughout history despite these challenges. It offers hope through its awareness and advocacy for change.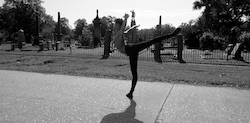 Black is Beautiful was choreographed and directed by Dwight Rhoden and Desmond Richardson and features dancers Jared Brunson, Larissa Gerszke, Brandon Gray, Maxfield Haynes, Khayr Muhammad, Timothy Stickney and April Watson. The film will premiere on February 3, at 8:30pm EST via YouTube and Facebook. Subsequent films and release dates will be announced at a later date.
Rhoden and Richardson say, "SNATCHED BACK from the EDGES is meant to be a chronicle of the human spirit with all of its vulnerabilities. As the world faces a momentous time in history, we, as people, must face one another. We know that the challenges and our response to them ultimately determine our future. We naturally dig in for the answers and are aware that the solutions — yet to be realized — may be simple but never easy."
For the most up-to-date schedule for all Complexions Contemporary Ballet programming, visit www.complexionsdance.org.