Tap dancers need sounds quality and quantity. They also need a surface that can withstand the pounding of metal taps and a coefficient of friction that allows for some sliding.
Very little sound comes from the dance floor surface. It is sound amplified by a floating subfloor or microphone that determines the quantity and quality of the sound. A wood floor over carpet or a rubber base would only provide a dull thud.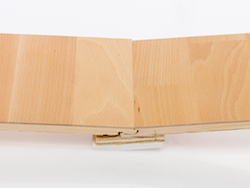 Hardwood floor surfaces such as oak, maple or ash are excellent materials. They wear well and can be maintained by screening or sanding, then refinishing. They should have an appropriate finish (Floorshield II, from Stagestep). Plywood, Masonite and laminate flooring are easily damaged and cannot be repaired. Bamboo is not a long-term solution because, as a plant, it cannot be refinished. Combined with a floating wood subfloor, hardwood floors make excellent tap environments. The floating wood substrate amplifies sound and provides shock absorption.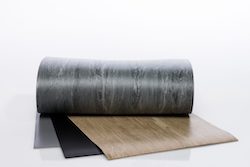 On the downside, wood floors are more expensive to buy and maintain. Wood floors require professional installation and are permanent. The one exception is Stagestep's Encore, a transportable hardwood flooring system installed with a click and lock system requiring no nails, staples or screws.
There are other options that require less investment of time and money. Timestep is a heavy duty, multi-purpose floor surface that is ideal for tap. It is a roll out Marley floor that is solid and dense, so it can handle percussive dance (tap, clogging, flamenco). Timestep needs to go over a floating subfloor, such as Stagestep's Springstep IV. This combination will provide sound amplification, shock absorption and an ideal surface.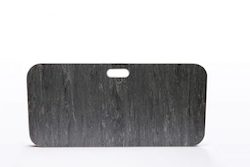 If you are practicing at home, Stagestep's Tap Board combines all the elements for a great tap experience in a handy, transportable 2'x4′ and 3'x4′ board.
You can find additional information on all product mentioned online at www.stagestep.com. Tap boards and tap mats are available on the online store with complimentary shipping in the contiguous United States.
By Randy Swartz of Stagestep.