December 17-27, 2020.
Accessible through BB@yourhome.
They say there's a first for everything, and — as years go — 2020 was a first for all of us. Faced with the inability to present The Nutcracker as usual, Boston Ballet created, as holiday dance celebrations go, another first: a dance embodiment of Duke Ellington's Nutcracker Suite, choreographed by main company and Boston Ballet II dancers. 
Combined with a COVID-compliant Nutcracker Grand Pas de Deux, the result was The Gift, offered through Boston Ballet's virtual performance platform BB@yourhome. It was a fresh twist on a long-time holiday tradition, one that, in many ways, was of these times, beautifully and meaningfully so.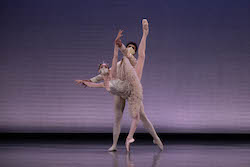 The Nutcracker Grand Pas de Deux, filmed in Boston Ballet's in-studio black box space, featured Tigran Mkrtchyan as the Cavalier and Viktorina Kapitonova as the Sugarplum Fairy. Artistic Director Mikko Nissinen choreographed it, after Lev Ivanov. The dancers worked together as a team with responsiveness and harmony. Mkrtchyan moved with an easy assuredness, his strength evident but that assuredness moreso — a form of making something difficult look effortless, as the saying goes. Kapitonova danced with an unhurried quality, taking her time and using up space (as well as her beautiful long lines) to the fullest. There was something very humanizing and appealing about that — someone knowing her body and dancing to its strengths, with calm and care for her own body. 
There was also something beautiful, but also reflective and somber, about the grand costumes (including matching masks, by Robert Perdziola) and virtuosic movement in combination with the two dancers and sole pianist (Alex Foaksman) creating the piece. It was somber and reflective because that's what it needs to be in this time, and what is grand about it reminding us of times past. It was beautiful because it happened despite those current restrictions. The show, in some form, must go on indeed.
Duke Ellington's Nutcracker Suite followed. It began with Eric Jackson, host of Boston Public Radio jazz show "Eric in the Evening", giving social and historical context to the score to come. Such context can make a viewing and listening experience richer. Simple lighting (by Jon Gonda) came up on dancers in black costumes to begin the work. Costumes, like in all of the sessions to come, were by the choreographer of the section in collaboration with Boston Ballet's costume shop — for this section, Soloist Chrystyn Fentroy. The design aesthetic was straightforward in a way that allowed the dancing to be the visual and energetic focal point.
Apparent from the first section were also jazz inflections — such as isolations, flexed feet at certain points, and spinal release — layered unto a classical movement vocabulary base. The melange here was aesthetically and energetically pleasing. Also notable was how formations and structure embodied the music — different instruments coming and going, the harmony line changing on a dime and those elements creating an effect of unpredictably. It felt impossible to know just what might come next! 
The following section featured ballerinas in red skirts, maintaining a simple and elegant aesthetic. Their movement and presence brought a sense of proud modernism through confidence of carriage and unashamed (but tasteful) sultriness. They continued on the movement vocabulary elements of jazz, here backbends from parallel and specific arm carriage. Their hands also become a focal point, with those gestures and a memorable illusion of many arms in one dancer — as seen in Hinduism's Shiva — from dancers in a line. 
Following that was a section of dancers in red, black and white. It had a bit more of a classical feel through a high frequency of lifts and of long lines. Yet, jazz signatures (such as moving from parallel at times) hadn't disappeared. There was a bit more character and story in this section, particularly at the end with one dancer being quite dramatic and the others waving it off and rolling their eyes. That added a bit of color and flavor, and I wondered if more of that dramatization could have similarly colored other sections — without feeling forced and contrived, that is, of course. Coordinating such elements can also be difficult with work coming from various choreographers. 
A more contemporary section came after that, in movement and in a mysterious mood. In movement, there were leaps straight up from parallel second position with the knee coming up toward the chest and feet flexed. The shadows around them were striking to watch as they moved, helping to build that mystery — that which the dim lighting had begun to create. 
Two subsequent sections went back to something a bit more conventionally classical, with movement from arabesque en tournant, petit allegro and clear balletic port de bras. It was lovely to see this classical vocabulary, with its moments of breaking from that, married with jazz music. Costuming remained clear and elegant — solid black and white shades, smooth cuts that flow with the movement.
Then came movement set to the music of The Nutcracker's culturally-based divertissements. One thing that was memorable to me in this section is that before each divertissement, credits rolled for each dancer in the section — a nice possibility of film that the program utilized (versus credits rolling at the beginning or end of the whole program, which can be disconnected from the performances they're referencing).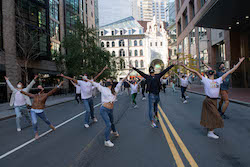 Also noteworthy to me was how the divertissements seemed to take inspiration from the music rather than strictly the culture each dance is traditionally associated with. For example, Tea had an upright sprightliness and Arabian a mysterious sinewiness and lankiness. There was nothing overtly Chinese or Arabian about them, respectively. This approach could inform conversations about cultural reductionism in The Nutcracker and a direction of where we go from there to avoid it in future years' renditions of the classic. 
The Waltz of the Flowers section (indicated by costuming of greenery with other colors), following the cultural music divertissements, included musical phrases from the grand pas, an example of the intriguing improvisation and restructuring of Tchaikovsky's Nutcracker Suite in Ellington's version. Boston Ballet's choreography and performance was right in line with that same creative ethos. Also making me smile was how just like at the end of The Nutcracker traditionally, the cast of each section got another moment to dance in the spotlight. 
That wasn't the end, however; a lovely closing moment shifted the camera to outside of the studio and the whole cast moved together outdoors, expansively and joyfully, for a moment. I only wished it lasted longer; it was such a grand and lovely moment! It brought home how with The Gift, Boston Ballet offered a program full of fresh approaches, creative mastery and something that can inform — if not set precedent for — new holiday traditions. 
In a time of upheaval, uncertainty and change, Boston Ballet reached back in the past to Duke Ellington's creative legacy to build new creative legacy — one that was feasible to create in this time. With leaders like this company, we can redefine traditions to make new ones — those that both respect the past and serve us today. What a gift indeed! 
By Kathryn Boland of Dance Informa.