Wendy Whelan, Misty Copeland, Camille A. Brown, Travis Wall. Dance celebrities certainly are a "thing". Their grace and virtuosity builds an other-worldly mystique around them. At the same time, all sorts of dancers try to put out a mystique of themselves and their technical capabilities on social media, rather than showing their authentic selves. Master teaching artist Maria Konrad isn't so much interested in the mystery behind famous dance artists as she is in their true humanity, and she's certainly not interested in "doing it for the 'Gram."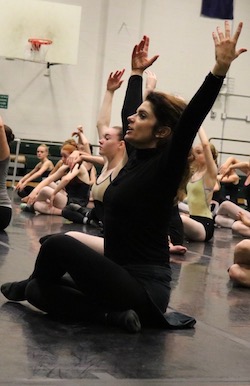 Her interest in having conversations with other dance artists in a way that's fully human and truly attuned led her to create Barre Talk, her YouTube show via Só Dança. Konrad is a nationally and internationally renowned teacher and choreographer, with institutions on her extensive resume such as Steps on Broadway, Youth America Grand Prix, Next Generation Ballet, the International Ballet Competition and The HARID Conservatory. Originally from West Palm Beach, FL, she studied at University of the Arts (Philadelphia, PA) before launching her career. She's currently riding out COVID in Florida with her husband.   
After teaching over Zoom when she would have been setting work on students in Pennsylvania, due to COVID, that need to connect on a truly human level hit Konrad. "More than dancing full out in a big space, I've missed the face-to-face connections with people," she shares. She envisioned a space for those conversations in Barre Talk. She contacted her friend Casey Franklin at Só Dança with the idea, and Franklin was on board right away. Interviews over Zoom aren't ideal, Konrad acknowledges, but can be logistically simpler than in-person conversations (not having to arrange to be in the same place at the same time, for example). "We're going to do what we can do," considering current limitations and realities, she says — also noting that she tries to rise above the perfectionism that dancers too often fall into.
Konrad began the show with three main goals, those that resonate through to the most recent episode. First, she wants to document the creative process, as she believes that "it isn't documented nearly enough." Second, she aims to reveal the humanity behind all of that — which is something that many dance artists (even "intense ballet teachers", she notes) have thanked her for. She firmly maintains that "seeing dancers' humanity is what makes performances resonate." Third, Konrad wants to pass all of that on to younger dancers. "We need to know where we came from so that we know where we're going. That's something that I'm trying to share with younger generations of dancers in an accessible way," she explains. Konrad thinks that it's essential for younger dancers to hear from a variety of artistic directors and other leaders in the field, so that they learn the "lineage and history" of their art form.
Having a diversity of dance field leaders on the show — in terms of dance style, race, geography and more — is also incredibly important to her, she shares. For one, "it's so necessary to find different voices from different backgrounds because there might be someone out there who connects that background in particular," she affirms. It matters to her that everyone watching has a chance to feel seen and heard.
For Konrad, it's in no way about "checking off boxes", so to speak. "I don't believe in diversity as a label," she says. "Everyone is human and has a voice — and deserves to be heard." Konrad sees this ethos reflected in Só Dança as a company, and it's something that she wants to continually reflect in the show.
It's quite a task for Konrad to have to choose when asked, but she shares that some of her favorite interviews have been with Adji Cissoko, Philip Neal, Dante Puleio and Jennifer Archibald. "I always love in an interview when guests can be seen how I know them," in the sense of showing their humanity how she knows it, she says. Much of this is reflected in the "20 Questions" section of the show, a lighting round of questions ranging from what guests would do for a living if they didn't dance to favorite kinds of chips to favorite vacation destinations. Konrad notes that this section is fun, light-hearted and one of her favorite parts of doing the show. She also loves the "dance it out" ending of each show, where she and guests groove it out to lively music as the ending graphics take over the shot — something also so fun and light-hearted, she says.
On Konrad's list of dance field leaders she'd really love to interview are Akram Khan, Marguerite Derricks, Wendy Whelan, Robert Battle and Joaquin De Luz, she shares. Ultimately, she wants to have as many artistic directors and other leaders on the show as possible — to "bring all of the positive energy and conversation that we can get right now," she explains. That positivity is something that she wants to be accessible and appealing to people outside of the dance world as well.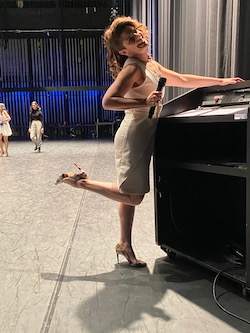 In fact, she describes, researcher for the show Chris Hartl (who also developed the concept and overseas production) isn't a dancer, and that can be helpful. If he doesn't understand something, he'll ask about it, and that's a cue that the nugget of content in question isn't universally accessible. That process helps Konrad better understand what interests the general public beyond the dance world, and she's been able to be more "aware of and articulate about that," she says.
That element of positivity and joy is something that is also important for her to offer with the show — in an authentic sense, not in "doing it for the 'Gram," she asserts. She chooses people to be on the show who reflect that authentic sense of joy and fun — and it shows in their artistic work, she underscores. Konrad notes the quote, "If you bring joy to your work, you'll never work a day in your life." In some of those asks, she's had to be fearless — just as she asks dancers to be, she shares.
Conversations on the show have started to do more than inspire and provoke thought in the abstract sense as well. Konrad has begun a program called Avancar ("to advance"), wherein a hand-picked group of elite dancers will take full weekends of classes from select guests on the show.
Other aspects of her vision going forward with the show are to turn it into a podcast, for casual and adaptable consumption, as well as to have on public figures who are openly huge lovers of dance (including Jennifer Garner and Venus and Serena Williams). "The show started out as something for me to not feel lost, and it ended up being something that could deepen my craft," Konrad shares. With the bounty of wisdom from all of the high-caliber dance leaders on the show, that effect can ripple far beyond her. Enjoying some laughs and truly connecting as humans along the way certainly can't hurt!
Click here to view the playlist of Barre Talk on Só Dança's YouTube channel.
By Kathryn Boland of Dance Informa.