Curious about what the path from home studio to professional training program looks like? Dance Informa caught up with Pacific Northwest Ballet (PNB) trainee Destiny Wimpye. At only 17, her professional credits include dancing for Mariah Carey, the Obama Administration and landing a principal role on the hit TV show This Is Us. So we wanted to know what it took to get her where she is.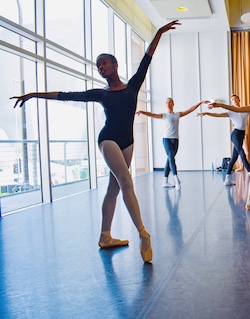 Wimpye started her training in Atlanta, at age three at a studio called Starbound. While she loved her home studio, by age nine, she knew she wanted to up the intensity. Wimpye's mother, Keisa, was at a bit of a loss on how to make that happen. "I knew that Destiny needed more than what was being offered in Atlanta," she recalls. "So we did the research, and found Debbie Allen's summer intensive." When she got in and they spent the summer there, Keisa "could see the joy of dance coming back again."
Apparently, Allen saw something, too. She had a conversation with Destiny about moving there for the year-round program. When Allen spoke with Keisa about the option, she replied, "'We're in Georgia,' and she was like, 'Well, child, just move.' So I said if we're going to do it, we have to do it now. Because if we think about it, we'll come up with 50 different reasons why we can't go." Keisa wasn't about to send her nine-year-old daughter to L.A. alone, so she packed up her home, sold what wouldn't fit in the suitcases, made a pact with Destiny to stick together and set out for L.A.
Destiny is fully aware of the sacrifices her mother made to give her that chance, especially since Keisa's a single mother. Moving across the country to chase Destiny's dreams turned them both into a team, a connection that's clear as day when talking with the pair. Destiny dares to dream big and has a wicked work ethic but knows her mom made it happen. And while Keisa isn't sure it's something she would have done in her own life, she knew opportunities like that don't come around often.
Making the move from Atlanta to L.A. was a big change for them both. "Dance-wise," says Destiny, "gaining more technique was the hardest part for me. Competition is a lot about performance quality, and of course I received some technical training (back in Atlanta). But Debbie Allen was more strict about technique." From Keisa's perspective: "Was it hard? Yes, it was hard." She was a social worker in the middle of her career, stopped everything and started over.
But the move was ultimately worth it. When asked what was the biggest lesson she learned at Debbie Allen Dance Academy (DADA), Destiny says, "Going for it. When I was there, I always felt pushed. Whether that was from my teachers or my peers, there was always a challenge. I think I had that mindset already, but being in that environment, Ms. Allen taught me to never give up. It was an adjustment, but once I got into the studio, I was happy and excited. Don't second guess yourself." A big step in any dancer's career is learning to love the work, the down and dirty daily grind. Destiny, already a hard worker, honed her drive at DADA.
After attending the School of American Ballet (SAB) summer intensive in 2017, Destiny realized she wanted to shift her training to focus on ballet. She switched to the Colburn School in L.A., moving into dorms at just 13. This meant that she and her mom had to break their pact, and Keisa returned to Atlanta while Destiny began both her ballet training and her teenage years living away from home. But always sure of herself, Destiny knew this was what she wanted.
"After SAB, I knew I really wanted to do ballet," Destiny reveals. "Specifically Balanchine technique, and I knew that I had to make a change with my school to get that type of training. I did a lot of modern, hip hop, jazz. I was doing it my whole life. It came naturally for me. But ballet was something I wasn't a big fan of when I was younger. That intrigued me. I thought, 'Why can't I get this right?' I'm kind of a perfectionist; when things don't work for me I want to find out why and fix it. With ballet, you do the step, then you have to make it consistent. I love how difficult ballet is. I know there's something I'll always be working on, my whole career."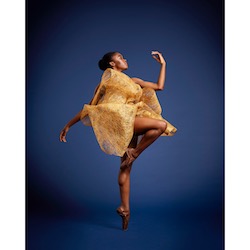 Now a trainee with PNB, she's moved yet again to Seattle. Because of COVID-19, the training looks a little different than expected. But in a very Destiny way, she's not letting that hinder her progress. "We only go into the studios twice a week, because we work in pods of four and wear masks. The rest of the days, I dance at home. But I love the training, I love the teachers here. It doesn't feel toxic or negative; I feel like the teachers really care about our well-being. They know that we're dancing on weird floors at home, and in weird situations, and they're not just like, 'Okay, do the grand allegro!'"
(Listening to her daughter say so, you can tell Destiny's mother is happy to hear it.)
Destiny wants to dance with PNB when she finishes the professional division training program, and with her drive, we don't doubt she will. Her sights are set on a few specific roles, like Dewdrop in Balanchine's The Nutcracker, Russian girl in Serenade and "anything in Apollo." As for what else, she says, "I've always loved Broadway. Anything that feels like family, like a cast or a company. Acting I definitely want to pursue. I love being on set, and being in front of a camera."
With her previous experience on This Is Us and Raven's Home, among other TV shows, a dual career or transition into acting later on would come naturally. Destiny also models, teaches and has ambassador partnerships with Brown Girls Do Ballet, Discount Dance Supply, AS Dancewear by Alison Stroming and PerfectFit Pointe. With so much going for her, we're amazed she stays as laser focused as she does. And we'll be focused on her as she enters what will no doubt be an eventful career.
See Destiny Wimpye on Netflix in Debbie Allen's DANCE DREAMS: A Hot Chocolate Nutcracker, and check her out on Instagram: @destinywimpye.
By Holly LaRoche of Dance Informa.