Imagine you're on stage and no one is in the room besides four celebrities you admire. It's the first time you're away from your parents and you've been alone, isolating in a hotel room during a pandemic. The lights are bright and the music begins.
It didn't take long for Kelly Clarkson to turn her chair around for Cami Clune, a blonde 20-year-old contestant on season 19 of The Voice. Shortly after, Gwen Stefani, Blake Shelton and John Legend followed suit.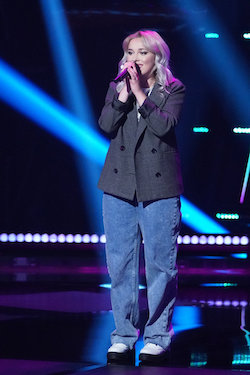 By the time she hit her final note of "Skinny Love", Clune had four of her idols fighting over her. In the end, she chose to be on #TeamLegend, and the next day, John Legend was commenting on her Instagram post.
It was a dream-come-true moment witnessed by millions on NBC, followed by another million who viewed her audition afterward on YouTube….something she has been working toward since her first audition for the show in 2017.
Dance Informa had a chance to speak with Clune (pronounced clue-knee) about how her background in dance influenced her and prepared her for the journey she is on now.
How did you get started in performing?
"The first memory I can think of was when I was four years old. I had my first dance recital, and I remember being in a green costume. When I got a little older, my studio owner told my mom that I was very expressive and I showed off an acting side while on stage. She recommended to my parents they enroll me into a theater camp, and from there it took off, my love of performing."
You've put yourself out there over the years between musicals, singing competitions, singing the national anthems at professional sporting events, acting in short films in Buffalo and more. What advice do you have for people who experience stage fright or walking into an audition?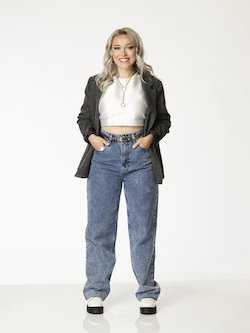 "That's very hard to get over. I think my biggest advice is to go in there and be confident in yourself. Don't try to emulate anyone else. Go in there and give it your all. Think of that adrenaline as an excitement, not a fear."
Many performers have a fear of having to take a step back due to being sick or being injured, which you've experienced in your past. [Clune has Ehlers Danlos Syndrome, which affects connective tissue including skin and joints.] What have you learned from your setbacks, and how did you power through them?
"I learned it's okay to take a step back. It doesn't mean you're weak or that you'll return to that. Listen to your body, and listen to yourself. You'll know if you can push through it and work hard or if you need to take a break. Look at your health, and take some time for yourself."
Sometimes those pauses or setbacks can help you define where you truly want to go in your career. Did that happen for you?
"For awhile, I was thinking about doing behind-the-scenes work. I went to a community college for a semester for digital media, and I realized this wasn't what I wanted to do. I may go back to that later, but I realized I needed to perform. Something in me realized this was my passion and it makes me happy. I didn't want to settle on something just because I thought I couldn't do it. I need to work as hard as I can to get to that goal I want to achieve. That way, I can look back and think I did all I could do and be happy. I think it's important to try and do what I'm really passionate about."
When you were younger, you created 'Backyard Broadway' as a way to put on performances with your friends but used those performances as opportunities to raise money for people who were in need. What inspired you to use your passion to give back to others, and to now talk about your experience with EDS on The Voice?
"I think taking what you love to do and doing it for someone else is so important. What else are we here to do besides help one another in this thing called life? What first inspired me was being a kid and realizing there were kids out there who had it worse than me and I could do something to help them. My one friend also knew a little boy who had cancer who needed help financially and knew it was a perfect way to get started with helping other people.
As far as my journey goes, having this platform and being able to talk about the syndrome that I have has been such a blessing. So many people have reached out to me like, 'I have this, and I didn't think I would ever see someone on a screen with something like this. It means so much to me that you're advocating for us.' That's the best thing I could receive from people. It means so much to me to be able to do what I love and inspire others while doing it."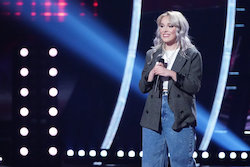 There are also a lot of people who are out there who don't have an illness or disease, but they have issues with their own body image, and they don't put themselves out there because they're afraid of the comments other people might make about them. How have you gotten past that in your past?
"I still struggle with my body image every day. Seeing myself on TV was kind of scary for me, wondering if I was going to look bad or sound bad. You've got to just get to a point in your life where you think, 'I am who I am, and who cares what anyone else thinks of me.' I have struggled with body image my whole life. I remember being at dance, being in ballet in a leotard and constantly picking on myself, thinking I wasn't skinny enough. I've always been someone with bigger hips and compare myself to people constantly. But we don't need to compare ourselves to others. Be yourself, and go out there with confidence. You can't let anybody tell you that you look a certain way or tell yourself you look a certain way. You have to keep your confidence and just be you."
Knowing what you've gone through to get to where you are today, what was it like seeing yourself on The Voice?
"It has been so rewarding to receive the feedback I've received so far. To see John Legend commenting on my social media, it means everything to me. I went through so much and never thought I would get to where I am today. The fact that I'm being validated means the world to me."
How many times did you audition for the show before making it on this season?
"This is my fourth time auditioning. My first time was in 2017. I almost got through for season 16."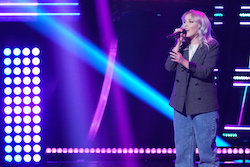 What advice do you have for people who were told 'no' time and time again?
"In this industry, you're going to get a lot of 'no's, but you need to learn to realize just because you were told 'no', it doesn't mean you're not talented. It just means it's not the right time for you. Don't give up. Keep pushing toward it. I'm glad I'm on this season and not season 16 because I'm more developed in my craft right now, and this is the perfect time for me to come out and share my story. Back then, I didn't even know I had EDS. I think the timing of the universe is perfect. You need to believe in yourself no matter how many times someone says 'no'."
With this audition process, you had to quarantine on the other side of the country by yourself. What was it like to be away from your parents for the first time?
"It was difficult at first, but I got used to it and liked the independence. I had times when I would like to be with my family, but I told myself this was what I wanted to do and have been working toward. I needed to push through that fear. I don't consider myself to be independent, so being out there and having to almost change my routine was difficult, but I'm glad I did. Going through all of that and getting to where I am today was all worth it."
What advice do you have for young performers out there trying to find their path, just like how you started in dance and made your way to theater and now singing?
"I think some advice I would give is to never give up on your dreams no matter how crazy they may seem. Be confident in yourself, and don't compare yourself to others. Go out there and be you because everybody has a specific story and a specific purpose in life. Keep working toward those dreams, and never give up on them no matter what people say."
Continue learning about Cami Clune's journey with The Voice by following @camiclune on Twitter, Instagram and TikTok, and liking her page on Facebook.
By Lauren Kirchmyer of Dance Informa.