The documentary, CRUTCH, chronicles the gravity defying life of Bill Shannon, an internationally-renowned artist, breakdancer and skate punk — on crutches.
CRUTCH makes its world premiere at DOC NYC and will be available for the duration of the festival from November 11-19. The film chronicles Shannon's extraordinary life and mission as he finds his voice and uses his artistry to expose the secret world of assumptions that people make about those with disabilities.
Two decades of exclusive access, plus a lifetime of archival footage, depict Shannon from his early years to his rise as an award-winning dancer and cutting-edge performance artist. CRUTCH examines Shannon's controversial street performances as he exposes a myriad of prejudices disabled people encounter in public on a daily basis.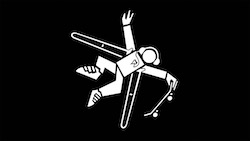 While the film questions his early exploitation of strangers' good Samaritan impulses, it also marvels at Shannon's ability to create solutions and offer empowerment to those facing similar challenges.
"In 2000, we were initially drawn to Shannon because of his unique style of dancing and skateboarding on crutches," directors Sachi Cunningham and Chandler Evans said. "He was, and still is, a one-of-kind. No one in the world dances and skates like he does. As filmmakers who enjoy the movements and aesthetics of surfing and capoeira, we were quick to appreciate his fluidity and grace. But, from the beginning, we knew that our film could not be another 'triumph over adversity' narrative. Bill was adamant about that. He had absolutely no interest in being the subject of what the disability community calls 'inspiration porn'."
They continued, "At the time, Bill was struggling to express something that was both difficult to capture and hard to define. He had begun a series of street performances to probe into the secret world of assumptions which multiply and magnify when experienced through the lens of disability—especially when that disability involves crutches. He wanted to capture these street interactions (or phenomena), and present them to the world to witness and understand. But he hadn't succeeded yet. Twenty years ago,he still needed to grow as an artist. We recognized that, beyond the spectacle of Bill's movement, that there was a profound story to tell. As bi-racial filmmakers with 'hidden' disabilities, we were keenly aware of what it means to be misunderstood. We committed to document Bill's life with no idea of the long creative journey we would be embarking on ourselves as filmmakers. We followed Bill around the world, shooting whenever we could, by whatever means necessary, and we eventually found ourselves with a unique and fascinating story which very much flips the script on traditional disability narratives."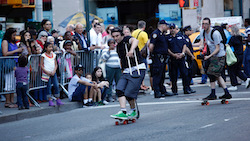 Two decades in the making and employing a kinetic tapestry of 8mm film from the '70s, Hi-8 and VHS tapes from the '80s, mini-DV tapes from the '90s and stunning HD footage from the 2000s, CRUTCH documents Shannon's extraordinary life's story: the history of his medical odyssey, his struggles with chronic pain, the evolution of his crutch dancing and skating, his rise to become a world-renowned performance artist, and his transformation from an angry skate punk to an international hero.
Cunningham is an award-winning documentary filmmaker, pioneer big wave surf photographer and associate professor of journalism at San Francisco State University. As one of those who helped launch Buzzfeed Video, Vayabobo (Evans) is a writer/director, whose award-winning videos have garnered over 150 million views online.
Cunningham and Evans bootstrapped the production for years, until a Kickstarter raise brought in more than $100,000 from nearly 500 backers to finish it. In this, the 30th anniversary of the Americans with Disabilities Act (www.adaanniversary.org), CRUTCH got the attention of Executive Producer Stephen Nemeth of Rhino Films, who's known for THE SESSIONS, FEAR AND LOATHING IN LAS VEGAS, and DOGTOWN AND Z-BOYS.
CRUTCH takes the audience on a journey that literally spans the entire globe. The documentary features the abandoned Pittsburgh steel mills of Shannon's childhood; his diagnosis with Legg-Calvé-Perthes disease, a rare, degenerative condition of the hip; the underground NYC break dance battles of his 20s; his groundbreaking performances in Sydney, Quebec, Madrid, Helsinki, Moscow, London, Paris and Tokyo; and more. CRUTCH is a global story, a powerful story, a transformational story, and one which will have you re-evaluating your own perspectives. From childhood "cripple" to international provocateur, CRUTCH is an engrossing, emotional story of an artist's struggle to be understood and an auspicious DOC NYC debut.
For more information, visit www.crutchdoc.com and follow CRUTCH on Instagram: @crutchdoc.