New York City Ballet (NYCB) has announced that the company will launch a digital fall season on September 28, which will continue for five weeks through October 31. During the first four weeks of the digital season, programs consisting of previously recorded performance footage from the company's unparalleled repertory will be released on Tuesdays at 8pm and will be available free-of-charge for one week only on NYCB's YouTube channel, Facebook page and website.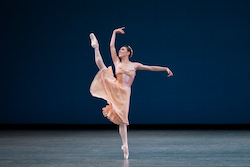 The first program, which will debut on Tuesday, September 29, will consist of choreography by NYCB Co-Founder George Balanchine, including Tschaikovsky Pas de Deux, "The Unanswered Question" from Ivesiana, and excerpts from Symphony in C, Liebeslieder Walzer, Episodes and Stravinsky Violin Concerto.
Repertory for the remaining Tuesday evening programs, which will feature both full ballets and excerpts, will include additional works by Balanchine, as well as ballets by NYCB Co-Founding Choreographer Jerome Robbins, Resident Choreographer and Artistic Advisor Justin Peck, and choreographers Ulysses Dove, Lynne Taylor-Corbett, Alexei Ratmansky and Christopher Wheeldon.
In addition to the Tuesday evening programs, the digital fall season will also include two Saturday Matinees for family audiences on October 10 and 24 at 2pm, each featuring repertory by Balanchine and Robbins specially selected for young audiences. The Saturday Matinees will also be available free-of-charge for one week only on NYCB's YouTube channel, Facebook page and website. 
The final week of the digital fall season will be devoted to a festival of new choreography featuring five world premiere ballets, one launching each night from October 27-31. The choreographers creating the new works, which will be filmed in various locations on the campus of Lincoln Center for the Performing Arts and throughout New York City, are Sidra Bell, Andrea Miller, Justin Peck, Jamar Roberts and Pam Tanowitz. Bell, Miller and Roberts will be working with NYCB for the first time ever; Tanowitz will be making her second work for the company; and Peck will provide the festival's finale with a premiere set to composer Chris Thile's Thank You, New York.
"We are extremely excited to present these new works during the digital fall season," said NYCB Associate Artistic Director Wendy Whelan, who spearheads the company's artistic programming efforts. "Creating a new ballet repertory has been one of the hallmarks of NYCB since its inception in 1948, and with these five remarkable choreographers, we will continue to build and expand that extraordinary body of work. I am also very proud and happy to welcome such a diverse roster of artists, including Sidra Bell who will be the first Black woman to create a work for NYCB."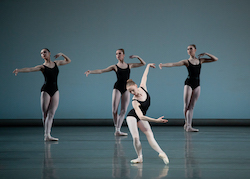 Tanowitz and Roberts were previously scheduled to choreograph new work for NYCB's 2020 Spring Season at Lincoln Center, which was cancelled due to the COVID-19 pandemic, and Bell and Miller had been previously commissioned to create work for the 2020 Fall Season at Lincoln Center, which has also been cancelled.
"As the company continues to work toward our ultimate goal of returning to the stage, I am very pleased that we can once again present a digital season that will showcase so many of the qualities that make NYCB such an extraordinary institution," said NYCB Artistic Director Jonathan Stafford. "From our remarkable dancers and musicians, to our incredible heritage repertory and innovative new works, we look forward to bringing the best of New York City Ballet into people's homes while we wait for the day that all of us can safely return to the theater to experience this wonderful artform together in person."
NYCB's 2020 Spring Season, which was also presented digitally due to the COVID-19 pandemic, generated nearly one million views from people around the world. "Connecting with so many audience members, both existing and new, has been a welcome silver lining during a very challenging time" said NYCB Executive Director Katherine Brown. "I am very grateful to everyone at the Company for all of their hard work in making another digital season possible, and enabling so many to have access to the artistry of NYCB."
The season will also include a series of all-new episodes of City Ballet The Podcast; four Ballet Essentials interactive repertory workshops for teens and adults; four Ballet Breaks movement workshops for children; four Signature Steps, one-hour ballet classes designed for intermediate and advanced level dancers; and six Access Workshops for people with disabilities — three for children and three for teens and adults.
Complete details, including ballets and casting for the performance programs, as well as hosts and participants for the interactive workshops and other content, will be released at a later date. For updates, visit nycballet.com/digitalfall.