Fashion can make you feel confident. That's not to say you've got to be wearing top designers and be decked out head to toe in the latest trend, or be three steps ahead of the latest trend. Fashion and feeling confident in how you're dressed is more about personal style and about liking what you're wearing. The way you dress can affect how you carry and conduct yourself, and can even help define who you are.
That goes for dance, too. You don't show up to an audition wearing torn tights, pointe shoes that you think make your feet look clunky, and a leotard that is your least favorite cut and color. Instead, you put on your best, your favorite dance clothes that, right away, make you feel like you deserve to land that gig.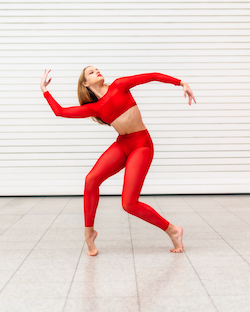 So in that sense, there is an emotional power of fashion. Certain clothes or dancewear can affect your mood and outlook, which may, in turn, even affect how you're dancing on a given day.
For a simple fix for finding your personal power through what you're wearing, Ilogear Founder and Designer Liz Nieves recommends having fashion leotards in your dance wardrobe.
"They definitely make you stand out at any auditions, even a ballet audition," Nieves says. "You can add pizazz, and it allows you to stand out a little bit more. It's a statement of individuality, which, I think, is more and more accepted today. Another thing would be if you're at a convention. The more interesting you look, the more you stand out."
Nieves adds, "Fashion leotards allow you to express your individuality and make a statement, so it's an equivalent to when you get dressed in your regular clothes and you're going to go out and you have what's called your 'power outfit'. Those clothes empower you and give you that extra boost of confidence, which I truly believe clothing can do. So it would be the same way that your fashion leotard will do that for you at your next audition or practice or convention."
So what makes a "fashion leotard"? Just check out some of these gorgeous leos from Ilogear's latest collection. The Serena Leotard is like a leotard for the red carpet – elegant and jaw-dropping with its nude plunging neckline and delicate mesh overlay. The Liv Leotard is unique and exciting, with its diagonal cuts and mesh inserts; it's sure to be eye-catching on the convention floor. And the Allison Leotard is classic, flattering and beautiful – a great option for a ballet audition.
A lot goes into the creation of leotards like these. There is an initial vision behind it all, and then thoughtful design and construction, with multiple tests before the item finally hits the shelves.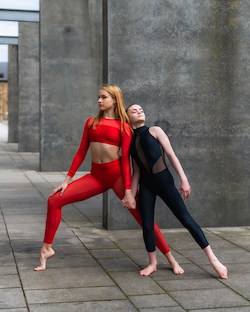 "You're wearing someone else's art and vision, literally bringing it to life as you dance and move in the product," Nieves says. "At Ilogear, an idea is born from literally everything. For me, personally, as a designer, it could be what I call 'a whisper'. So a whisper to me is where I'm walking around, and all of a sudden, I see something and it just stays with me. It's something that is so subtle, and it kind of evolves and stays with me and, little by little, it continues to grow and grow. Once the inspiration happens and it kind of really starts to develop in my mind and in my heart, then I actually go on to paper at that point. I start sketching."
From that point, color is added to the design, then a pattern is made and the first sample is created. Fabric plays a large part in what makes up a high-quality fashion leotard as well. Nieves explains that Lycra is not only stretchy but also retractable – it has an ability to come back and maintain shape, time and time again, after many washes and many wears. Mesh, sometimes used in fashion leotards, is nylon-based, so it doesn't overstretch or fray. And Supplex is known for its long durability and good retractability, so it "holds you in and makes you feel delicious," Nieves notes.
"Before we create any of our products, we test them for about three weeks between wear and washes," Nieves explains. "Every single product gets tested, just to see if the straps are stretching correctly, if the product is not going to fade, if it's going to retain its color. One of the things we pride ourselves in is the longevity of our garments. Everything we make is washable – throw it in the washer and dryer and go."
So next time you're picking out your dance outfit for your upcoming convention weekend or audition, take your time and know that it's more than just clothes. Your choice has a background and life of its own even before you purchased it, and your choice is a reflection of who you are, what you want to convey, and can make you feel confident and empowered.
For more on Ilogear and to browse some of the company's collections, visit ilogear.com.
By Laura Di Orio of Dance Informa.