Four Thursday afternoons in July and August.
Various parks in Newport, RI.
Live dance performance has an unparalleled, ephemeral magic. Part of that magic, in ideal circumstances, is seeing a skilled performer reach deep into themselves to portray an experience to an audience. Therein, there's an interplay between inner and outer forces, the internal and the performative. In COVID times, we're all experiencing some form of this dynamic. As the world begins to slowly, cautiously open back up, we're drawn to rediscover aspects of life that we miss, but still cautious and fearful of the threat of COVID for ourselves and loved ones. Many of us are having a lot of personal reflection, while also pulled outwards with the daily slew of news — the sad, the hopeful, the inspiring, the confusing, the uncertain, and so much more.
The movement and performance qualities of Island Moving Company (IMC)'s Where in Newport is IMC? outdoor performance series spoke to many of these aspects — without a word. The series took place at iconic parks across Newport, RI, the company's home city — with one performance each Thursday afternoon for a month. This format offered another meaningful part of this series — to draw city residents out of their homes to beautiful outdoor spaces, in a socially-distanced and masked (and therein safe) way. 
This adaptability and resourcefulness has always been part of the company's way of working; without a home theater in the city, the company has performed in settings from pirates ships to a local Civil War naval fort, in ways that creatively link to the works they're performing. In this time when dance companies are having to quickly adapt to keep the mission alive, IMC was able to offer something both smart and intagibly special.  
July 16 — Battery Park
The dancers begin in a wide circle facing inwards, far apart, walking slowly towards each other. The circle gets smaller to the point where they could almost touch each other — but they don't, instead moving in their own kinespheric space. Yet they do almost reach towards each other; the sense of yearning is palpable. All throughout there's a trepidation mixed with that yearning.
The music adds a hopeful feel to this tension. In sneakers, the dancers (Tara Gragg, Timur Kan, Katie Moorhead, and Brooke DiFrancesco) foutée through arabesques, turn from higher to lower levels, battement off balance and then beautifully find it again. They bring it all across with a clarity and a softness that I want to experience in my own body; it looks like it feels so good! With this yearning to reach out of oneself, yet still with a sense of self-protection, it's all so relatable and so relevant in this age of COVID.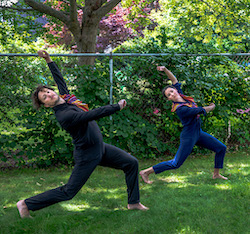 Along with the open air and the incomparable energy of bodies moving together in space, I'm overcome with emotion; I almost begin to cry. My emotion begins to dissipate, but it all stays as powerful as the dancers come closer together in space. Arms curved and placed upon the shoulder of a dancer in front hit me as a way to have human contact in a way that keeps distance — a goal sought through endless news articles, broadcasts, and private conversations in homes and workplaces.
With that energy of bodies moving together in space, something I didn't realize I so sorely missed, all of that fades away for me. None of it can speak as powerfully as these four dancers are now speaking, without a word. To end, they stand in a line, gazing clearly forward together. This moment seems to affirm that whatever an uncertain future will bring, we will move into it and through it together. We have no choice — sink or swim, fall or rise.
July 24 — Perrotti Park
The dancers begin to spread out through the space and facing different directions. They wear the same costumes as the first outdoor performance in this series, dark blue one-pieces with rainbow-colored frills. This offers a connective thread through all of the performances in the series. The dancers begin moving slowly and then pick up speed, matching a rising turbulence in the instrumental score. The dancers establish a motif of lowering to a deep pile in second position (feet spread wide) In addition to adding a pleasing percussive element. This action brings to mind for me a grounding amidst the turbulence otherwise in the air. Amidst that feeling of turbulence the dancers move with lovely softness and grace, turning through fifth position with ease and lengthening legs long to the side and backwards.
One memorable section is with a pas de deux of Lauren Difede and Jose Lodada, while Emily Small and Emily Baker move in unison, but apart in space, behind them. In the open air, trees all around and water behind them, it's all visually so captivating. I also think about the different possible ways to find or create connections– in time, in space, in movement vocabulary and quality, and more. The work is exploring so many of those possibilities.
Later they come to face outward from a tight circle, standing back-to-back. One falls forward a few times, and each time they help her to stand again. I think about the importance of community and social support in this challenging time. At another level of symbolism, this park is right in front of several docks. At times of storminess, the kind reflected in this work, there can be refuge — also which this work illustrates and which makes my heart leap with hope.
July 30 — Touro Park
In the shadow of towering structures and sculptures, under bright sunlight, the dancers begin to vibrate — limbs beginning to follow a shake from the body's center. Gradually, they began to move bigger and locomote farther out into the open space. Brass instruments rise to match the rising energy of the dancers. Shapes such as long arabesques and arms straight to the side keep building that energy of expanding outwards. Shifting in and out of formations conveys a freedom to move through that space independently, in coexistence with other bodies.
There's a joyfulness and a suave at the same time, the energetic ska score and movement together building that feeling. The dancers (Rhea Keller, Raum Aron Gens-Ostrowski, Deanna Gerde, Tarryn Stewart) seamlessly move from unison movement to an intriguing improvisational quality, keeping those qualities of joy and suave. In my body, I have a memory of that first time at the beach since COVID hit — endless sand, sea, and sky. Even in this scary COVID world, we can celebrate small wins and the little things — sunsets, open spaces, beautiful art, and dancing to a favorite song. Clapping at the end of this work, I smile in gratitude toward IMC and this outdoor series for reminding me of that.
By Kathryn Boland of Dance Informa.