"It's a life, it's a style, it's a need, it's burlesque."
It was 10 years ago when these words were sung on the silver screen as tasteful, scantily clad dancers moved around a stage with sensuality and strength alongside stars including Christina Aguilera and Cher.
Before selecting their dancers, the choreographers and associate choreographers for Burlesque took their time with a skeleton crew to get the numbers just right. After working on the pieces for about three-and-a-half months, they went through a rigorous audition process for the dancers.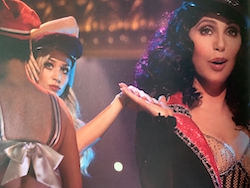 "There were so many auditions for the movie," shares Melanie Lewis-Yribar, who was both a dancer and associate choreographer. "It was very, very specific." So specific, Lewis-Yribar had to audition to be a dancer despite coming up with choreography for the film.
"At the time, I remember the movie was this really big deal and this really big job that every girl in LA was trying to get," recalls Tanee McCall, who played the character Scarlett. "It was a SAG [Screen Actors Guild] job, we got health insurance, we were on payroll, and we knew we would have a job for at least five or six months."
Once all of the dancers were selected, they spent another two to three months, including weekends, getting the routines just right. Even though the process was exhausting, it was empowering.
"I was young when I did that film, maybe 21, and it was the first time I danced in a mature and sexy way that still felt really classy," explains Tyne Stecklein, who played the character of Jesse. "I was proud to be part of it. I felt the most feminine and empowered than I ever have."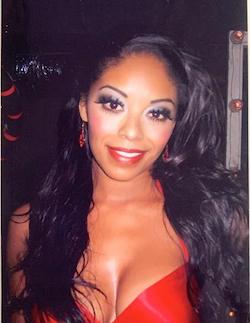 "To go through all of those months of rehearsal and then go to set and see it brought to life, it brought me chills every time," McCall says. "A lot went into us looking the way we did. We are all fit, beautiful women, but a lot of professionals added extensions and eyelashes and contour. They fitted costumes, and fishnets were dyed to our exact skin color. Every little detail you could think of was thought of to have it come together. You felt so powerful."
The movie centers around a young, driven woman who moves to Los Angeles to pursue her dream, which is something the cast could relate to with their own professional journey.
"I moved to Los Angeles when I was 18 with a dream of pursuing a profession in dance," Stecklein says. "My advice for young dancers who want to dance professionally is you have to be two feet in and 100 percent committed because there are enough people who are fully committed. It's easy to get discouraged if you aren't or if you have other things you're passionate about."
"Everyone in LA is a great dancer, but who will come on time consistently with a good attitude? Who won't talk back? Who won't bring negativity? It's a creative space, it's a creative environment," McCall says. "Choreographers need to have an open space without feeling any bad vibes. Be consistent, show up every day, and give it your all. There's a misconception that it's what you do in the studio and how you dance, but that's the easy part. It's everything else that really makes a professional dancer."
"Everyone's journey is different with how you get there, but at the end of the day if you can check off any of your goals, then you have succeeded," Lewis-Yribar says. "That's a really important thing to remember in this day and age with Instagram and influencers and YouTube sensations. People feel it's not good enough unless you are totally famous or have millions of followers and everyone knows your name. That's not true. You are good enough."
Whether they were green in the industry or one of the "older" dancers in the film, each of Dance Informa's interviewees felt Burlesque left them with learning lessons that inspired the next moves in their career.
"In general, the film taught me to appreciate what I have and what I have to offer," Lewis-Yribar reveals. "Being a part of the team made me understand I had a good, clear perspective of what I thought was interesting and that I could push a song forward. I knew I was truly ready to have a voice as a choreographer."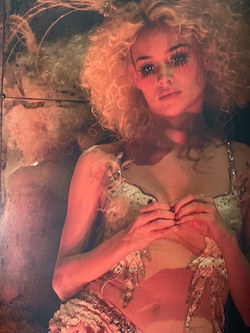 Stecklein recalls a special moment she had with Cher that she has kept with her as she advanced in both dancing and acting. During one of her scenes, she shared lines with Cher. It's common for a short line that well-known actors are not on set. Instead, someone else will read the line off camera to the actor. However, Cher decided to stay on set that night to read her line back, even though she was wrapped for the day. "It was really special and eye-opening," Stecklein says. "When you see someone like Cher who displayed respect for someone like me, who was much lower than her on the totem pole, that really taught me a lot."
Ten years later, the experience still brings up fond memories for those who were involved, as well as some valuable life lessons.
"At the time, I was excited to have something on my credits that was more acting that had lines," McCall shares. "I was trying to get out of dancing, so I was looking at it as an opportunity to bridge my career and get out of dancing. Now that hindsight is 20/20, I wish that I was able to enjoy the moment more and not take for granted what that opportunity was and being in the midst of so much talent around me and just appreciating it."
"I can't even believe it has been as long as it has," Stecklein expresses. "It was a really, really wonderful experience for me. For my generation, it was really special to be a female and be a dancer in that film."
"I'm super excited it's the anniversary," Lewis-Yribar notes. "It was a special moment in time, and it's awesome how much dancers love it and appreciate how hard we danced."
Want to learn the moves from the movie? Visit Melanie Lewis-Yribar's website and learn the moves from "Express" for free!
By Lauren Kirchmyer of Dance Informa.