Island Moving Company (IMC), Newport, Rhode Island's resident contemporary ballet company, announced the addition of a silent auction as part of its annual Nuit Blanche benefit. The auction supports IMC's mission to provide world-class dance and dance education to thousands of community residents and students.
The silent auction can be accessed at islandmovingco.org and is open now. The auction will remain open to accept bids through Sunday, August 23, at midnight. Items include: open-ended stays and adventures in Italy, St. Maarten and Newport, and two framed oil paintings by acclaimed Rhode Island artist and IMC supporter Johanna McKenzie of Little Compton. 
The winning bidders of the Travel the Globe packages will experience the charm and flavors of Tuscany, or the relaxing beaches of St. Maarten, or the uncompromising sites and hospitality of Newport. Activation dates are open-ended based on availability.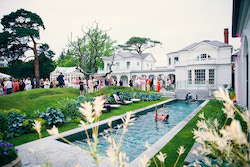 The silent auction is part of Nuit Blanche: Tous Réunis, a virtual gala garden party. The gala broadcast is scheduled to take place on August 21, at 7pm and runs 45 minutes. Guests will enjoy live and specially recorded music and dance performances made for and performed in the gardens of Bellevue House, one of Newport's most spectacular landscapes.
Nuit Blanche is IMC's signature benefit event that helps to raise approximately 15 percent of funds needed for the company's artistic, community and educational programming. IMC's Executive Director Peter Bramante said, "Given the uncertainty surrounding when IMC and arts organizations in general will be able to return to live, public events, this virtual gala is an important celebration of dance, our community and to our ongoing operations."
Each year, IMC's signature event takes on a different theme that furthers the event's uncommon appeal as one of Newport's most anticipated cultural events. "This year's theme, Nuit Blanche: Tous Réunis, was inspired by our community's collective desire to connect through the beauty of dance – to reunite again," said Miki Ohlsen, IMC's artistic director.
Tickets to IMC's gala, Nuit Blanche: Tous Réunis, are available now on IMC's website. For more on the gala and silent auction, head to islandmovingco.org.