J. Bouey (they/them, we/our) is a dancer with the Bill T. Jones/Arnie Zane Company, choreographer, educator, dance writer, and co-founder of The Dance Union. Maxfield Haynes (they/them) is a soloist with Complexions Contemporary Ballet, guest dancer with Les Ballets Trockadero, and alum of New York University. Here, Dance Informa speaks with them about understanding intersectionality and finding career success.
What are you most proud of in your career?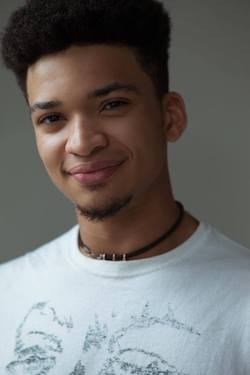 Maxfield Haynes
"I'm most proud of being able to be unapologetically myself throughout my entire career so far, and being met with success. You know, it's not common for somebody who is so unapologetically queer, so unapologetically black, to be so successful in the dance industry. You usually have to play a part, or play a role, and I'm lucky having worked with Complexions and Les Ballets Trockadero that they've always accepted everything about me. They've always said, 'Whatever you have that makes you special, show that.'"
J. Bouey
"I think it's a mindset that I found early on when dealing with oppressive systems. My first piece was a response to Tamir Rice and Trayvon Martin's killing, and exploring when innocence is taken away from black American children trying to survive in such an inhospitable environment. For the next piece, I was going to make a response to that, or continue the question, but already I was exhausted by centering whiteness in my work. So I began to explore what it meant to make work as a black artist for other black people, specifically black queer people and black people living with mental illnesses. I realized that my work and my artistry were getting stronger by practicing decentralizing the systems of oppression and making work for the oppressed. Just having a conversation with my intended audiences, and essentially, parts of myself."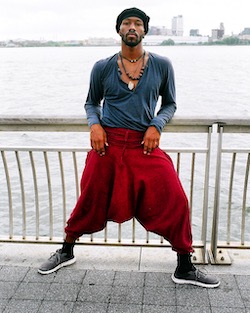 J, what drove you to start The Dance Union?
Bouey
"I think it has a lot to do with systems of oppression within dance, and understanding that within the dance community, there is an eerie and very palpable silence that is further oppressing all of us. And I mean on every level, from funders all the way down to artists. While I am the founder of this iteration of The Dance Union, there was another version I worked on alongside the other original founder, Caroline Fermin. With her blessing, I've changed its direction into what it is today.
The Dance Union's purpose is to create a space for dance artists to speak out openly, directly and from a raw place against systems of oppression within dance. To strategize how we would like to co-create a better dance community, a better dance industry and a better world. I'm really happy now to see so many of us in positions of power ready to do some dismantling, to get our hands dirty."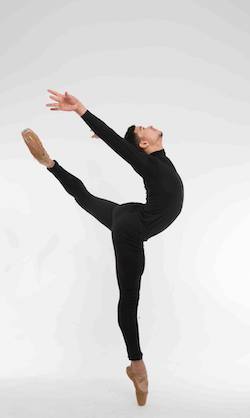 What is your advice to young black dancers?
Haynes
"Know the game that you're playing. Figure out the rules as soon as possible. Then do your best to find the kind of career you want to have through people who've done things similar to what you're interested in. Don't be afraid to reach out. I'm really passionate about inspiring the next generation of dancers, and showcasing that you can be 100 percent yourself, and have a career. I only realized that through seeing other people like me who have been very outwardly queer and/or black. I take a lot of inspiration from James Whiteside, Harper Watters, Marcelino Sambé and Rodney Hamilton. All of these people are friends who inspire me daily with how open they are about every aspect of themselves."
And these people you looked up to, you ended up studying or working with.
Haynes
"Yeah! Now we're friends. That's really cool. When I get dancers coming up to me now saying, 'You're so inspiring to me,' I want to get to know them. What about what I'm doing interests you? It prompts conversation and relationship. This industry has a lot to do with relationships. Before you're a dancer, you're a human. Pay attention to how you interact with other humans. Cultivate availability."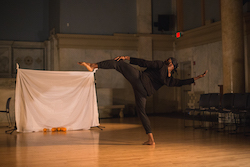 Bouey
"My advice would be: you already know. You already know where the pain is. You already know where things don't make sense and don't align. You already have the tools to navigate through the institutions, or outside of them if that's what you choose to do. And the world right now, those in positions of power and those privileged by these oppressive systems, are starting to understand and to join in on the dismantling. But by virtue of existing and working and making, you are dismantling the systems of oppression as black and brown people. So I say, 'You already know' to affirm that when the world reflects back to you something that doesn't match the image you have for yourself, to disregard that and to center yourself back into the knowledge that you already have. Back into your community, and to make work from there. And to make it work from there.
It is important we understand that systems of oppression are contextual. Like as a black, queer, agender dance artist, I know that I live and manifest in a body that receives tremendous top-tier, A-1, USDA grade male privilege, even though I do not identify as a man. And that's important to know because it still shapes the world that I'm trying to dismantle. So that's to say that when we have the intention of dismantling systems of oppression that we are privileged in, it's very important for us to sit down and silence ourselves, so that we can listen to those oppressed by those systems and be ready to follow their leadership."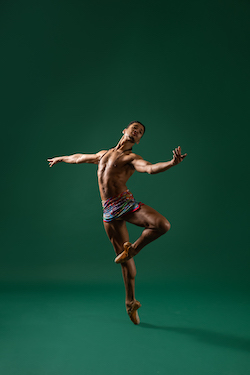 Haynes
"I deal with the same thing, I think that's part of why J. and I are such good friends; we intersect in that same way."
Would you mind explaining the concept of intersectionality?
Haynes
"Intersectionality deals with how your race, gender, sexuality and class background form your perception of the world and your perception of who you are. Everybody has different intersecting ideas that go into making them. Through understanding your unique intersectionality, you can recognize whatever privileges you might hold, and how to use them to support those who don't hold the same ones. So recognize every aspect of who you are. Stand firm in that, and know that your intersectionality in the world is your power."
By Holly LaRoche of Dance Informa.
The writer of this article donated her fee to the Black Trans Femmes in the Arts Collective.