Thinking of joining a pre-professional program? Not sure which ones to consider? Dance Informa sat down with Daniel Ayala, a Columbian dancer recently awarded a scholarship to St. Lucie's pre-professional ballet program in Miami… and the American Ballet Theatre program, and The Rock School for Dance Education, the Royal Winnipeg Ballet School, Ballet West and Complexions. When it came down to weighing his options, Ayala came up with some good advice on how to find the perfect fit.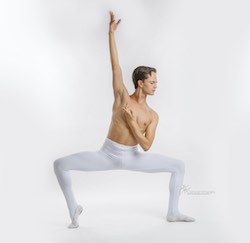 Where did you train in Columbia? How did you get started in dance?
"So I was born in Bogota, Columbia. I first started in musical theater, around the age of seven. And all the while I was doing musical theater, I had a strong passion for dance. Not technique or ballet, just dance in general. Every kind of movement, I was really into it. And then at 14, I told my mom I wanted to start training more seriously in dance. She took me to a school near my house called Ballarte, and I started ballet.
Fourteen in the ballet world is considered late. Did you feel like you had some catching up to do?
"I felt like I had some, but we were only training six hours a week, so it was informal, not pre-professional. It was more an after-school activity."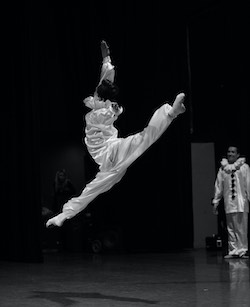 What made you want to come to the States to train?
"From day one, my teacher told me that I have a lot of facility, a lot of talent. So she started working with me in class; every once in awhile, I'd get the chance to do some pirouettes with her. And then it was announced that they were going to do a competition in Miami called Miami International Ballet Competition. And I prepared my solos. It was the first time I was competing int my life, and I went with my teacher to Miami to compete. And while I was there, a teacher saw me and offered me a short-term scholarship to stay and train at their school in Miami.
My teacher, the one who gave me that short-term scholarship, is very close friends with the teacher at St. Lucie's, who was going to the Youth America Grand Prix Finals with some of his students. It turns out he needed a boy to partner the girls. They just so happened to call each other and mention me, so I went to Port St. Lucie and stayed with my pas partner and trained at the school. It was one of those moments where it just clicks. Some teachers, the way that they teach, just clicks. I fell in love with the school."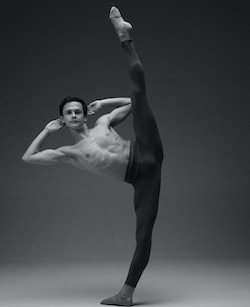 Now, you also had scholarships to a bunch of other extremely prestigious programs. St. Lucie's holds the Youth American Grand Prix Outstanding School Award and the Universal Ballet Competition Outstanding Coaches Award; it's a fantastic school in its own right. But what made you decide to go there over the others? What should young dancers look for when choosing a pre-professional program?
"Dancers seem to think that the only way to succeed in getting a professional career is to go to a big school with a big name. But sometimes it's better to stay in a small studio with good training. In a big school, you can get lost. And don't get me wrong, some big schools are amazing. But sometimes there are so many students it can be hard to get noticed.
And the second thing would be good people. While I was staying with my pas de deux partner, her family hosted me for free. I wouldn't have had the resources to stay otherwise. They treat me like a son. You need good surroundings outside of ballet. Ballet is already hard, you're in the studio all day, you need a place where you feel loved and comfortable."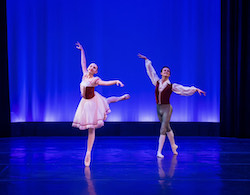 Can you walk us through what a day in the program looks like?
"We're doing a summer program, so our schedule is a little different. It's also different because of the coronavirus, so we're following CDC guidelines. We have men's class from 9-10:30am. The girls have their technique class in another room. Then from 10:30am-12pm, we have a men's conditioning and variations class, while the girls do pointe work and their variations. Then we have privates. So every day, my partner and I rehearse repertoire from 1:20-2:20pm. So that's variations, pas, contemporary works, whatever needs work."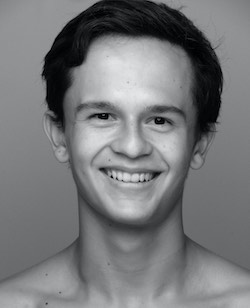 Wow, that's really focused training.
"Yeah, it has to be. I've been competing with St. Lucie, we went to the Youth American Grand Prix. My partner and I were invited back to the Finals, but we didn't get the chance to go because of the virus. But we're working hard for next year."
Do you have any tips on how to manage nerves before competing?
"Give 120 percent in rehearsals. If there's a spot in the piece where you're feeling scared or it's just not happening, you have to practice it. Because if you don't get it in the studio, you're not going to get it on stage. Be smart while you're rehearsing.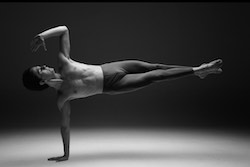 I'd also say, and I'm still trying to figure this out for myself because I'm still new to the competition world, but I'd say to just be yourself. Don't try to do more turns or jump higher than other people. Don't try to impress. Perform, and dance for yourself."
Daniel Ayala has performed on renowned stages, including Arizona State University, the Fillmore Miami Beach at Jackie Gleason Theater, the Manuel Artime Theater and the Colony Theater. Follow him on Instagram: @danielfordance.
By Holly LaRoche of Dance Informa.