With the current COVID crisis, renowned tap dancers/choreographers Chloe and Maud Arnold were faced with having to cancel their annual international DC Tap Festival. After 12 years of hosting, it was heartbreaking to break tradition. But with a little help, they managed to move the whole thing online in less than a week, and the first Global Online Tap Fest premiered online on March 30.
Chloe and Maud are an internationally recognized dancing (and choreographing and producing) duo. Chloe is Emmy-nominated for her choreography. Their all-female tap group, Syncopated Ladies, is Beyoncé approved. The Arnold sisters bring tap to stage, film and TV screens with fierce and feminine flair. With the international DC Tap Festival, and now with the Global Online Tap Fest, they're bringing those opportunities to young dancers around the world, too.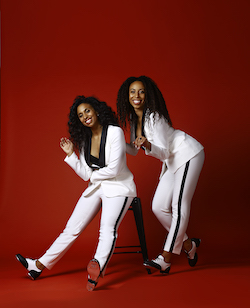 How did you manage to transfer a whole festival online in under seven days?
Chloe Arnold
"It was absolutely a challenge, but we knew that it was something that the community needed. We wanted to deliver something that would uplift people."
Maud Arnold
"Originally, the DC Tap Fest was supposed to be March 23-29. That's a week of choreography residencies, over a hundred master classes, a full concert performance, a student showcase, contests and a jam session party."
Chloe
"So it was a big event, and we usually have hundreds of dancers who come. We were following the news closely. The NBA had just cancelled, and that was a telling factor. We were following the schools, because we figured they would be the indicator of what's safe for kids to be at. But as we started to think about it further, we have an international student base. From Italy, Asia, South America, all over the U.S., and this is a real liability in terms of everyone's safety."
Maud
"And the European travel ban was set in place, so all of our European people couldn't come."
Chloe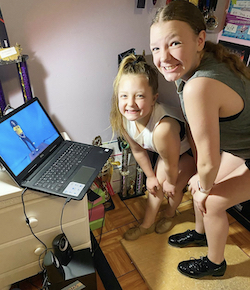 "We had to make an official decision. When we thought about canceling it, we couldn't just say, 'Aw, see you next year, good luck!' We have done so much work online, but we hadn't fully dove into online training. So this was the time. Even though it was daunting, we have so many faculty members who are all over the country. Michelle Dorrance, Anthony Morigerato and Jared Grimes in New York; Bril Barrett and Star Dixon in Chicago; Charles Renato and Roxanne King in D.C.; Alexis Juliano in Brazil; and Anisa Lee, Assata Madison, Gisele Silva and Dante Lara in L.A. We were trying to figure out how to create an experience that everybody can enjoy that feels like we all came together even though we're apart right now."
Chloe
"We have a wonderful friend who honestly came to the rescue. He saw our vision to technology fruition. At first, we thought we could do it through Zoom. But when you're hosting over a thousand dancers, that is not a viable option. Especially with music and tap. So he challenged us to build our own platform. That's what's happened, and we're developing it further. You're going to have Chloe and Maud Studios Online, beyond the Online Tap Fest. We aim to build a platform so that other artists can empower themselves through the technology that we're building."
The Tap Into Life concert during the online festival featured Broadway stars, dancers from La La Land and a host of other celebrities. It was also interactive. How did that work?
Chloe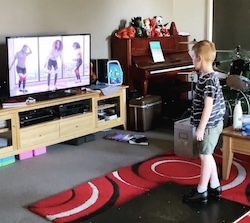 "We have a chat room! We're able to get questions and respond to people, to connect. Obviously, if you're watching after the fact, everything is already saved on the platform. We did a Global Online Tap Fest Challenge prior to the festival, and 200 dancers sent in videos. They learned a piece of my choreography for Syncopated Ladies, which is a collaboration with a hip hop artist named Dexter Carr, set to Chance the Rapper's Hot Shower. So we had all these kids – but not just kids! Adults, too."
Now that you have this infrastructure in place, would you consider doing the Online Global Tap Fest again next year? Maybe alongside the live one?
Chloe
"Yes! We intend to do more online events like festivals and workshops. We're planning the next one right now, which will be on National Tap Dance Day, so May 25. That is such a huge international event, and we're all still likely going to be at home. Kids are still going to be out of school. They're going to need something to just keep going. We want to keep this joy going, because the messages we've received from parents and students are so optimistic and encouraging and uplifting and inspiring!"
Maud
"We're going to open it up to the general public, to the person who maybe wanted to try tap but never has. It's low pressure, you're in your house, nobody else is watching. You're going to get that special instruction for ultimate beginners. And then all the way up through the advanced, professional level classes."
What else do you have coming up?
Chloe
"We're going to be doing a Syncopated Ladies bootcamp on our platform. That usually happens in the summertime. That'll be online. They'll get classes from all the Syncopated Ladies. What makes that experience unique is that it's also about girls's empowerment. It's not that guys can't do it; they can. But they have to understand that the focus is girls's empowerment and that we're going to be doing activities and lessons that accentuate the importance of that."
Maud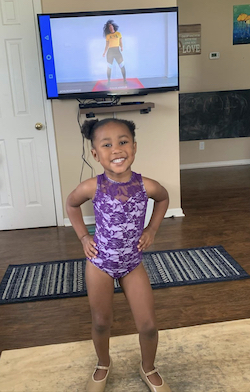 "And they are guests in that space. We welcome them, but they are guests."
Chloe
"We've had some great male attendees, I'm so proud of them — young boys who are now girl advocates. They get it. They're wonderfully empowered and empowering."
Maud
"For the festival, we have a buy-one-donate-one model, because we do understand that people have lost their jobs. For each purchase of the experience, we donate a ticket to kids in Brazil, Uganda, Mexico, Nigeria, all over the United States, all over Europe."
Chloe
"Through the Chloe and Maud Foundation, we have a long list of kids in need in dance whom we're already providing for, in addition to others. We also open it up to scholarship requests. It's reflective of community lifting one another up, and understanding that some people are doing just fine right now and others are really struggling. But everybody is united through dance, and the need to be lifted with love."
Online Tap Fest videos are available until May 8. Follow what Chloe and Maud are up to: @chloeandmaud. Check out Syncopated Ladies: @syncladies.
By Holly LaRoche of Dance Informa.