Self-described obsessive learners Yusha-Marie Sorzano and Francisco Gella are blazing a trail with their creation of Zeitgiest Dance Theatre. The two met in Los Angeles over a dinner that ended up stretching over four hours more than seven years ago. They share, "It was family! What connected us was how we expressed our sentiments with our hearts, honest and open."
The growing relationship between Sorzano and Gella has led to this moment in time – the moment when starting a company seems essential to their continued growth. The two artists have had the pleasure of working alongside each other for at least five annual educational programs through Gella's organization, Francisco Gella Dance Works, and, according to Sorzano, have developed "a community filled with inspiring and diverse educators, avid students, devoted parents and lovers of dance with the overlying message of empowering each individual through education and now through performance with Zeitgeist Dance Theatre."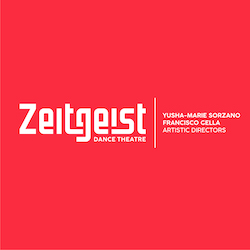 She continues, "More than ever, we feel a need to reflect the Zeitgeist, the spirit, of the times. I think we can all agree that the world is facing some major challenges. Every day, we cross paths with people struggling, but we are also fortunate to cross paths with inspiring individuals young and old working toward positive change. I think we're all balancing these things – the struggle and the fight to persevere. Zeitgeist wants to reflect this balance in addition to the myriad of ways in which we exist as individuals and as a community now and forward. It is really about exploration and an honoring of humanity, allowing us to get back to ourselves, our core, as opposed to being so disconnected through technology and social media."
For 2020, Zeitgeist Dance Theatre is pursuing a three-week summer session, with its world premiere slated to take place Salt Lake City, UT, as part of the New Century Dance Project Festival, and Artistic Directors Sorzano and Gella are in search of dancers. Specific needs include the casting of seven professional dancers, two apprentices and 15 trainees. West coast auditions took place in Los Angeles, on February 15 and 16, and an east coast audition is scheduled in Philadelphia, on April 11 and 12, at University of the Arts.
Gella acknowledges, "Due to current circumstances, we may not be able to realistically hold our Philadelphia audition. Dancers are encouraged to submit their materials digitally as we navigate the safety protocols to protect against the spread of COVID-19. Despite this very real possibility, we are still very excited about the energy of the east coast. It's unapologetic, tough and tenacious. The culture in the east is steeped with tradition, so we are expecting a strong contingency of dancers who are trained in the classical and modern dance idioms."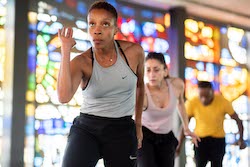 An open talent call can leave a lot of dancers uncertain if their skill set and interests align with those of the artistic directors. Sorzano and Gella offer the following insights about what they are looking for in terms of technical choreographic and collaborative abilities.
"Following the Los Angeles audition, we were so excited by the caliber of dancers who showed up," Gella shares. "Dancers with strong ballet technique, as well as showing a strong aptitude for contemporary, modern and improvisation, were the ones who did the best in our audition setting. We were very clear that, yes, we want dancers who are well-versed in multiple styles, especially with a strong classical base, but we were most attracted to dancers who had a strong sense of who they are as individuals. We always say in our own teaching practice, 'Person first, dancer second.' Without a strong sense of self-acceptance (flaws and all), self-determination, courage and discipline, it doesn't matter how good that particular dancer is. It is the person within that dancer that allows them to continue, to push past challenges, obstacles and failures, to accept oneself wherever they are in their journey. Each dancer's self-awareness is of the highest importance to us because we cannot achieve the full artistic potential of the company without strong and resilient human beings who accept their own individuality."
Choreographically, Sorzano says, "Dancers should expect to change gears quickly and regularly. Francisco is methodical during the process. He carries this insane notebook where he clearly charts the trajectory of a dance. The notebook is a piece of visual art in itself."
Gella continues, "Yusha tends to wait until she's in the room to begin to craft. She usually moves from music or something that she really wants to talk about, asking a lot of questions because she wants to get to the heart of what she wants to convey through your heart, your experiences. Although our processes are different, we recognize that we will learn and grow from our collaboration. For us, it's truly about collaboration. Not just between ourselves but also between us and the dancers. We want to push the dancers past their comfort zone, and allow them to go into uncharted territory, welcoming the unknown, for it is that place that guarantees our foray into the new and unexpected. With that comes challenges, but we want to encourage and not dictate. We believe that supporting the individual through their challenge feeds our collective."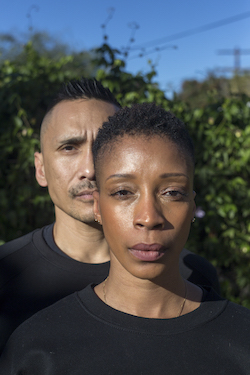 As for the interview, Gella encourages, "Be yourself! We are truly attracted to authenticity and vulnerability. For us, they go hand in hand, as artists are extremely vulnerable during the creative process, and authenticity is a means to expressing one's undeniable truth. This means the dancer showing us what they are best at but also showing us that they are okay with not being well-versed in a particular genre. It is the acceptance of oneself — strengths and weaknesses both — that we are most interested in. We are not exempt from this reality ourselves as directors and choreographers, so be prepared for us to bring the same mindset to this process."
Most of all, Sorzano and Gella are passionate about their intention to continue with a focus on the building of community and their shared history of creating work that is accessible but moving forward. "With Francisco being Filipino-American and me being Afro-Caribbean-American, we each inadvertently access our own personal experiences and natural anthropological movement capacities that end up subconsciously in our own work," Sorzano reveals. "We are both attracted to each other in terms of our dance aesthetics and philosophies because we love dance! We love how it shapes people, how it changes people for the better, and we love dance because we see its incredible potential for inspiring, instilling and shaping multiple conversations about what is happening in the world. We are dance and dance is us, our collective unique, and diverse voices will naturally question the predominant narrative out there currently. Why do I say this? Has there ever been two artistic directors co-leading a company with our multi-ethnic backgrounds? That alone in itself is significant and is one of the characteristics of our partnership that makes us unique. We see dance as a powerful way to move and inspire people, and to change lives. We want to integrate inclusion in our work because too often non-Anglo voices have been historically excluded in western concert dance. We want to welcome everyone, inviting all artists to tell a story, maybe their own story, perhaps to make a thought-provoking social or political commentary. We are launching this company to expand the conversation giving more people of diverse backgrounds the chance to be heard."
Complete audition information, updates and more information about the company are available on the Zeitgeist Facebook page or by emailing info@zeitgeistdancetheatre.org.
By Emily Yewell Volin of Dance Informa.