Although many of us would prefer not to believe it, human trafficking – the recruitment and exploitation of at-risk youths – continues to be a huge problem in the United States, and worldwide. Place of Hope, a faith-based children's organization primarily focused on foster care and family support, have dedicated their time and commitment to provide human trafficking prevention, education and recovery services in Florida and beyond. You might be wondering what this has to do with dance – and that's where Só Dança comes in. After attending a Place of Hope educational event in the local community, Só Dança's staff members, including CEO Lisias Ransan, felt they had to help. We spoke to project manager Summer Douglas about the collaboration between Só Dança and Place of Hope and why they were moved to support the cause.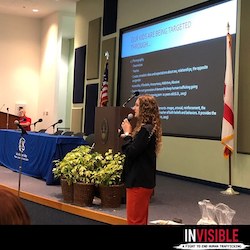 "I felt very impacted after seeing Place of Hope's film showing and presentation," explains Douglas, "and little did I know our CEO of Só Dança was also at the local viewing. He came up to our marketing team the next day and really wanted to do something to make a difference, more than just donating money. Human trafficking is something that occurs on a daily basis, every minute, every hour of every day, and a lot of times it's happening right next door, and we don't realize it because people aren't educated on it. Place of Hope is doing such a great job, going all over Florida to educate people. So for us, it was how can we get this to the masses, how can we spread the word, how can we educate people?"
As the Só Dança team bounced ideas off one another, they came up with the idea of a dance video – they are a dancewear brand, after all. "The bottom line is that, yes, we are a dancewear manufacturing brand," says Douglas, "but we have such a great platform to be doing something bigger than just that, and we really wanted to share this."
It was important for Douglas and the team to operate the project on a budget. "At the root of it, if we're going to be donating to an organization, we want whatever we do to be out of the goodness of our heart," explains Douglas. "So, I reached out to a local professional dance company called Dimensions Dance Theater, and met with the artistic directors and a choreographer that they had in mind. They were not only moved by the issue at hand but also felt that the morals and values at Só Dança aligned with their company really well, so it was an instant no-brainer. Then, we had to decide how to convey such a heavy, serious message to the masses, while maintaining the integrity of the victims who are involved."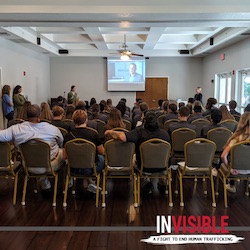 Choreographer Yanis Eric Pikieris created the piece and hand-picked the dancers who were involved in it. Filmmaker Bryson Hatfield produced a two-part series, including behind-the-scenes footage and the performance piece itself, which focused on the issue of human trafficking and portraying the story of the victims and what they go through.
Laura Cusack, human trafficking education and prevention coordinator at Place of Hope, was thrilled about the collaboration.
"From the very beginning, we loved the creative aspect of this partnership," Cusack shares. "Using dance to educate others was not something we had previously thought about and certainly didn't have the means to do on our own. This was a perfect partnership where each agency could bring its own expertise to create a powerful piece that would impact others."
The expressive nature of dance lends itself perfectly to tackling difficult emotional topics and issues, and that's something Douglas, too, is acutely aware of. "Dance is a very expressive form of art, and it's hard to not engage when people are performing," she agrees. "I am still so impressed at the choreographer and the dancers because they executed everything in such a tasteful way. The story was in their eyes and they way that they moved and danced. And, at the conclusion of the video, you'll see the dancer walking toward the camera, which shows that she is stronger than before she went through this heartache. She's standing tall, and that's exactly what Place of Hope does. They find people in these situations, and they bring them in and rehabilitate them and encourage them to be stronger than they ever were before."
The passion emanating from those heavily involved in this project is evident. Cusack is right at the heart of Place of Hope's anti-human trafficking programs and is dedicated to spreading awareness. "Corinthians 12:26 says, 'If one part suffers, every part suffers with it'. We must have concern for our neighbors," she says. "And in 2020, our neighbors are being trafficked. The people in our communities, in the state we love, are being enslaved. We can be the generation that stands up and say, 'Enough is enough!' But it takes all of us. So many people still need to be awakened to the realities of this issue and be empowered to do something. Through this video project, that empowerment can start to take place."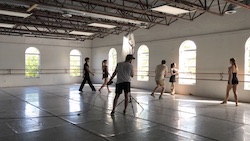 The result is a stunning, two-part project that will impact dancers and non-dancers alike. Both the team at Só Dança and Place of Hope have loved forging this new connection. "It has been such a wonderful partnership with Só Dança," shares Cusack. "I'm still in awe at their support and desire to step up and do something. To think that all of this started from one educational event not that long ago is so encouraging. From day one, Só Dança was so enthusiastic and so willing to do whatever is needed to educate the community."
Douglas agrees. "We've just loved working with Place of Hope. It was so much fun and I feel really privileged to be a part of it. We are doing something bigger than just us and our brand, and this is just the beginning of all that's in store. People will hear more about this issue. It will be neat to see the awareness build and to keep making a difference, little by little."
As for Cusack, she, too, hopes the video will to motivate people to take action. "As we continue to share the Só Dança video, more and more people will hopefully join the army of advocates standing up to say they are committed to ending human trafficking. I look forward to seeing where this leads and ways we can continue to partner in the future."
For more information on Place of Hope, visit www.placeofhope.com/human-trafficking.
By Emily Newton-Smith of Dance Informa.