For five days every Labor Day weekend, up to 75 young dancers-in-training from all over the world descend on Santa Fe, a small city at the base of the Sangre de Cristo Mountains in Northern New Mexico. Known for its dynamic energy, the city has far more artists (musicians, visual artists, designers, writers, songwriters, performing artists – you name it!) than any other comparable in size.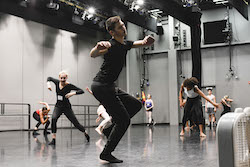 The young artists accepted into the Preprofessional Dancer Institute (PDI) are challenged through hours upon hours of technical and artistic training, as well as being equipped with knowledge, tools and resources for their future career in dance. And these days of social distancing really have us craving being together in the studio again. Luckily, PDI leaves us with something to look forward to this September.
PDI is run by Francisco Gella and Julie Friedrich, with other faculty members including Steven Sofia, Wilson Mendieta, Anthony Tiedeman and more.
"The PDI program has always been the absolute highlight of my summer," Friedrich tells Dance Informa. "It is a five-day intensive that not only educates but also becomes a safe haven and a think tank for all of the dancers, parents and faculty who attend. Francisco and I conceived the PDI program as an institute that best replicates the collegiate and professional world of dance. We model our curriculum after what college programs are offering, and implement classes that will best prepare the students for the year ahead."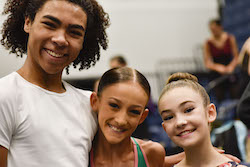 Friedrich adds, "The program is comprised of classes, lectures, seminars and a thrilling live performance by the Aspen Santa Fe Ballet, all in the hopes to fully educate these young minds and expose them to every aspect of the dance world. One of my sincere hopes since the COVID-19 situation began is that we can hold PDI this coming summer. I look forward to being in Santa Fe, NM, where Francisco and I can be physically present with our students, and give them everything we have been forced to stop doing since this ordeal began. The youthful, talented, and hungry minds that attend PDI every year make the program like no other."
PDI provides training and exposure in concert dance (ballet, modern and contemporary), show dance (Broadway and Las Vegas), commercial dance (Hollywood) and improvisational techniques, as well as pointe, men's and partnering. As the larger group is split into two concurrently running smaller ones, smaller class sizes allow participants the benefit of personalized attention.
An important component of the learning experience at PDI is the opportunity for dancers to receive a private 10-minute session with two faculty members. Student participants prepare a ballet, contemporary or modern solo (or a variation or improv) to PDI. Faculty will then provide constructive critique in the following areas: technique, alignment, performance and musicality.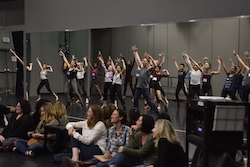 A special feature of PDI is the institute's relationship with the Aspen Santa Fe Ballet (ASFB). ASFB Artistic Director Tom Mossbrucker and Executive Director Jean Philippe Malatay support the institute through their own involvement as techers and mentors to PDI students. ASFB dancers also teach repertory from prestigious choreographers, and each Saturday night of the program, all PDI participants attend the ASFB's concert at Santa Fe's Lensic Performing Arts Theatre. Following the concert, PDI students get to join all of the dancers at a meet-and-greet.
PDI alumni have gone on to be accepted into some of the most well-known collegiate programs and professional companies in the United States and beyond, and have been recognized by the National Young Arts Foundation Awards.
"PDI is an all-inclusive experience that allows the student to gain information on how to pursue a career in dance," Gella says. "PDI is about sharing and gaining information, building a supportive community, allowing the students and their parents to see and define a clear path on how to navigate through the challenges of pursuing a dance career. Most importantly, the dancers are empowered to discover themselves so that the walk away from the program feeling confident, inspired, exhilarated and prepared."
Preprofessional Dancer Institute has recently extended the deadline for application to April 15. For more information, visit preprodancerinstitute.com.