During this uncertain time, Broadway Dance Center (BDC) is busily working on ways to keep its students engaged and inspired while they're unable to physically go into the studio.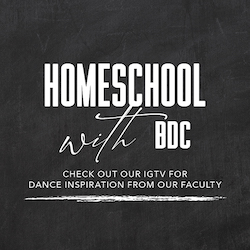 In an effort to continue to provide the quality dance education that BDC is known for with its esteemed faculty, the studio has just announced two exciting ways to stay connected to its #BDCFam — Homeschool with BDC and BDC Online.
With Homeschool with BDC, dancers can watch and learn from free daily dance videos on BDC's IGTV. To tune in, check out BDC's Instagram account, @bdcnyc, for new content daily at 2pm (EST).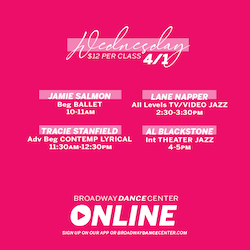 BDC Online offers daily 60-minute livestream classes for $12 each. To tune in, sign up through BDC's app or website. Classes will be through Zoom, so participants should download Zoom for mobile or desktop prior to their first class. Further instructions are listed here.
Classes for Wednesday, April 1, include Beginner Ballet with Jamie Salmon, Advanced Beginner Contemporary Lyrical with Tracie Stanfield, All Levels TV/Video Jazz with Lane Napper and Intermediate Theater Jazz with Al Blackstone.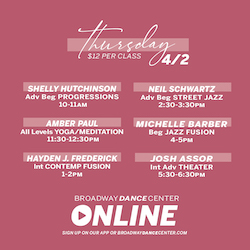 Classes for Thursday, April 2, include Advanced Beginner Progressions with Shelly Hutchinson, All Levels Yoga and Meditation with Amber Paul, Intermediate Contemporary Fusion with Hayden J. Frederick, Advanced Beginner Street Jazz with Neil Schwartz, Beginner Jazz Fusion with Michelle Barber and Intermediate Advanced Theater with Josh Assor.
For a full schedule of BDC Online and further information, head to broadwaydancecenter.com/schedule.