The magic realism in Rob Woodcox's dance photos almost has you convinced they're possible. Bodies are crafted into structures, creating towering pyramids and arcing domes that mimic the landscapes they're set in. Dancers seem to balance on needlepoint, or jump higher than humanly possible, or share more weight than they should be able to. But even when the images downright deny physics, they still somehow seem real. Here, Woodcox explains how he makes the magic happen.
Many of your dance photos feature dancers in architecturally impossible positions. What inspired this idea?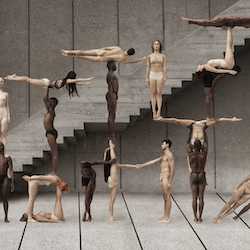 "I've always had a fascination with dance, landscapes and architecture. I see humans as a very interconnected species whether we realize it or not. We're very connected to one another and dependent upon the world around us. I wanted to depict how much stronger we are when we unite and work together in unison with nature. I wanted a surrealistic vision of what that harmony could look like at full potential."
Obviously these images have to be composed after the fact. What's your post-production process to create that magic?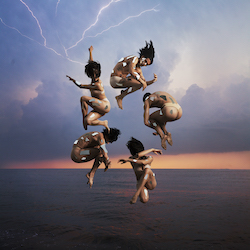 "Everything in my dance series is shot on location, often with natural light and occasionally with a bit of artificial fill light from my portable Profoto B10 kit. Shooting on location allows me to get the most realistic light between the backgrounds and the subjects. Surprising to most, many of these compositions are fully real or mostly real on the spot, with some pieces added to fully realize the vision. Every part of an image is shot the same day, on location. In post, I'm able to composite some of the additional poses and dancers to make the full composition."
So many of your photos are set in breathtaking landscapes. What draws you to these spaces, for dance photography specifically? While there, are you already compositing the architecture of the dancers in the frame, or does that happen afterward?
"I've always loved nature, and one of my biggest hobbies is traveling and hiking through remote areas. I've been backpacking since I was 14 years old, five years before I picked up a camera, and often those expeditions take me into the middle of nowhere. Having a lot of experience in the wild pushed me to bring my art into those spaces to display and discuss our harmony or lack thereof with the environment. We cannot survive at the rate we're damaging the planet, so I think it's important to show people the beauty that we could lose if we don't take action, and to humanize nature to create that connection. I usually scout locations in advance and have a fully imagined concept in my mind before shooting. I strategically structure my dancers' poses in real time to get the results I'm looking for."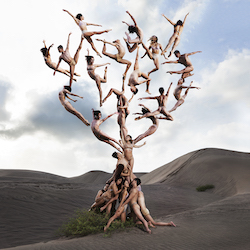 You have a book coming out called Bodies of Light. Can you give us a teaser as to what it features? When will it be released?
"I'm so excited to see the last 11 years of hard work pay off in my first book! Bodies of Light is available for pre-order and comes out March 10. Anyone who orders before will receive the first wave of shipments. I'll also be doing a book release tour through Mexico City, LA, Portland, Chicago, NYC and Toronto. Check my social media for updates on that! The book features my entire dance series, some unreleased work from a road trip through western USA, and a select portfolio of images taken over the last decade. There are a few poems I wrote during travels as well. The book is going to be beautiful!"
Do you have a favorite photo that you've taken?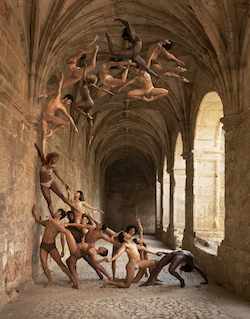 "This is always a hard question, but I think my photo, 'Time Travel', featuring dancers spiraling to the ceiling of a Spanish Monastery, is my favorite. The shoot experience was so beautiful, challenging and surreal, and I got to work with the cast of The Lion King, which was being performed in Madrid at the time. That day and the final image will always be a highlight for me."
Interested in Rob Woodcox's work? Pre-order his book here, follow him on Instagram here, and find out more at robwoodcox.com.
By Holly LaRoche of Dance Informa.