New York Live Arts, New York, NY.
January 19, 2020.
Myth, legend, love, loss — these big themes are part of cultural tradition, the tradition that lives in our flesh; we carry the lightness and the weight of such tradition in our very body. In Pythagorean Peas, Ayalis in Motion investigated and illustrated these dynamics in daring movement, theatrical sequences, effective use of props and thoughtfully-matched scores. Ayako Takahashi is the group's founding director. Jill Pajer was assistant director. The work reminded me just how mystical and beautifully indefinable dance art can be; it can get at just how mystical and beautifully indefinable we humans can be.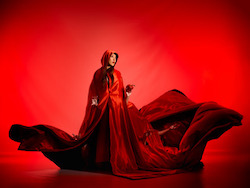 An opening solo delved into unexpected love, a chance meeting in a park that led to daily romantic walks there. The dancer moved with intensity but with a groundedness evoking a calm. She moved with unease but also somehow an acceptance with that unease. Dim yellows and a big lacy skirt created shadow and shape that were compelling but also simple (lighting design by Tony Marques). Lines expressing the two characters' (one there, one described) advanced age got a laugh from the audience — deservedly so. It also poignantly pointed to expectations and constructs around love stories that we all have — who falls in love, who lives in love, and who looks glamorous while in love. A basket of flowers and fruit allowed the soloist to increase her movement intensity (as she scattered them in her passion), and also reinforced themes of sweetness, abundance and romance.
Following sections referenced fairy tales, things that have helped to build those cultural constructs of love. Three dancers tossed around a broom, and ultimately one swept with it — sweeping up the remains of a prior section (recall the fruit and flowers). These characters, we audience members could presume, were Cinderella and her two Ugly Stepsisters. This linking of one section to the other was skillful transitioning, such that I would have loved to see used more consistently throughout the work.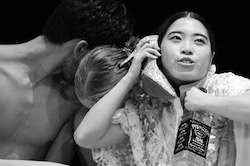 Next came Snow White (a male version of the fairy tale character), surrounded by dancers and objects in white, calling Sleeping Beauty on the phone. The two were "friends from school." This blending of the fantasy and real worlds got more deserved audience laughs. Catching my eye and my interest was how Snow White was lounging on human furniture — dancers in simple white costumes rolling with him on top of them, and in so doing moving him upstage. Conceptually and aesthetically, I was fascinated by this movement sequence intertwining with a theatrical one (Snow White continued talking on the phone as he lounged and rolled, and the audience laughed).
Little Red Riding Hood also soon made an appearance, seeming more ominous than we often think of the character. The ensemble cleared the stage, and a tall, brooding figure in a large red cape walked on — slowly, each step with true weight. Lights dimmed and music became lower, the chords more unsettling to match. The re-envisioning of this character, from innocent young girl to force to perhaps be feared, fit into the work's overall questioning of cultural conceptions (on love and more).
Something in me wanted to see these characters and fairy tale connections carried into further sections of the work; it could have reinforced the meaning they had to bring and established them as key characters in their own right — in whose triumphs and hardships we audience members could have come to feel invested. Instead, there were further movement sections in what I was coming to see as Takahashi's movement idiom released, grounded, and highly joint-initiated, but athletic and expansive at the same time. In solos, small groups, or larger ensemble sections, this movement pulled both my brain and spirit right in.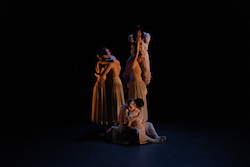 A section near the end had Takahashi herself coming to greet us. She introduced herself as choreographer and director of the company, and shared that she felt "so loved!" by the audience turnout that night. She reciprocated this love from the audience by coming up into the house and throwing out candies into the crowd — explaining that even with all of the changes she experienced through her childhood, and all of the different "rules", candies were always a treat she could enjoy. Takahashi also shared an almost carbon-copy of the story at the beginning of the work, about falling in love with a man in a park and taking walks there with him everyday — but then him saying goodbye to never contact her again. Having the person to whom the story really happened right in front of us, it took on a new weight.
Further sections with athletic ensemble movement brought contrast to this theatrical, highly personal sharing from Takahashi. Back to something more personal and intimate, dancers exited one by one. One gave another a teddy bear before exiting, leaving one person on the stage. Before that, an echoey, lonely-sounding "Frère Jacques" had played. It all came back to loneliness and other struggles within childhood, which can resonate through lifetimes.
Yet the work wouldn't end in earnest in such a lonely place; an encore brought the cast back to dance together joyfully and vivaciously, to an upbeat pop tune. It reminded us that even in times of struggle and sadness, or even persistent struggle and sadness, joy can sometimes be just around the corner. Such nuanced realities don't always fit neatly into our cultural narratives. Ayalis in Motion's Pythagorean Peas uniquely and cogently shone a light on these narratives and their effect on us — in ways that left me thinking, laughing and feeling warm. What a gift!
By Kathryn Boland of Dance Informa.