Discussions of African-American representation — or rather, the lack thereof — in ballet productions and the (in)accessibility to training in the art form for dancers of color seem to have risen to the surface of dance discourse in recent years. As the first black principal dancer of American Ballet Theatre, appointed only five years ago, Misty Copeland has become a role model to many young African-American dancers aspiring to forge a career in a field notorious for racial bias. But before Copeland, Lauren Anderson became the first African-American principal of the Houston Ballet in 1990. And before Anderson, there were ballet companies comprised of black artists such as Arthur Mitchell's Dance Theatre of Harlem, founded in 1969, and Katherine Dunham's Ballet Nègres, founded in 1930. Thus, the fight for visibility for African-Americans within the ballet industry has been ongoing for much longer than the 21st century.
Founded in 1990, by wife and husband Nena Gilreath and Waverly Lucas, Ballethnic Dance Company has been key in affecting change both within the ballet world and the broader sociocultural context of the south. The Atlanta-based company and academy has worked to make the art form more accessible to African-Americans for the past three decades by telling stories that resonate with the community and by providing high-quality training for financial disadvantaged youth. Both the company and academy reflect the partners' mission to culturally diversify ballet by creating a movement language that combines classical ballet with African dance styles.
Now celebrating its 30th anniversary, Ballethnic has redefined what ballet is and can be while positively impacting the lives of African-Americans in its community, continuing the legacy initiated by its predecessors of creating opportunities for black artists. In recognition, Dance Informa caught up with Gilreath to talk about Ballethnic's mission, accomplishments and future.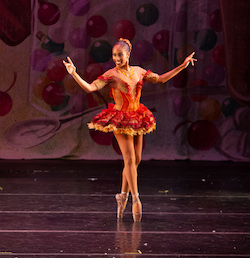 The company began out of the "need to make change," according to Gilreath. Prior to forming Ballethnic, both she and Lucas were members of Dance Theatre of Harlem and Atlanta Ballet, where they saw the value of community engagement and dance education. "I felt that great dancers were undiscovered. I wanted children of color, black kids, to have the opportunity to have elite training," explains Gilreath.
The partners also saw the Atlanta community's desire for a professional African-American dance company. Gilreath shares that when Dance Theatre of Harlem and Alvin Ailey American Dance Theater came to town, "they sold out audiences at the Fox Theatre, and droves of black kids and black families attended." The duo wondered, "What happens when these big companies go away?" Thus, they created Ballethnic.
Starting the company had its challenges, of course. "It was teaching people— front of house and backstage — how to support our mission," shares Gilreath. She recounts facing opposition from "people who didn't think black kids would want to listen to classical music, let alone do ballet." They struggled to recruit men in a culture that rejected the idea of boys in ballet. Operational difficulties also existed as the company initially lacked funding, support staff, and rehearsal space. Most of all, Gilreath explains, "We had to prove that we could build an audience."
Ultimately, the need outweighed the odds. "Because people saw our passion, so many people kicked in to help us," recalls Gilreath. "They really believed in and wanted a professional black ballet company in Atlanta, and knew that it was long overdue. They wanted something stable where they could see the pride of us [African-Americans] in the forefront and not in the background."
Since then, the company has created several productions that put African-American culture and history center stage, illustrating that the narratives of black communities are more than a divertissement in U.S. history. Works like Jazzy Sleeping Beauty and Urban Nutcracker update two of the most popular ballets in western concert dance, revising Europeanist themes within the tales to be more relevant to African-American audiences. In Urban Nutcracker, for example, the character Big Mama narrates the story, which is set in the south in the 1940s, and Brown Sugar replaces the Sugar Plum Fairy.
"For me, it was really monumental putting Urban Nutcracker on the stage because it celebrated our people in the community," Gilreath explains. "It put us in the forefront to say, 'We're beautiful and we're brown and we accept that,' and no longer will it be okay to say, 'You're just going to be in the back over on the side.'"
Other original works in the company's repertoire, such as Ballet D'Afrique and Soul Survivors, forego the ballet cannon all together to tell stories that resonate with African-Americans. Ballethnic's newest work, Flyin' West – The Ballet, adapts Pearl Cleage's play of the same name to discuss reconstruction and migration. One of Gilreath's personal favorites, The Leopard Tale, uses the animal kingdom as a metaphor to address themes of colonialism and gentrification while showcasing the strength of black women and the beauty of all body types. Gilreath remembers looking out into the audience when it premiered and seeing "people literally crying" and exclaiming "'This is us!'"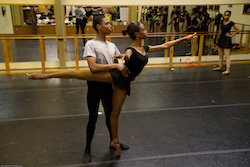 But staging a social movement also requires providing quality training for black youth so that they can have access to professional opportunities. It involves diversifying young dancers' training so that they become skilled practitioners of multiple techniques, allowing for Ballethnic's signature fusion of African dances and traditional ballet. Although the academy was not part of the original conception of Ballethnic, it grew out of this need. According to Gilreath, students flocked to her and Lucas as they performed pas de deux lecture-demonstrations at churches and schools. The partners began teaching low-cost classes, and the academy expanded quickly.
The school now offers classes in a variety of styles for children and adults, ranging from pre-professional to recreational dancers, focusing on holistic development. Their programs emphasize pride, determination and hard work. One such initiative, the Danseur Development program, creates a space for boys in ballet through strong positive male mentorship and approaching the technique through athleticism. Another, Beyond the Barre, is all about female empowerment and "helping women be positive and entrepreneurial," according to Gilreath.
"We created this community of people who really care and who use their expert dance training and discipline to transfer to some other career or to still be a part of the industry," Gilreath says of the academy. In fact, several Ballethnic students have gone on to perform nationally and internationality, while others have become doctors or attorneys who still value the arts and, in fact, sit on the company's board of directors.
As the company celebrates its 30th anniversary, Gilreath and Lucas are preparing the next generation of arts leaders to continue Ballethnic's legacy on local and global stages. Presently, Gilreath is working with East Athens Educational Dance Center "to expand opportunities for African-American dancers in the Atlanta metropolitan geography," while also mentoring up-and-coming arts leaders, including Savory Morgan, former student and current associate artistic director of Ballethnic. According to Gilreath, Lucas is "[opening] up a global door" by pursuing an MFA at the University of Limerick in Ireland, where he is writing an ethnography on the company. She reflects, "Ballethnic is using dance as a catalyst for change, and we want to bring more people into that."
For more information on Ballethnic, visit ballethnic.org.
By Carlee Sachs-Krook of Dance Informa.