You love your favorite dance style; you're a true bunhead, or dedicated contemporary dancer, or tapper through-and-through. Or maybe you're versatile enough to consider yourself a Jack- or Jane-of-all-Styles. Yet, did you ever want to try something new — really new, really fresh and different, a dance style you maybe didn't even know existed? Doing so could boost your versatility, be informative and intriguing, as well as simply fun!
Perhaps the New Year is a great time to set your sights toward trying such a new style or styles, when our mind is on goals and personal (as well as professional) development. Let's look at four different fresh dance styles to try in 2020 — at their origins, movement qualities, where to find classes, other fun facts and more. Who knows, you might fall in love and have a new style to focus on. If not, you'll have an interesting new experience — there's no downside here! Let's leap right in!
#1. Flexing
Flexing is a street dance form that originated in Brooklyn, those from disadvantaged communities there calling upon dance for expression and catharsis. Publications such as The New York Times, The New Yorker and Business Insider have featured the form. Its movement includes "animation, musicality, isolations, waving, footwork and freestyle groove," according to the Mark Morris Dance Center website.
Advanced dancers can layer in jaw-dropping illusions, such as "bone-breaking" — joints moving in a seemingly impossible way. More novice dancers can work on wave-like effects through hands, arms, hips and feet. The form can challenge and develop musicality, joint articulation, footwork control and more. Classes can be found at Mark Morris Dance Center and various other locations in New York City, as well as perhaps even in your city — try searching it out!
#2. Aerial Bungee
Have you ever wanted to fly? Aerial bungee can give you the feeling of it — while also allowing you to touch back to earth. The large bungee and apparatus allows you to build strength, agility and even confidence to try more advanced aerial dance forms. For one, the bungee's tension and give offers kinesthetic feedback (what your body's doing, and perhaps could be doing more effectively!).
Your technical foundation will come in handy with the form's frequent leaps and extensions. It's also a surprisingly great cardio workout! Apart from building up your versatility and kinesthetic awareness, it could therefore be great cross-training. Ever innovative, Cirque du Soleil pioneered the form. Grounded Aerial™ offers aerial bungee teaching certification programs, if you come to love it and want to teach it. Aerial dance centers are found in every major metropolitan area, and more and more are offering Aerial Bungee.
#3. Urban Indian
Indian culture is artistically and creatively rich, including in dance and movement (consider Bharatanatyam, Bhangra and Bollywood, for instance). New Jersey-based dance artist Ishita Milli, and her IMGE Dance LLC, has re-mixed classical Indian dance, blending and juxtaposing it with contemporary urban dance, to create Urban Indian. Movement includes the intricate, percussive footwork and arm patterns of Bharatanatyam, yet also urban dance signatures such as body rolls and hip articulations. As with all Indian dance forms, the style offers an infectious liveliness and joy.
IMGE includes dancers of various ethnicities and races, signaling that all can feel welcome to enjoy Urban Indian. Yet, as always when experiencing the creative capital of a culture that's not one's own, it's important to remain respectful, curious and avoid appropriating. Urban Indian classes can currently be taken in Seattle and New York City. Who knows, they could come to your area soon, so stay tuned!
#4. Afro Yoga Flow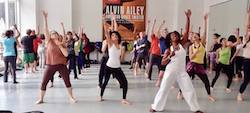 Traditional African dance and yoga asana (posture practice) are the fruits of two different cultures, yet they do have notable similarities — such as a focus on grounding into the earth yet lifting one's energy out of it, and a way of bringing inner vitality out to one's periphery and into one's kinesphere (the space around one's body). Afro Yoga Flow Founders Leslie Salmon Jones and Jeff W. Jones have joined the forms into one memorable, soul-stirring class experience. Salmon Jones is a professional dancer, yoga instructor, wellness coach and activist; Jones is a multi-instrumentalist in the musical traditions of the African diaspora.
Participants begin in a circle and introduce themselves, encouraging the formation of community. All warm up with yoga asana, from downward-facing dogs to warrior poses to balancing poses. Class concludes with traditional African dance rudiments (fundamental movements) in progressions (going "across the floor") and a final closing circle. All of that combined, the form can be an energizing experience, a great workout and perhaps even healing.
Classes currently occur in New York City, Boston and Washington, DC. Information on workshops, retreats and certification to teach the form can be on afroflowyoga.com. Afro Flow Yoga has been featured in The New York Times, Yoga Journal, O Magazine and Essence Magazine. It all goes back to a fundamental mission; "through the traditions and teachings of dances of the African Diaspora, yogic practices, healing rhythms, love and compassion….we celebrate, honor and respect our shared humanity and cultural differences through the deep wisdom of our personal stories, [the] traditions of our ancestors, [and] bridging cultural divides," according to the official website.
By Kathryn Boland of Dance Informa.